One major beauty of technology is the continuous improvement and updates that we tend to enjoy to make it better. Not long ago, I heard about a block chain platform that is working to achieve standardization in IoT and cause easy communication between IoT devices and today there is a project taking the communication problem solution a step further but in another dimension.
The year 2008 was the lunching year of a beautiful technology different from what man has ever seen, a technology that has the ability to "change the world" as tagged by many, a technology that has made the term "Cryptocurrency" almost a common word in every home. Over the years, this technology has seen huge advancement from what it was in its early stage to what it is now. It has brought about a different perspective to how companies run their business and despite these advancement, some problems have lingered on till now. Problems like having its platforms alienated from each other and inability to communicate effectively with other cryptocurrencies, Smart Contracts, and similar systems. These and few others have been the flaws of the blockchain system.
Presently, it has become extremely challenging for experienced technical developers to build new blockchain and most blockchains are difficult to upgrade, and split participation inefficiently between users.
THE SOLUTION; MOAC.
The MOAC Platform is equipped with Cross-Chain capabilities to bring about interconnection between MicroChains within its system and also with 3rd party non-MOAC blockchain and cryptocurrencies.
The platform also has addressed the primary inefficiencies of existing blockchain platforms by developing a Multi-Blockchain platform. The Platform uses an advanced layered architecture that lowers DApp developer costs, provides for scalability, and reduces development complexity while increasing transaction speeds and volume using sharding.
Brief illustration of how the platform tends to solve the most fundamental problem in cross-chain trading.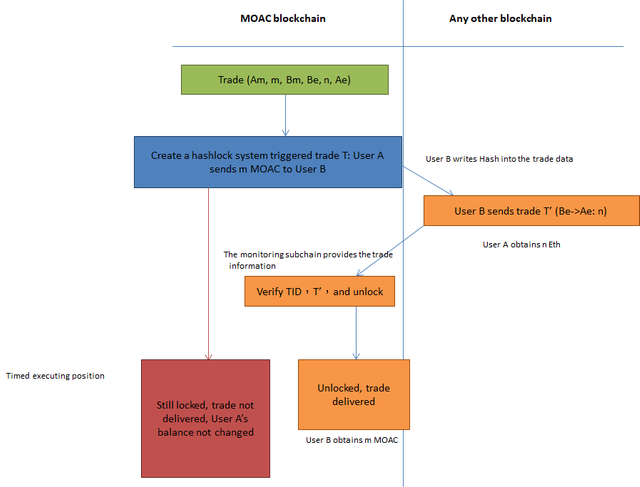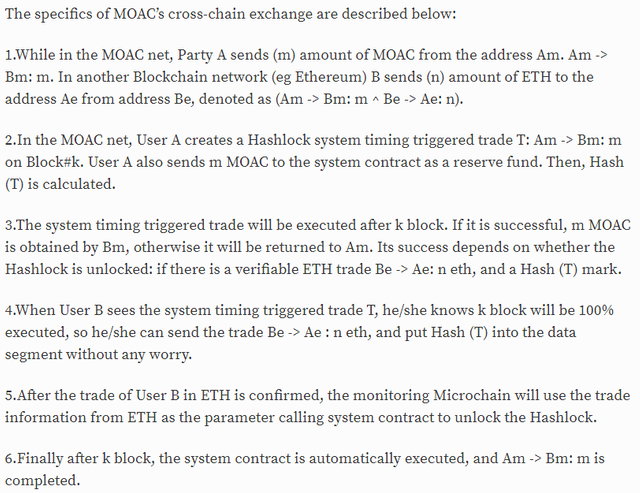 Feature of the MOAC platform.
The platform is equipped with lots of features to make it work efficiently in archiving its goal. Some of the key feature of the platform includes;
MotherChain, MICROCHAINS, BLOCKCHAIN SHARDING,
CROSS-CHAIN READY, EVENT HANDLING, MINING,
API, SECURITY, WALLET AND PAYMENT SYSTEM
RoadMap.
To follow up with the progress of the project at all time and know the target set by the team each month, you might have to take a look at their road map.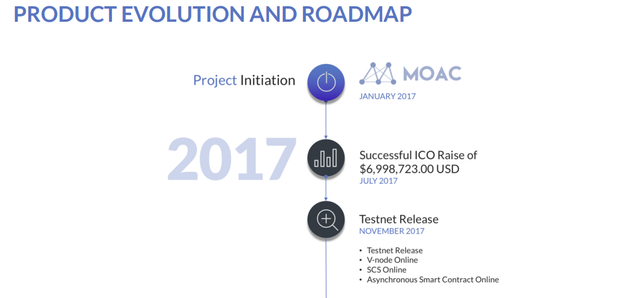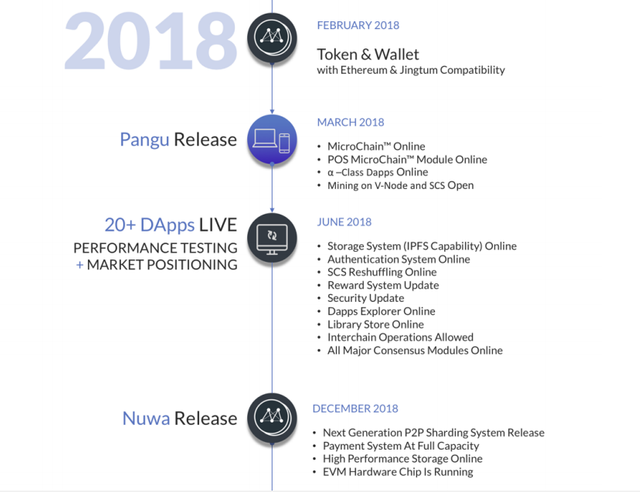 Where to Find Them Online.
Website: https://moac.io/
GitHub: https://github.com/MOACChain/moac-core
Twitter: https://twitter.com/moac_io
Reddit: https://www.reddit.com/r/MOAC/
Medium: https://medium.com/moac
Steemit: https://steemit.com/@moac-official
Telegram(International): https://t.me/moacblockchain
Telegram(Developers): https://t.co/8m3m9RD5ix
Telegram(China): https://t.co/73rU9sHWLH
YouTube: https://www.youtube.com/channel/UCBU405W7vfOPBicLwW9-QOA