UFC veteran, Nate Diaz made his long-awaited return on Saturday with a unanimous decision victory over Anthony Pettis in a welterweight clash.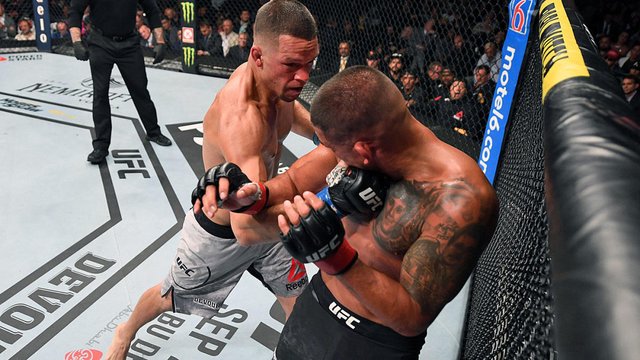 Diaz has been out of the Octagon for three years. It's been a self-imposed hiatus. In an era where most mma fighters operate at the behest of the match-makers. Diaz bucks the trend.
Nate fights when Nate wants to fight.
It's a luxury afforded to very few in the UFC. Conor McGregor. Georges St Pierre. Brock Lesnar. That's the air Nate circulates in.
By all accounts, the fight with Pettis came about as a result of Nate's people reaching out to Pettis'. Once the camp agreed, they took the idea to the UFC. For all his 'bad-boy' image, Nate is good for business.
In hindsight, Pettis was the ideal opponent for Diaz. Pettis is a stand-up fighter who has struggled to find consistency since being dethroned as lightweight champion four years ago. Yet Pettis scored a stunning come-from-behind KO win over welterweight title contender Stephen Wonderboy Thompson earlier this year, skyrocketing his popularity.
The talk was of Pettis being rejuvenated at his new weight class. However as someone once said 'knockouts cause amnesia.' Thompson was dominating Pettis before the KO punch. This after Pettis had lost a slugfest against Tony Ferguson.
If Pettis were to suffer a reversion to the mean, 'Showtime' would be a more than a beatable opponent.
And so it transpired. On Saturday night, Pettis simply couldn't handle the pressure of Diaz on the feet nor cope with his Jui Jitsu on the ground. A typical Diaz display.
Yet Diaz didn't confine his performance to the Octagon. He masterfully played up Pettis credentials after the fight. Pettis had 'stood test-of-time', which was now the criteria by which Nate was judging fighters worthiness to challenge for his unofficial title.
It is a great narrative by Nate. It means he can cherry-pick older, more shop-worn, name-branded opponents while avoiding the 'on-the-rise' killers, citing them as being 'too green', too transient to be merit fighting.
This means Nate's hit-list favour fighters like Robbie Lawler, Cowboy Cerrone over Kamaru Usman or Colby Covington. All they need is to generate a bit of buzz.
Like Jorge Masvidal has.
When everyone was expecting the obligatory Conor callout post-fight. Nate carved his own lane. Calling out man-of-the-moment Masvidal.


Diaz vs Masvidal is arguably the best non-title fight the UFC can make.


It is also a very winnable fight for Nate.
Masvidal has won his last two fights by spectacular KO. However, Masvidal is notorious for losing contentious split decisions. Nate might just have the style to hustle out a decision at Jorge's expensive.
If Diaz can beat Masvidal after Pettis he could easily have hoodwinked himself into being THE money-fight in the UFC, despite never having held a title.
Indeed, I can see Nate waiting for an opportunity to face a champion that suits his style of fighting. Much like GSP cherry-picked Michael Bisping.
In an era of homogenized fighters, Nate Diaz has a brand that stands out a mile. He is currently milking for what it's worth. Fair play to him!