This weekend former middleweight champion Chris Weidman takes on undefeated Dominick Reyes in his light-heavyweight debut. Following the relative success of Anthony Smith and Thiago Santos, both of whom moved up from the 185lb division to challenge light heavyweight Champion John Jones, many of the higher echelon middleweights are making the jump up. However is this a smart move, or ill-advised?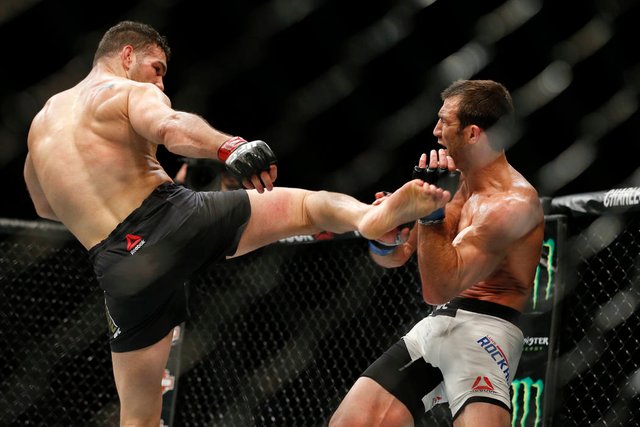 Luke Rockhold moved up. Chris Weidman moved up. There is talk of Yoel Romero and Jacare Souza moving up also.
On paper, it's easy to assume that if Smith and Santos can do well moving up then fighters recognised as the elite of the middleweight division would wreck shop at 205.
However, Smith and Santos have excelled with their striking at light heavyweight. Whereas Rockhold, Weidman, Jacare and Romero are known for their wrestling/ ground-game, superior size and strength at middleweight.
There won't be many top light heavyweights phased by the prospect of taking on former middleweights with strong wrestling or jiu-jitsu credentials. These legit light-heavyweights have plotted their careers around the prospect of one day taking on Jon Jones and/ or Daniel Cormier. No-one fighters in the world (including heavyweights) have mma wrestling to rival Jones and Cormier on top of that they have a whole heap of other attributes to contend with.
And that is the rub. With the likes of Johnny Walker, Dominick Reyes, Jan Blachowicz , Corey Anderson and Glover Teixeira, there are very few 'gimme' fights in the light heavyweight division. Just compared to Jones and Cormier, they seem far less daunting.
In July we saw former middleweight champion Luke Rockhold take on Jan Błachowicz. Rockhold tried to outmuscle Błachowicz with no success. Błachowicz went on to viciously KO Rockhold in the second round.
I fear a similar fate may await Chris Weidman against Reyes. Even though Reyes struggled against Volkan Oezdemir, (personally I think Oezdemir was unlucky not to get the decision), he should be too big and long for Weidman.
The key to the fight should be whether Weidman can take Reyes to the ground. If he can't, we could be talking about another elite middleweight biting off more than they can chew at light heavyweight.