More than just Social Mining!
Facebook and Instagram are the more commonly used social media in Malaysia I guess. I'd been using both of them for more than 5 years and using them is mostly connecting friends and other people that I already knew - my hometown friends, schoolmates, collegemates, colleagues and etc. I think most users also use Facebook and Instagram to connect with people they already knew.
However, Steemit and Lit do the reverse. I get to knew random people from Steemit and Lit then after that get to meet them up in the real world! For Steemit, thanks to #teammalaysia who make that possible!
For this post, I particularly wanna share about a recent meet up with a fellow Litster (Lit user) who came all the way from...
RUSSIA!
MALAYSIAN X RUSSIAN MEET UP!

Introducing Pavel (Lit username:
@giorgobiany
) from Moscow, Russia. I did not remember how I came across his Lit profile, dropping him messages on his Lit posts and from there we began to chat. Until one day he asked whether I was in Kuala Lumpur or not because he will like to catch up with me and Daniel (Lit username:
@drumsticks
).
I was like "Wow! This guy is coming to Malaysia and wanna initiate a meet up! Cool!". Knowing Daniel and his brother, Jason (Lit username: @cryptojase) operates a burger foodtruck and also both of them do occassionally shared about it on their Lit, might as well bring Pavel to meet and catch up there!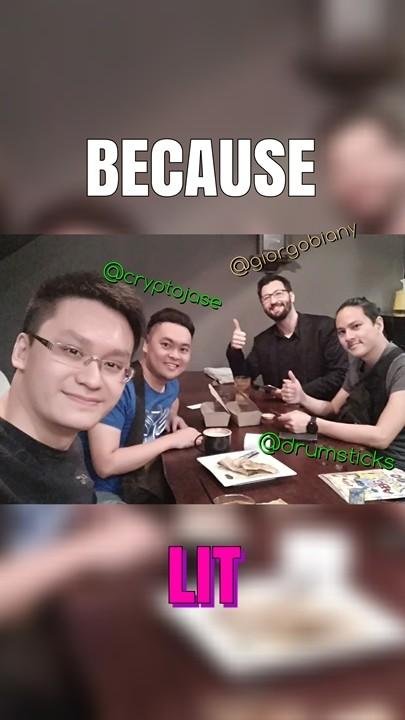 So yea, Pavel came to Malaysia for 5 days for his company's exhibition. If you are following him on Lit, you will see a few days of Lit stories about foods and places in Malaysia! ;) When all of us met, the very first thing we knew from each other was how we jump into the Lit/Mithril bandwagon. For me I got to know Lit through Daniel. Interestingly, Pavel got to know Lit through an advertisement he found on some social app? Kinda forgot what it was because he shared too many interesting blockchain projects that he knew.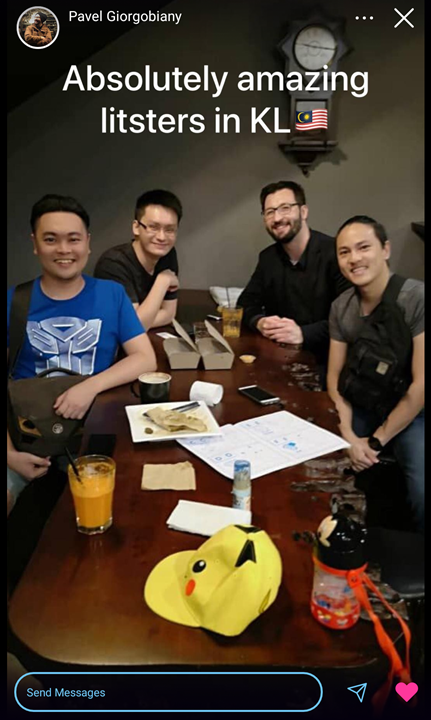 Pavel's Lit story about our meet up!
MEET UP LIT STORY RESPONSE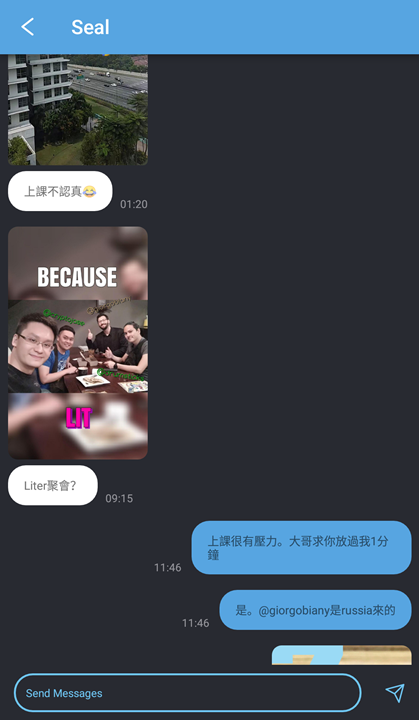 Seal (@kclee) asking whether is this a Lit gathering.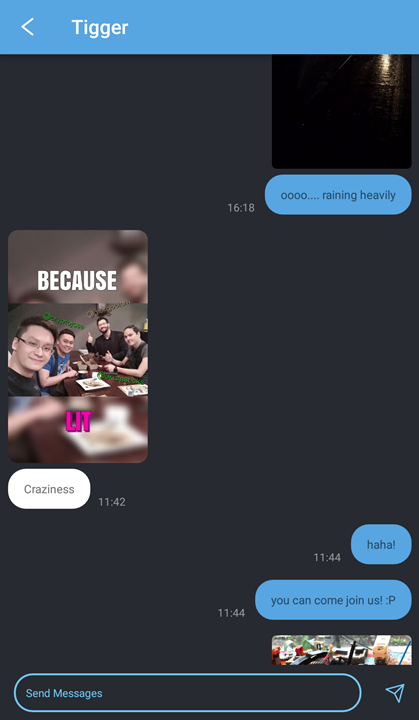 Tigger (@lighthorse) thinks that this is craziness!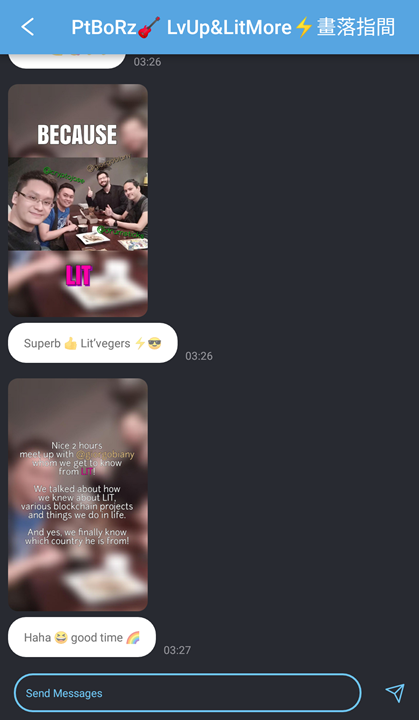 PtBoRz's awesome reply!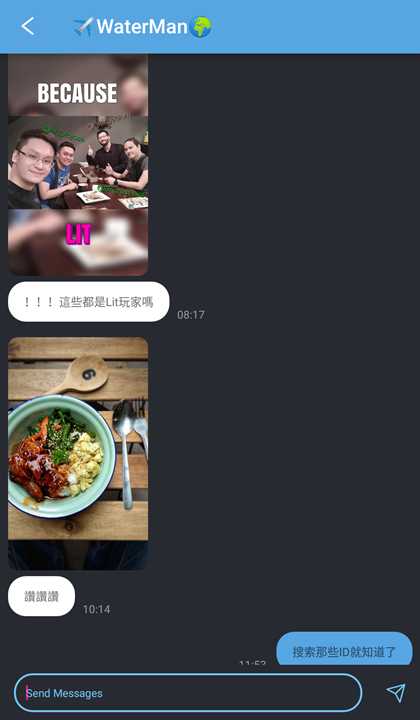 Waterman (@waterman) is asking whether all of us are Litsters.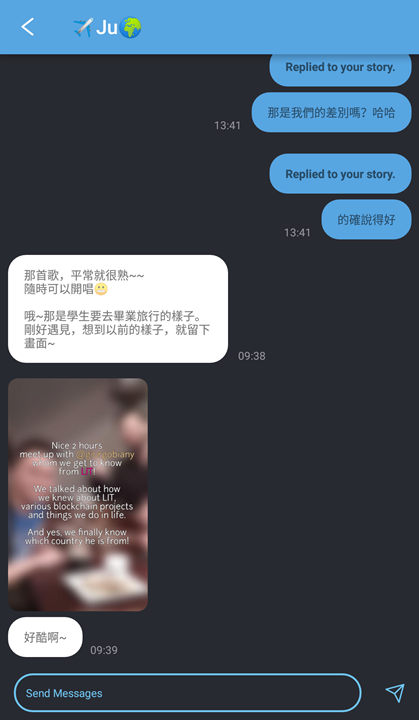 Ju (@chienju) thinks that the meet up is cool.
From the responses I got, looks like it is fun having Litsters gathering and just chill and mingle around. Taking photos together and share them in each's Lit stories. That will be really fun! I guess I missed the fun in Taiwan Mithril Meet Up on 17th September.
IS IT SOLELY JUST FOR SOCIAL MINING?
There will be more social mining app but I guess it is much more than just social mining! No doubt most users including me myself started using Lit because of social mining, treating Lit like a mining machine to mine MITH since the beginning. As time goes by, I enjoyed Lit because of getting to know people from around the world - Taiwan, Germany, the US, Venezuela, India, Australia and Phillippines. The replies I got from above are basically people I regularly chat with in Lit. It's really cool to know culture from their country through Lit.
WHERE SHALL I GO TO MEET UP LITSTERS?
If I wanna pick a country to visit from the list above, I will like to pick Taiwan because Mithril is from there and I am mostly interacting with Taiwan Litsters (more than 10!). Also, my wife missed Taiwan so much since her last visit in 2015. I also have in mind of which Litster that I want to meet if I'm going to Taiwan.
Again, if I treat Lit just as a social mining app for mining purpose, then I guess I will miss the fun of the app itself. Perhaps, the intention of using the app is important. I do know a group of users who really use the app for social purposes asides from the mining element. Also with the new "Video" feature, I notice a new group of users who come to enjoy the new feature though me myself ain't good at that. Still, they created a new style of contents which I find them amazing. Perhaps it's time to know some new friends from there to learn some "video" technique.