Introduction to mining crypto [Getting Started]
I've spent a decent amount of time the last two evenings tweaking the configuration of my graphics cards (GPUs), which in turn has inspired me to write an instructional post about mining. It's really very simple to start but a lot of mining applications require some programming knowledge and this stops many people. There's a lot of information about mining cryptos online, there's also loads about GPUs and their specs but it can be very confusing to beginners. A Steemit blog is the perfect format for a simple but informative explanation. If only I could have found out all of this information the first time I searched 'bitcoin mining'.
You're on Steemit so it's safe to say you know what cryptos are. You will probably also know that many cryptocurrencies can be mined with a computer. In it's simplest terms: mining is validating transactions for reward. The whole network, which is 'validating transactions', is a 'proof of work' system that form the blockchain. For your work you get rewarded in cryptocurrency. I could go into a lot more detail and there's different systems too but this post is about getting people mining rather than getting too technical.

Being the most expensive crypto, Bitcoin is the most desirable to mine but it's also the most difficult. Other coins are much easier to mine but worth less. The difficulty of the coin to mine combined with the efficiency of the miner determines the profitability of mining. Really you should mine the most profitable, even if you don't wan't that specific coin you can convert it to one you do want whilst earning more. The most profitable is determined by what hardware you have. Some cryptos can be mined with CPU, some with GPU and some with ASICS. Everyone will have a CPU in their phone, computer etc. A lot of people will have GPUs in their computers. An ASIC however, would be purchased specifically for mining at high cost. A lot of the major coins really require ASICs these days. Gone are the days of regular bitcoins on a CPU or even a GPU. Buying an ASIC costs thousands though and are usually obsolete quickly because new ones are constantly coming out. Also, the ones that I've seen for sale have warranties shorter than the expected return of investment. However, this is the only way to mine Bitcoin these days and if you speculate that there is going to be a huge increase in price then I suppose they seem better.
If you aren't brilliant on computers but want to get mining, then I have to say get Minergate. It's very simple to use. I know they're really unpopular but for ease of use, with a good range of coins, no one else comes close. All you need to do is download Minergate, sign up with email and password then click 'start mining' on the coin you want! This is how friendly the interface is: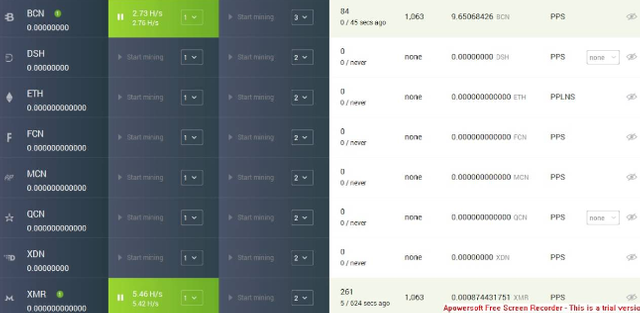 You won't have to join a pool.
You won't have to compile code/batch file.
You won't need to already have different wallets.
It's so easy.
Others have better performance and lower withdrawal fees but it's like coinbase (to crypto) in many ways: most people's entry point (to mining). Most Minergate users will probably move to better software over time. When you download Minergate it will probably get flagged as a virus (a lot of mining software does), just ignore it.
If you're pretty good on computers then most mining software is relatively straight forward. I'd recommend you use something other than Minergate as you will earn more. Some applications may require you write a batch file or manually enter configurations but if you follow the guides they're simple enough. Nicehash, claymores, cgminer, sgminer, easyminer are all popular examples of mining software. Remember that different software will work for different coins most of the time.

I definitely think the best coin to mine with CPU is Monero and the best two coins to mine with GPU are Monero and Zcash. Monero if it's an AMD (GPU) and Zcash if it's nvidia (GPU). As far as I can tell they are literally the most profitable and they're both good coins. The profitability of all coins fluctuates but in general they're the top two. Other coins worth a mention for GPU mining are Ethereum, Ethereum Classic and Bitcoin Gold. Sometimes Electroneum is the most profitable to mine but I don't for other reasons. At the moment I'm hodling what I mine so sometimes predictions on future price can be taken into account for what to go for. Although Monero seems to be the most profitable for CPU, if you don't have much power (like a phone/tablet) you may want to mine an easier but less profitable coin in order to see actual results. This is fine, if I was mining on my phone I would go for Bytecoin, Doge or Electroneum myself because it would just take forever to reach a payment threshold for Monero, Zcash etc.
For mining monero with CPU and/or GPU I use amd-stak:
https://github.com/fireice-uk/xmr-stak/releases
For mining Zcash with GPUs I use EWBF's Zcash cuda miner:
https://drive.google.com/open?id=0B9EPp8NdigFianNlcUh0YWFhOVE
This is a link to Minergate using my referral:
https://minergate.com/a/647fec16520990300c76ca97

P.S. I am going to do full posts on setting up both amd-stak for Monero and EWBF's Zcash cuda miner. Which you may find useful. The last two days I've made big improvements first by overclocking then doubling the number of threads in configuration.
Thanks for reading. If you liked my post then please upvote, resteem and/or comment.