Hashflare.io - BTC mining, maintenance costs to be considered before you buy
Dear Steemians,
I have been wondering the maintenance charges that the hashflare.io deducting the BTC mining payout - do you believe its 80% + in the current market BTC, which means essentially the contract buyer is going to get nothing, buying a yearly contract worth of $ 1200.
Most misleading fact is that they don't include the maintenance cost in the forecast in the user login. So the below picture depicts to anyone that after 1 Year, the contract buyer is going to get that much worth of BTC at current price. But not, this forecast is without maintenance which is 80% + for the 5.4 TH/S Hashrate of worth $ 1200 as on 30th May market.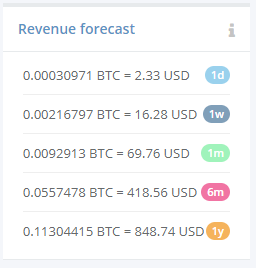 So, if you buy 5 TH/S the fixed maintenance will be of $ 1.75 per day and the payout at the current rate today is $ 2.32 so that leaves nothing but 57 cents. So I believe its not good time to buy the contract now. I am not against hashflare, only that I bought a contract and essentially realised not getting anything, that could be a market situation. May be if this could help someone consider the situation before buying the mining pack.
Thanks for reading and Steeming.. Good day!!