5 Lessons To Learn From The Game Of Chess
When it comes to planning, strategy, and tactics, only one board has all these in one – and that is Chess!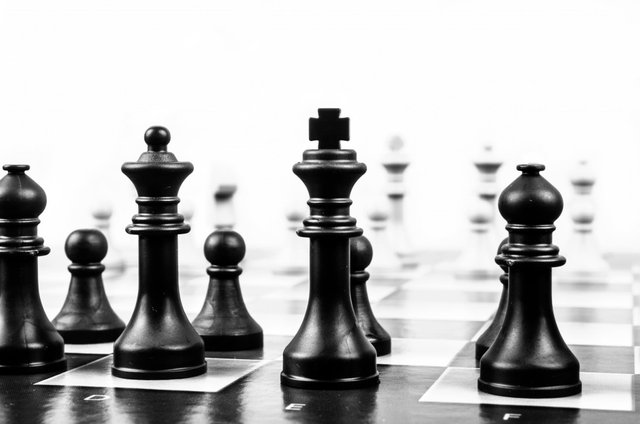 [source] (https://www.pexels.com/photo/playing-game-power-strength-40796/)
Chess players are considered intelligent and strategic, which has made the game one of the most difficult board games ever. It has been used as a stimulant for great warriors who went to war when it comes to planning war strategies.
We all know that life is warfare, and there is so much we can learn when it comes to playing chess.
5 Secret Life Lessons to Learn from Playing Chess
Playing chess is fun, but there are one or two lessons you can learn from it. What are they?
1.You learn the basics before playing
You can't win a chess game without learning the basic moves. To be able to even win a chess game, you must understand how chess is played and other simple moves.
This means, skill acquisition is very necessary in life. Especially as a Nigerian, without skill, you are as good as finished – unless you have the connections.
2. You develop yourself before Advancing
In chess, you have to develop your minor pieces before you advance. Development means taking control of the center of the board. In most cases, whoever takes control of the board center has a higher chance of winning the game;
This means personal development is important in helping you succeed in life. You must develop yourself in your key areas before you are able to move forward in life.
3. Learn to Exchange sometimes
In the game of chess, at some point, you have to exchange pieces just to move the game forward. This is usually set up by those who feel they are in a stronger position.
This means you can't have everything in life. Sometimes you need to use what you have to get what you don't have. It mustn't be in a bad way only, there are other ways to make exchanges that isn't immoral. As long as it favors you, go ahead with the exchange.
Think of when buying someone's idea or investing in an already existing business. Always use what you have to get what you don't have!
4. Always protect your assets
Your most valuable piece on the board is your king. For safety, the king is hidden in a move called "Castling". This will help protect the king from danger.
This means, identify your valuable assets and never lose them. They might be the skills you've acquired, your money, or knowledge.
No matter what happens, always protect those assets that are valuable to you. Never lose them for anything.
5. Think before you leap
Aside from the opening stages, it takes an average of 1 minute or more for a chess player to figure out the next step to take. This helps to curb failure and improve chances of winning.
This means, Critical reasoning breeds success, and that is one of the foundations of success in life.
Keep fighting till the end
As long as the king isn't checkmated yet, you haven't lost. Keep looking for escape routes to force a draw, it simply means don't give up till you can no longer breath. As long as there is life, there is HOPE.