Ethical Emergence Course Review and Testimonial
I participated in a pilot of the Ethical Emergence course created by Michael Nimetz. Upon concluding the program, without being prompted or asked, I volunteered to give a testimonial. I'm in no way being compensated for this (unless of course by Steemit if you click to upvote the story), and everything to follow is 100% my opinion in my own words.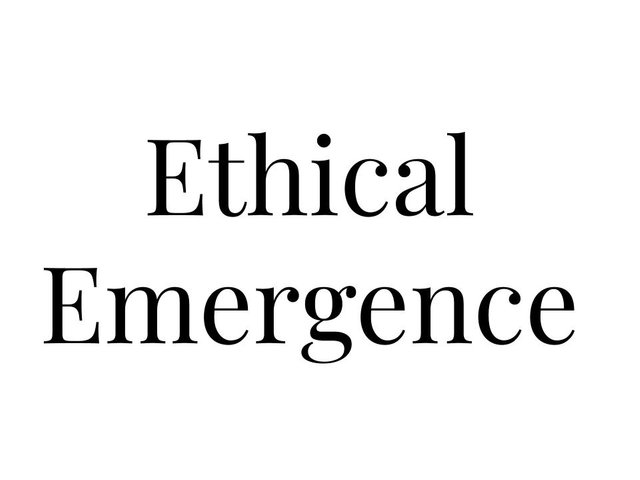 Over a period of 12-weeks, Michael and I met once each week via a phone call for 1 hour. I feel it's important to note that I was initially skeptical about participating in the program and whether or not it would truly be worth my time. Yet, having known Michael for a few years, I also trusted without doubt that whatever he was offering would be meaningful and of high value even if I could not foresee exactly how.
With that in mind, I waded into our first phone call, and confronted Michael with my reservation: That I see limited value in conforming to a stock recipe or formula of habits and routines in order to achieve something just because it has worked for someone else. We then ended up having an enlightening conversation about the nature of self-knowledge and self-discipline, which convinced me that my concern was unfounded. Indeed, the course is much more than following a recipe or formula.
There is a basic framework and certain key elements which Michael has to share, but the course is centered on participatory dialogue, allowing one to give as much input as they receive. I was able to tailor the weekly discussions toward what I perceived would be of most benefit to me, and take an active role in how the discussions unfolded. Nothing was force fed.
More than a teacher, Michael's relationship to the material seemed to me, more along the lines of a coach or mentor. The role of a good coach is not merely to tell you what to do or how to be, but to serve as a catalyst pointing you toward a path of self-discovery and the ability to initiate self-transformation.
I found myself being challenged to explore and integrate the key concepts Michael brought forth, and just as importantly for me, he had no issues with my challenging him by questioning the truth or importance of anything he said. "As iron sharpens iron, so one man sharpens another"
As to the course contents, I can say that 'Ethical Emergence' has the potential to benefit anyone in the following areas:
Gaining increased insight into the unconscious mind and unconscious habits to facilitate self-discovery and self-mastery.
Opening up to, and practicing, the art of meaningful communication. One of the top deathbed regrets for many people is that in life they so often failed to express their true feelings or say what they really meant.
Developing a superior mindset.
Learning creative approaches to problem solving and resolution of interpersonal conflicts/disagreements, whether in business or personal relationships.
During our talks I was given opportunity to practice skills in each of these areas, as well as through some homework assignments. And each week, between meetings, I found myself pondering the more salient aspects of our discussion to see in what ways I could apply them to my day.
So far, a few months on from our last meeting, some of the lessons are still resonant and I'm continuing to apply them more consistently and with greater clarity. I have the sense that my consistency is not a matter of mechanical routine as one who sleep-walks through their day, but is the result of my being more alive to my potential and having a greater willingness to do what needs to be done on a daily basis to bring it forth.
For all those considering taking the Ethical Emergence program, my advice is to treat it as a golden opportunity, and if approached in that way, I feel confident in saying if you earnestly want to get something out of it, you more than likely will.
You can find out more about Ethical Emergence on Mike's blog here and here.