We live busy and complicated lives. For many of us, a mindful practice helps us deal with the stress and anxiety of the modern world. It increases our health by supporting immune function, lowering inflammation at a cellular level, helps with pain management, increases positive emotions and happiness, lowers depression and helps manage anxiety, increases social connection and emotional intelligence, increases compassion and empathy, helps with loneliness, helps you be more in control of addictions and emotions such as anger or grief, and completely changes your brain in incredible ways. It even boosts your productivity, which might seem counter-intuitive as you are sitting doing nothing, but it enables you to be more focussed and attentive. If you have always wanted to meditate, and need the inspiration, today is the day to start.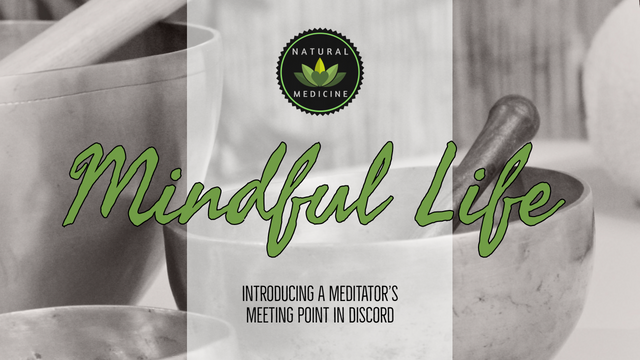 Because of all of the incredible health benefits of meditation and mindful practices, Natural Medicine always hoped to included meditators in this collective. Now, we're doing it in a way that hopefully you'll love.
Goals of 'Mindful Life'
To unite meditators across the Steem blockchain so that we can share and strengthen our own practices
To provide a space to discuss the philosophy, science and practical application of such practices in our lives
To inspire and motivate each other
To provide support if we might be struggling, connecting with like minded people who might offer solutions
Support for Members
By bringing this space into an already established group (@naturalmedicine) of over 700 followers, we are in the position to support your posts about living a mindful life by resteeming well produced posts and upvoting them. Currently, our vote is quite healthy and growing!
We will be publishing a curation post every Monday, curated by @tryseke who began the #mindfulmonday tag on Steemit. We are offering SBI rewards for the best post each week!
We hope to increase engagement through post promotion in Discord - see below.
Discord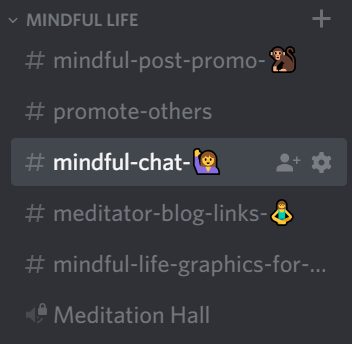 @bewithbreath, @tryseke and @porters are our moderators for this channel (all experienced and passionate meditators), and they'll make you feel welcome when you arrive.
Delegate, drop your introduction in the 'introduce yourself' section for Natural Medicine, and your blog link in 'Meditator Blog Links' so we can find people and follow them easily.
Feel free to use 'mindful post promo' to promote your posts. Unlike the grand 'natural medicine' post promo, it's not compulsory to comment or upvote, BUT we do expect you don't always drop and run, but spend time interacting and commenting on each other's posts.
Feel free to drop the links of others in the channel, and invite others to this group.
@bewithbreath, who inspired @riverflows to create this group, is planning to run group meditations in the Meditation Hall - watch this space!
Feel free to use any of the footers under 'mindful life graphics' under your blog. There's also a gif you might enjoy!

We are really excited about this community, and welcome anyone who would like to take part. We'd appreciate resteeming of this post to get the word out across Steemit.
We have set a steembounty on this post so that you might earn a small steem reward for your interaction with this idea. What are your thoughts?
Looking forward to seeing you in 'Mindful Life'!
May you be happy
May you be healthy
May you be safe
May you live with ease

Mindful Life Needs YOU! Please consider delegating to by clicking any amount below to help support this project, hosted by @naturalmedicine, and it's members.
Minimum entry for membership is 20SP (free for members under 150SP). This helps support both those interested in natural medicines and meditation or mindfulness on the Steem Blockchain.
Join us on Discord here - we'd love to have you!