Top 10 STRANGE Festivals in India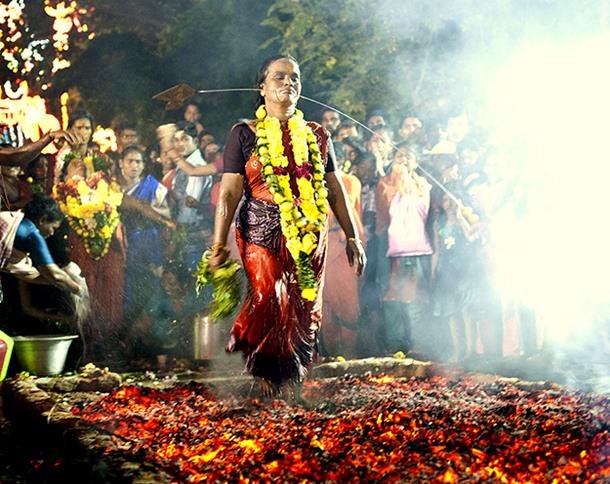 Hello friends today we are talking about Top 10 bizarre festivals celebrated in India. These are not common festivals, but are weird and bizarre that you will be surprised to see. Tell us which of these festivals do you believe and are they are necessary to believe?
Thimmti, Tamil Nadu.
Thimmthi Festival is one of the popular festivals of Tamil Nadu. You will be surprised to hear that in this festival, there will be fire and wood burned and ashes and you have to walk on the same hot wood. This practice has come from ancient times, in which any person can walk in this fire. People believe that there is no pain in them, because they are being fed something before the feet are thrown into the fire, which becomes a little addictive. Even today,this practice is believed by Tamil Nadu people. The interesting thing is that this festival is celebrated not only in India but also in Sri Lanka, Mauritius and Singapore.
Lath Mar Holi, Barasana.
Lath Mar Holi is celebrated in the small village of Mathura in Barasana. This custom occurs on Holi women of the village have to strike their husbands with sticks and husband avoids killing them with a shell. Do not assume that the husband dies in the right way, it is a custom in our society to show that women are the form of power. The people of this place believe that when Lord Krishna came to meet Radha in his village Barasana, secretly gave him a kiss on Radha's cheek and he ran away from that place of Barsana. Radha had struck Krishna with black sticks along with gopis to take revenge and since then this practice started. If you also want to kill your husband with a stick, then definitely participate in the celebration. This festival is of color and love.
Jallikattu festival, Tamil Nadu.
You must have heard about the Jallikattu festival, because this festival was a subject of discussion in recent times. In Jalalakuta, gold and silver are hung in the horn of bull and then the bull is left open between the common people. People have to take control of this bull and take gold and silver as a reward. This celebration is similar to Spanish bull fighting. It is more like a game than a festival in which there is no harm to the bull. These games have been running since ancient times and hence people do not want to stop it.
Puli Kali, Kerala.
Puli Kali is a popular festival of Kerala. It is like a carnival that is believed to be like the Carnival of Rio. The special feature of this festival is that in this, the people whose stomach is big, come in disguise of the lion and are celebrate during Onam. People who take part in it put colours in their entire body and also shape the animal. Even tiger teeth, organisms are also used. With all this enthusiasm, they get out of procession in every street and entertain people. This is a fun festival and it is celebrated a day before Trissur Pooram.
Thaipusam, Tamil Nadu.
Thaipusam is among the most bizarre celebrations in India, which are celebrated in Tamil Nadu. You will not believe how celebratory this festival is. In this, the devotee make different piercings in his body, holes and pierces. Devotees fast for 48 days before this festival, and do not talk to anybody. They believe that this leads to a different world where they do not feel pain. According to mythology, Parvati gave Shiva a gift to kill the monster and this festival is celebrated for this reason.
Garudan Thookkam, Kerala
Garudan Thookkam, KeralaGarudan Thookkam is a celebrated festival of Kerala which is celebrated to please Kali. The specialty of this festival is that before the devotees dress as Garud, then dance in song. Earlier this festival was also called Eagle Hanging, because people were hung from a hook, but today, in modern society this tradition is not, but people celebrate this festival with dancing, which will create a very beautiful and happy atmosphere.
Nag Panchami.
Nag Panchami is considered a very sacred celebration in Hindu Dharam. This is such a festival that every devotee celebrates with utmost respect. In this celebration, a hopping snake is given milk. According to mythology it is considered very auspicious. This custom is celebrated on the night of Purnima and says that whatever your desires are fulfilled by doing so. By doing so, we make a place for snakes so that they cannot come into our house. Do you know that in some places where the snakes live, some medicinal plants will grow and the soil will also be fertile and also purifies the air.
Celebration of Karani Mata, Rajasthan.
Do you like the mouse? No, then listen again. There are such temples in India where mice are kept with great love and they are fed food. This temple is the temple of Karani Mata. There are about 2000 mice in this temple and they are fed food in this festival. It is believed that your full desire will be fulfilled if you have eaten the same food that a rat has eaten. Even here it is said that there will be no shortage of life if you look at the white rat on this festival, which sometimes comes in this temple and it is considered very auspicious. This indicates that we respect every animal in our civilization, in the same way in the other countries such as in America, people take care of cats.
Ayudh pooja
Ayudh puja is given great importance in India and this tradition has been going on since ancient times. In the past, King Maharaj used to worship weapons before going to war so that he could succeed in the war. Since then, this practice is going on. It is just like Viswakarma Puja.
Dhinga Gawar, Rajasthan
Dhinga Gawar is one such festival in this list which is full of fun. In this celebration, the girl decorates in different ways. According to mythology, once God Shiva had dressed himself as a cobbler and seeing only that, Parvati mother had adopted the identity of a village girl. From then on, the people of Jodhpur celebrate this festival and roam in different dresses.
If I missed any name, please comment below. I hope you liked this post. Please upvote and comment.
Thank you.