What is centralized and decentralized exchange ? centralized VS decentralized
CENTRALIZED EXCHANGE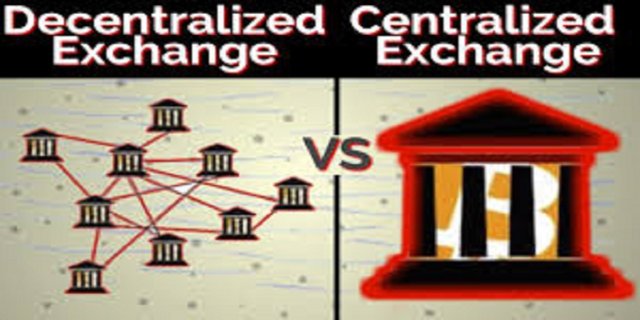 What is centralized exchange ?
Centralized exchanges are taken into consideration the most commonplace form of cryptocurrency exchanges and facilitate the buying and selling of cryptocurrencies with fiat currencies similarly to shopping for cryptocurrencies with different cryptocurrencies. most centralized exchanges accept bills through bank or twine transfers and debit or credit score card bills.
List of Centralized Exchange
1.Poloniex
2.Bittrex
3.HitBTC
4.Yobit
5.Cryptopia
Benefits
1.Advanced features
2.Easy to use
3.advanced tools
4.liquidity
Downsides
1.Exchange control funds
2.Personal documents require
3.not anonymous
4.possible to be hacked
DECENTRALIZED EXCHANGE
What is decentralized exchange?
A decentralized exchange is an exchange market that does not rely on a third party service to hold the customer's funds. Instead, users trade directly (peer to peer) through an automated process.
List of decentralized exchange
1.Bitsquare
2.Blocknet
3.Coinffeine
4.BlackHalo
5.NOV
Benefits
1.Users are anonymous,decentralized exchanges don't require any personal information.
2.user control their own funds.
3.Safe from hacking
4.no trading fees
5.no personal documents to apply
Downsides
1.not easy to use
2.basic features
3.if you computer has been hacked, said bye bye
4.Trading features like margin trading, lending and stop loss are currently not available