Is it worth investing in Bitcoin & Cryptos?
After a disaster bearish trend in first two quarters of 2018, the most debatable topic in crypto sphere is future of crypto currencies. In 2017, we have seen one of the most dramatic bull run in history of any investment market. Most of us are familiar with the history of crypto king-THE BITCOIN. But many new investors need to know the facts that I am going to share in this article & they also need to understand the miracle bull run of other top altcoins in 2017.
Before sharing the details, from the perspective of an investor we need to gain knowledge of expected return on investment in different sectors like real estate, investing in bonds, fixed deposits in banks, investing in shares etc. Myself being a banker, I can assure you that if you need to earn big, crypto is the answer. I have been in this crypto industry since 2016 & suffered many losses but in long terms, there can't be any loss at all.
Many of us have entered at the peak of the bullish market & is now in huge loss. The best way to look at it is not to look at it now. Crypto revolution is in its very stage now & we are lucky enough that we are already a part of it. So better HODL it rather booking loss now.
If you are an investor, you need to check the image below.
![Crypto vs stock.jpg]
(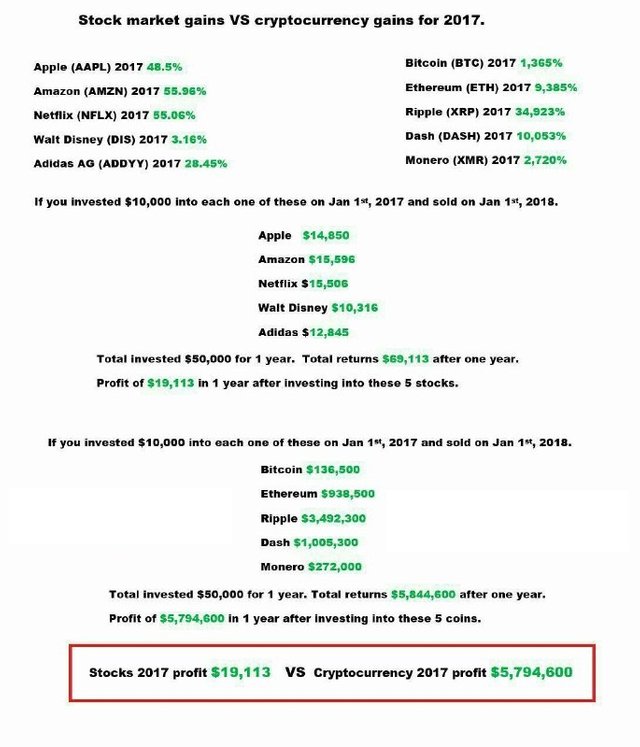 )
Share your views in comments section @cryptokuber, upvote to show your liking.