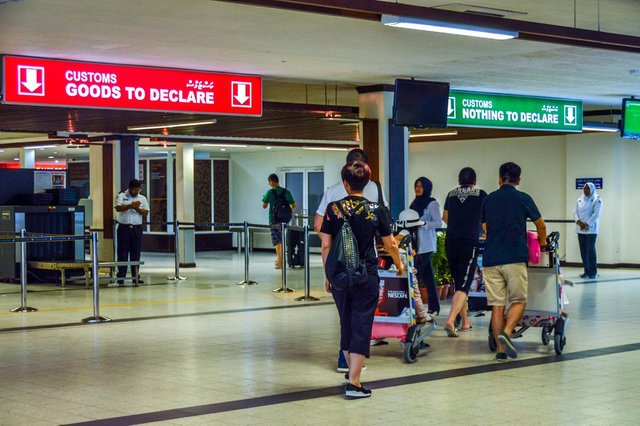 NOW LET'S TALK ABOUT WHAT IS GREEN CHANNEL AND RED CHANNEL?
As cleared from Part 1 of this blog that a person can bring goods of amount of Rs.25,000. The condition is that the goods you brings in India is for your personal use not for any commercial use. If such goods is for the commercial use, then it is seized by the Custom Officers.
Example:- if any person brings 50 mobile phones, from this it is clear that such mobiles are for the commercial purpose not for personal use. So such mobile phones are seized by custom Officers.
When any person reaches at Airport, he/she has to cross from either Red channel or Green channel.
GREEN CHANNEL :- The passengers who is carrying the goods within the permitted limits of custom and not carrying any prohibited item, such passengers can cross from the Green Channel. Such person has nothing to declare to the custom officers.
RED CHANNEL :- The passengers who is carrying the goods beyond the permitted limits of custom, such passengers has to cross from the Red Channel. Such passengers have goods to declare to custom officers.
If passengers has the goods more than the permitted amount i.e. Rs. 25,000, then he has to cross from red channel and show the goods to the Custom Officers. The value of goods is estimated by the custom officers and the receipts, bills of goods have to shown to the officers. After the valuation of goods, the custom duty of 36.5% has to pay by the passengers.
You can bring the goods of Rs. 5 lacks maximum and you have to pay the custom duty on them. Even if you are ready to pay the custom duty on the goods, but you can't brings the goods of more than Rs. 5 lacks. If the goods are Gold, Diamond or like these, custom duty has to be paid in foreign currency.
WHAT HAPPENED IF ANY PASSENGER HIDES THEIR GOODS?
While crossing the green channel, if any custom officer has doubt on nay passengers, he can check the luggage of that person. At that time if you are holding the goods of amount more than Rs. 25,000 then you may have trouble. On the goods, after taking custom duty on such goods, custom officers also imposed penalty on such goods. The amount same as the amount of goods has to be deposited, then only your goods is given to you back. And if such goods are beyond the amount of Rs. 5 lacks, then passenger can be arrested. And if you find guilty in such matter, there is provision for imprisonment which may extend to 7 years.
STILL HAVE ANY DOUBT?? YOU CAN ASK IN THE COMMENT SECTION
FOLLOW ME FOR MORE USEFUL INFORMATION LIKE THIS. HERE'S AAKASH GAIND SIGNING OFF. TAKE CARE.