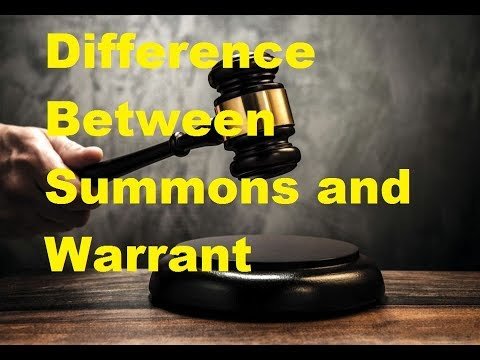 IF YOU ARE OF THE OPINION THAT SUMMONS AND WARRANTS ARE SAME THING, THEN YOU ARE WRONG.
SUMMONS AND WARRANTS ARE NOT THE SAME THING. THEIR IS VERY BIG DIFFERENCE BETWEEN SUMMONS AND WARRANTS.
DO YOU WANT TO KNOW HOW?
HERE THE DIFFERENCE BETWEEN BOTH.
SUMMON is the legal notice which can be issued by the Court in civil as well as in criminal matters. Summon is issued for the appearance of the person in the Court or to produce a document before the Court. Summon can be send to the person by any registered post office or courier company and the receiver has to sign on the receipt of summons when he receives it.
WARRANT on the other hand known as Order of Law which can be issued by any Judge or Magistrate. In warrants, their is authority to arrest an person, to search or seize premises or undertake any action as mentioned in warrants. Police can't arrest any person or search anybody's house without warrants. Court only has the Authority to issue the warrants and it must be in writing which includes the name and stamp of the Court as well as the offence for which he is tried.
I THINK FROM ABOVE IT IS CLEAR TO YOU THAT SUMMONS AND WARRANTS ARE DIFFERS FROM EACH OTHER.
STILL HAVE ANY DOUBT?? YOU CAN ASK IN THE COMMENT SECTION
FOLLOW ME FOR MORE USEFUL INFORMATION LIKE THIS. HERE'S AAKASH GAIND SIGNING OFF. TAKE CARE.