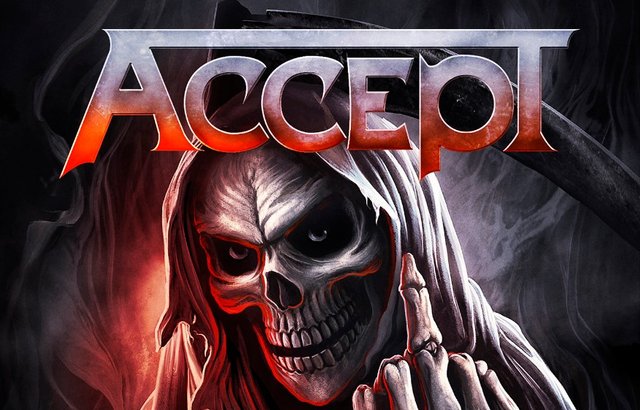 It will be released on April 19th and you can pre-order it now, here: http://nblast.de/AcceptLifesABitch
Guitarist Wolf Hoffmann commented: "We love the title of the single… WHO does not agree THAT: 'LIFE'S A BITCH'? It is universal, even if the stories are different. Everybody knows what that means!"
Life's A Bitch - Tracklisting:
Side A: Life's A Bitch
Side B: Restless And Wild (Live At Wacken 2017)
ACCEPT are about to hit the road in Europe for some select tour dates. They released their latest live masterpiece Symphonic Terror – Live At Wacken 2017 late last year. The release - available via BluRay, DVD, CD and LP - portrays their unique two hour show shot at the legendary Wacken Open Air festival on August 3rd 2017. The band played the biggest and most extraordinary show of their career on that day, in front of 80,000 fans live at the festival, on top of thousands more fans watching via a live stream. The show was divided into three parts, showing the full creative power of ACCEPT: The first part hosted the premiere of new tracks 'Die By The Sword' and 'Koolaid', as well as some of their most popular songs, such as 'Restless And Wild' and 'Pandemic'. The middle part hosted guitarist Wolf Hoffmann accompanied by a symphony orchestra, presenting a best-of from his recent solo album Headbangers Symphony, which includes metal versions of some of the world's biggest classical compositions (e.g. Beethoven, Mozart, Vivaldi...). And last but not least, in the final part fans were able to bang their heads to ACCEPT anthems (also accompanied by the orchestra), such as 'Princess Of The Dawn', 'Breaker', 'Fast As A Shark' and 'Metal Heart', as well as to new songs like 'Stalingrad', 'Shadow Soldiers' and 'Teutonic Terror'. The finale could be nothing less than an 8 minute version of their eminent hit 'Balls To The Walls'!