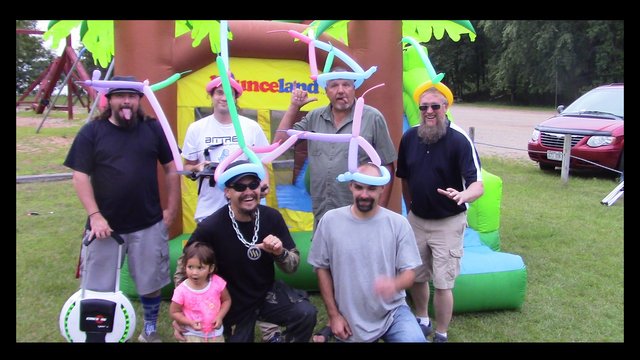 What in the world just went down?
---
Whatever it was, I am soooo glad that I was there. First off, as far as steemit meetups go, this one was rare! I think that there were many firsts that occured at it too. So far as I know, this meetup was the first one to include the following:
BALLOON HATS

A BOUNCY HOUSE

AN ELECTRONIC UNICYCLE

FIREWORKS

FISHING TOURNAMENT

A DRONE

PEOPLE UPVOTING RECIPES WHILE THEY ATE THE FOOD IN THE RECIPE

HACKY-SACK
---
I am going to try to fit this all into one post, so here it goes.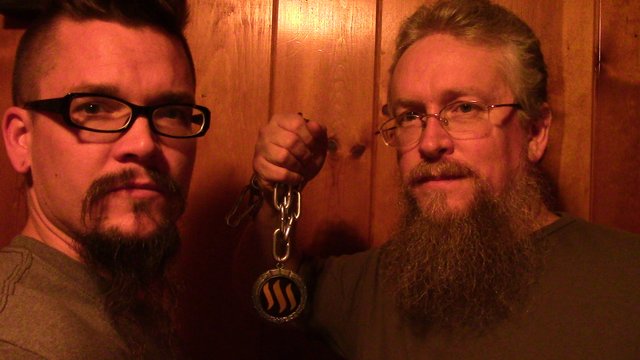 First off, I have got to thank @provider for, well, providing! This meetup was his idea and he is the one who took care of planning it and securing a location.
That location even had a park, swimming area, and playground. When you consider all of that and add in the shelter house that we used, it was an excellent location!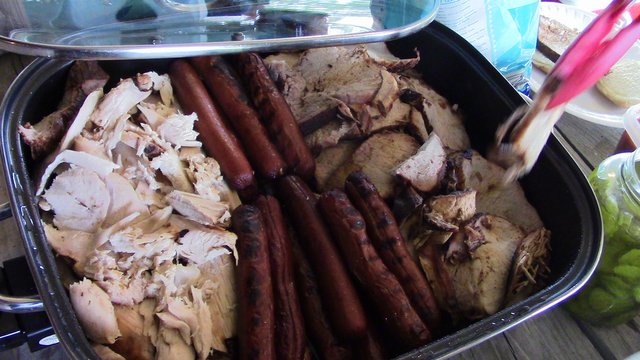 @Provider also provided some excellent food and beverage options. The meat in the photo above was apple-wood smoked and was extremely delicious.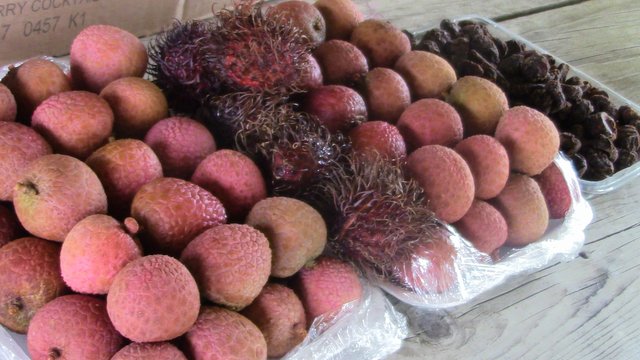 @Papa-pepper brought some Lychees, Rambutan, and dried Longan fruit for everyone to try. Since I like checking out different things anyway, I thought that I would share some of these, which are among my favorites.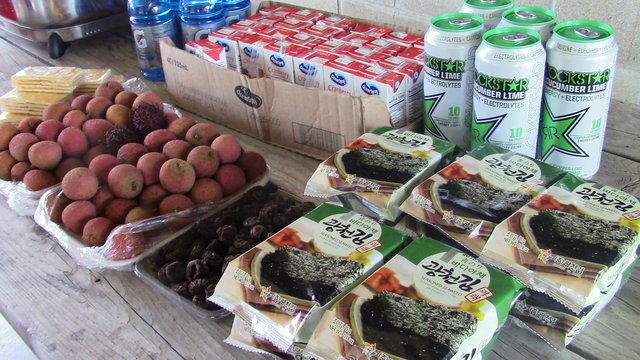 I also threw in some seaweed, cucumber-lime flavored rockstars, cranberry juice, and gatorade.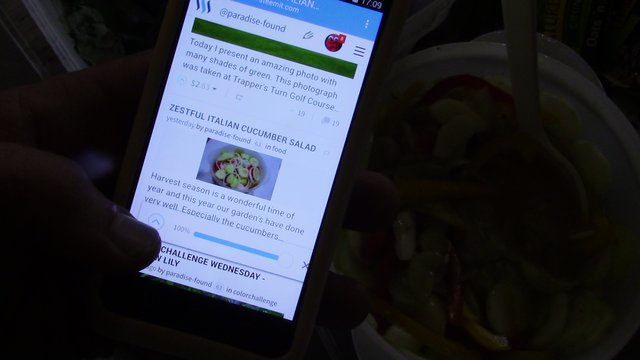 @Paradise-found brought his Zestful Italian Cucumber Salad and I was able to upvote the post while I served myself some. How cool is that?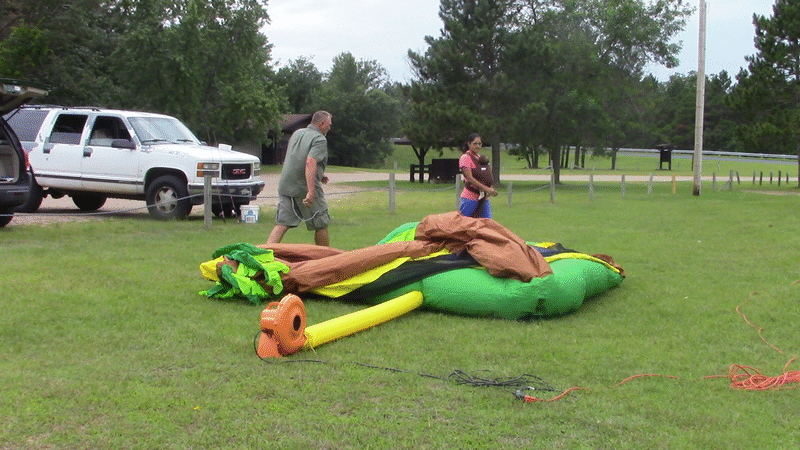 @Paradise-found is also the reason that we had a bouncy house! I am pretty sure that this was the first steemit meetup to have one of those at it. @Mama-pepper helped set it up, and I took photos of it for a GIF, because I am a steemian and it is what we do.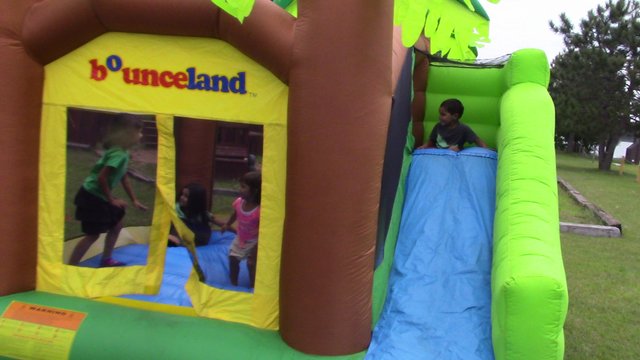 Even though the @little-pepper and other children who came to the meetup had the beach and playground, they sure took to the bouncy house. Imagine that!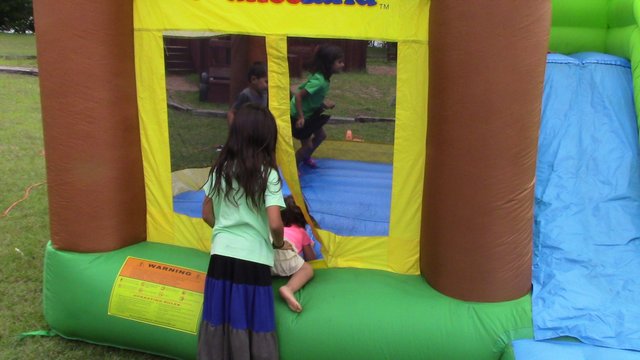 Thankfully, they were still kind and helpful, and they asked if they could please use it every time that they wanted to get back in.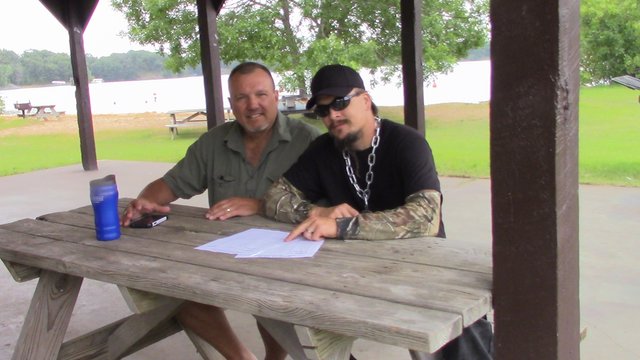 @Paradise-found is also working on an NFL pick contest where he will have "STEEM-lebrities" do come picks for each week. Since @papa-pepper is a "STEEM-lebrity" according to some, I did the picks for Week One! Keep your eye on the @paradise-found account for more on that.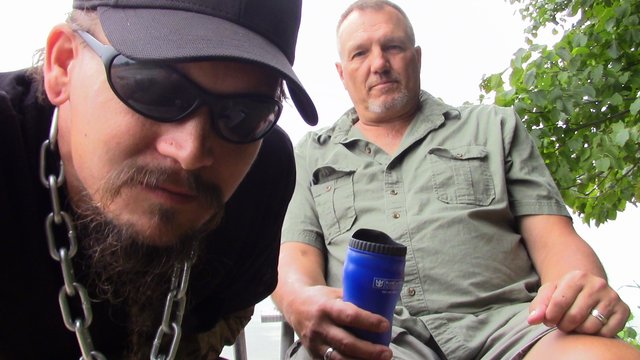 I also took a minute to interview @paradise-found for my "Getting to Know One Another" series. I will work on getting that post out in the near future. This was especially nice, because it gave us a chance to hang out and talk a bit more. Interestingly enough, @paradise-found lives in my old hometown, but we never met one another until steemit. After talking for so long online and on the phone a bit too, it sure did not feel like the first time that we met each other in person!
FISHING TOURNAMENT?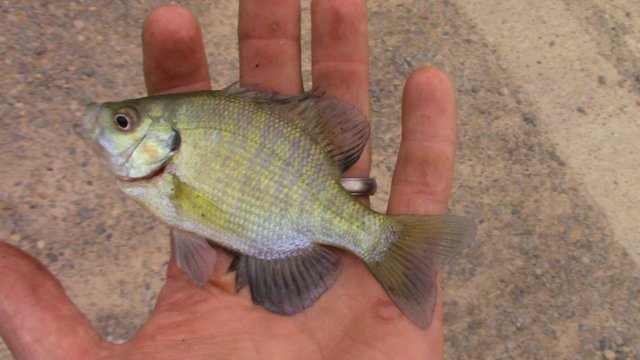 Since the meetup was on the shore of Lake Arrowhead, I decided to put together an impromptu fishing tournament. I had some fishing poles with me anyways, and we found some worms in the woods, so all that I needed was a prize.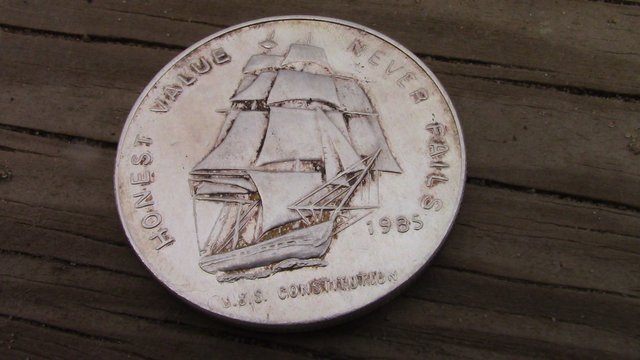 There, in my pocket was a troy ounce of silver, in the form of a bullion round. On the face of it was featured the U.S.S. Constitution.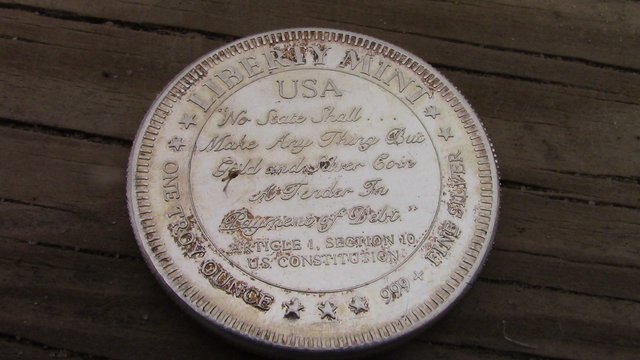 Interestingly enough, on the back it read, "No state shall... make any thing but Gold and Silver coin a tender in payment of debt" from Article 1, Section 10 of the US Constitution. Hmmm.... how the times have changed. Anyway, I put the ounce of Silver up as a prize.
The tournament was to be a 1 FISH contest. Each person who wanted to (basically those with fishing licenses) had the opportunity to cast a pole and catch one fish. Whoever caught the biggest one would win.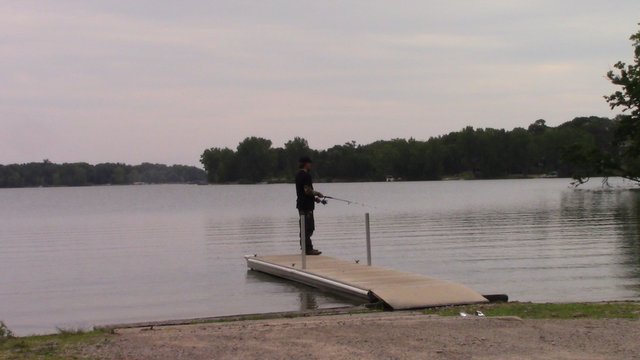 @Papa-pepper went first and fished really hard for about one minute. Then, I caught my fish!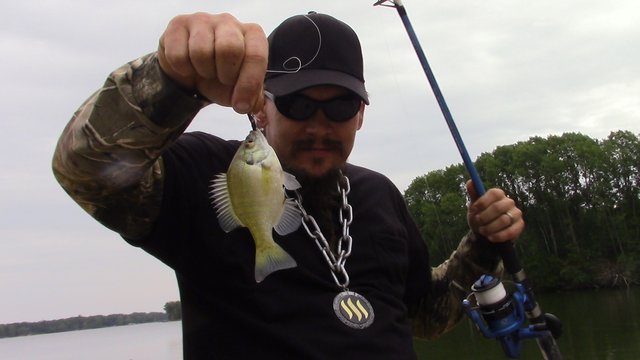 So far, I was in the lead and mine was the biggest!
---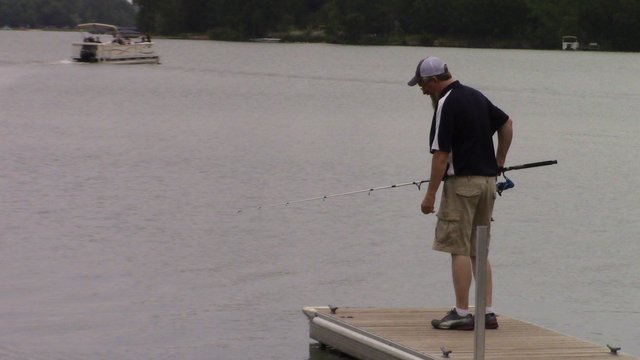 Next up was @provider, who also fished really hard for about a minute.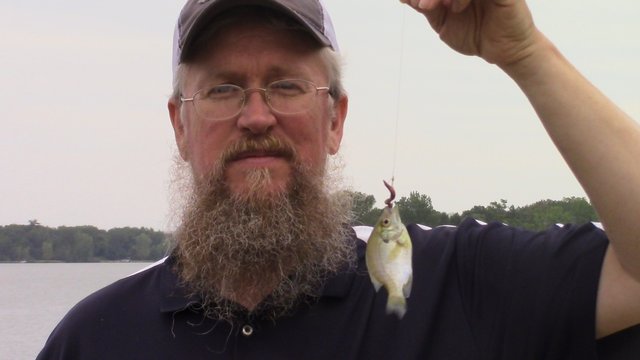 Though he did see even bigger ones, he caught a small one instead, so I was still in the lead...
---
Until this guy came along. Just look at how the fish that @paradise-found is reeling in is bending the pole and making big splashes!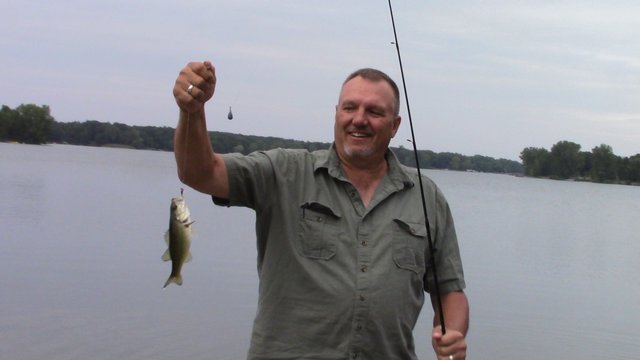 Unlike the little Bluegills that @provider and @papa-pepper caught, @paradise-found catch a bass. Unfortunately, it was the biggest.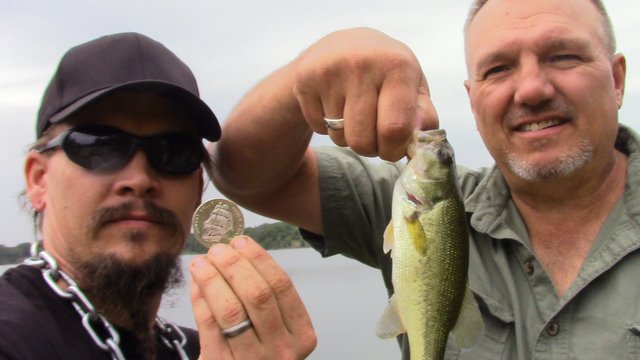 Sure enough, it was big enough for the win! @Paradise-found was the big winner and took home the Silver!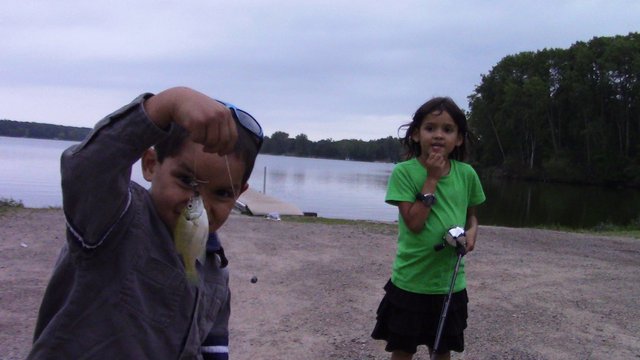 The @little-peppers tried to win my Silver back, but unfortunately they were unsuccessful.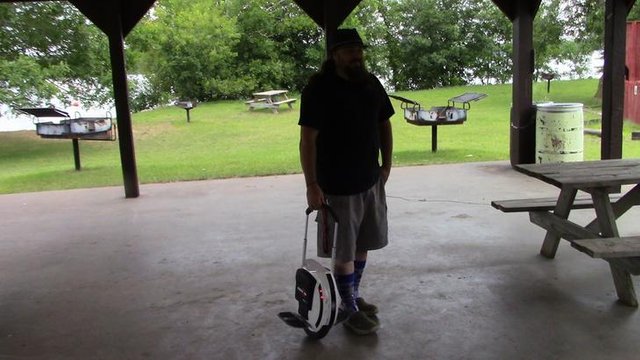 Now this guy was a treat. First off, he had drove up from the Chicago, IL general area, which put his jaunt at about 4 hours. Not only did he drive all the way up here, he also brought something very interesting.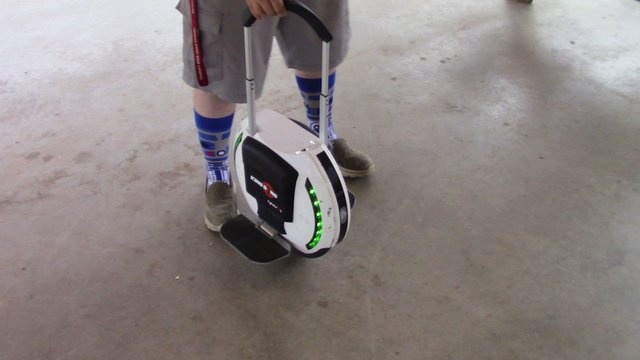 I am not sure how many of you have seen one these before, but it was my first time. Interestingly enough, it is an electronic unicycle.... no, really!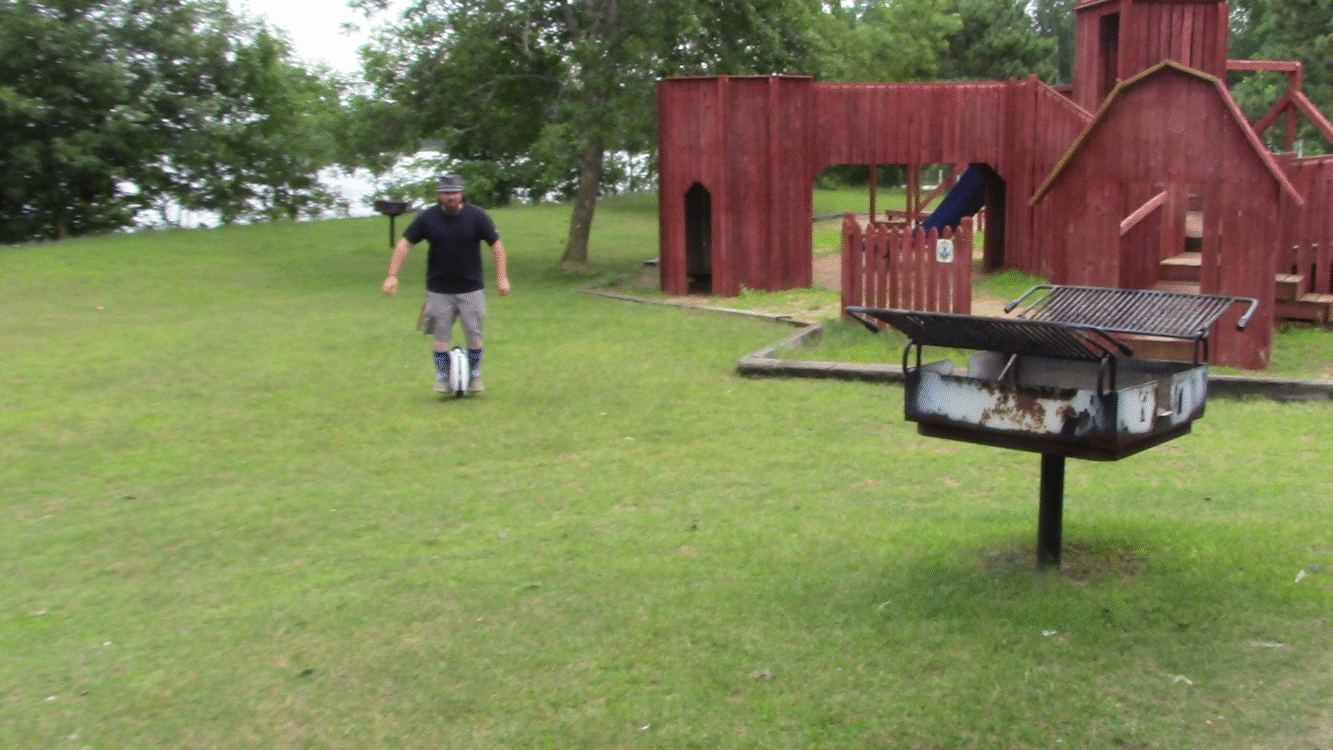 Just check that thing out. If you want to see more of it, you should follow @jasonhenza, but here are two short videos that I recorded just to get you more interested about it.
Not only did @jasonhenza bring his $1500 electronic unicycle, he even let some of us try it!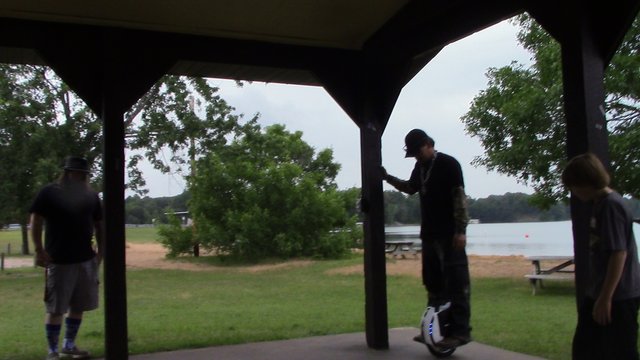 I never did get the hang of it, but it was still fun.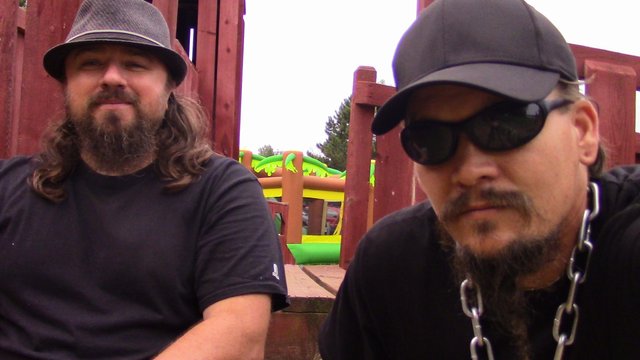 Since this was my first time meeting @jasonhenza, I took the opportunity to interview him too. In our discussions later that night, I was impressed with how much he knew about crypto.
@Mama-pepper enjoyed meeting him too, and thought that he kind of looked like Mark Mohr, the lead singer of Christafari. I would agree.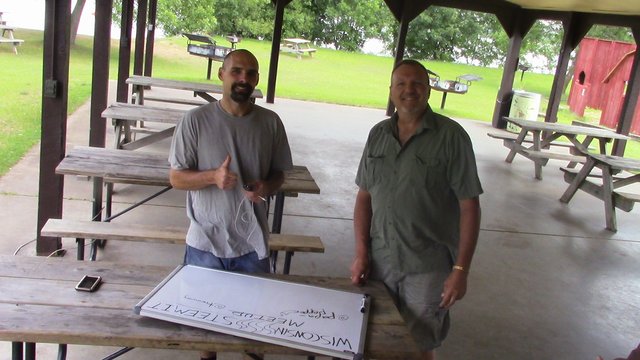 This guy is another one of my RFL from LBS. (RFL = Real Life Friend / LBS = Life Before Steemit.) In the photo above you can see him signing our meetup board with @paradise-found.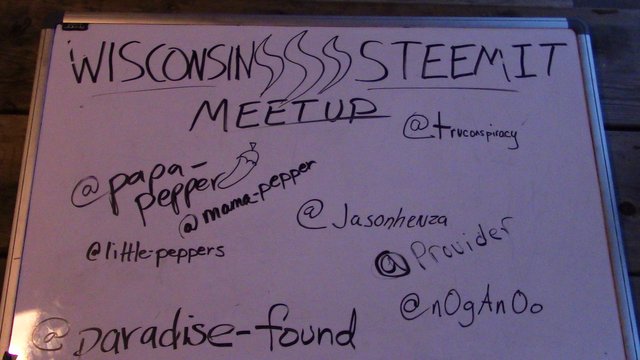 He found out about steemit last year too, but did not get active in the community or on the platform until recently, and he is kicking himself for it. I'll be trying to interview him next weeked.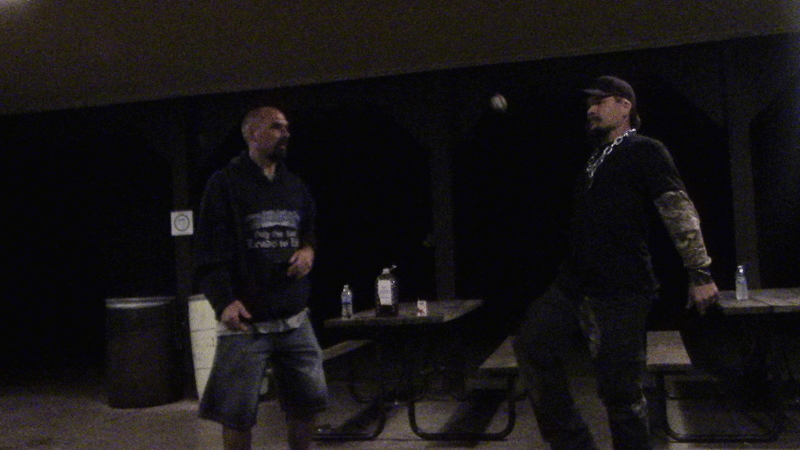 He had our own hackathon... well, actually we just played hacky-sack with one I picked up for him in Mexico. I did learn something though.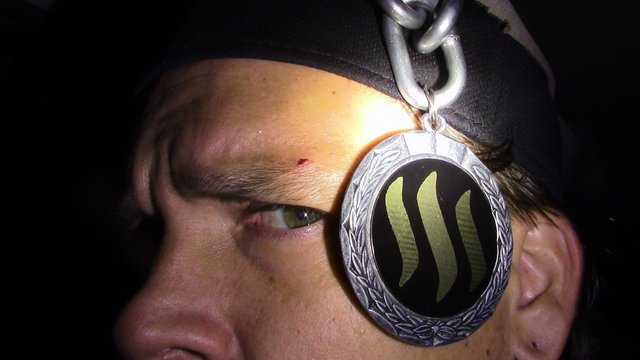 If you play hacky-sack with your giant STEEM-chain on, you could cut open your eyebrow. It did not bleed much, but it was still cut open.
RARE TREATS!
If you saw the sign up board, you may have noticed that another steemian showed up. Some of us at the meetup have known him for years.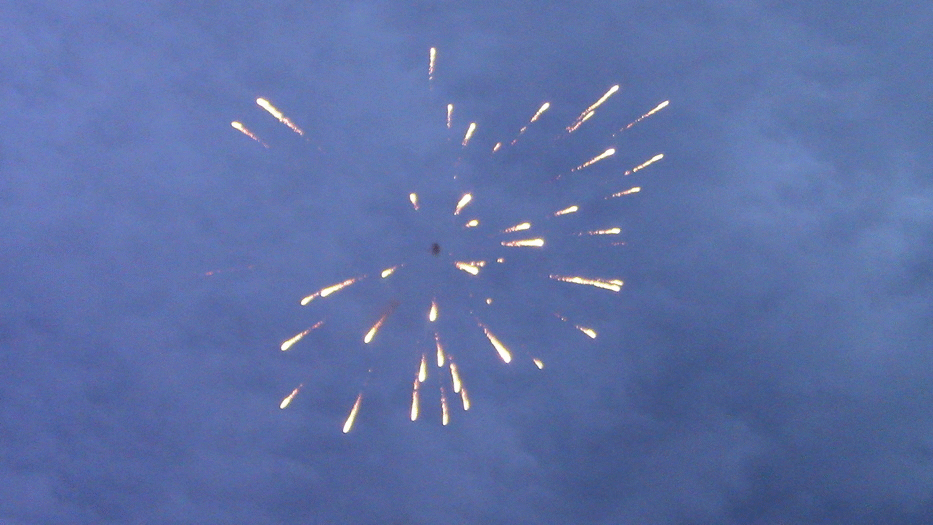 He brought some of his fireworks to light off, which may also be a steemit meetup first.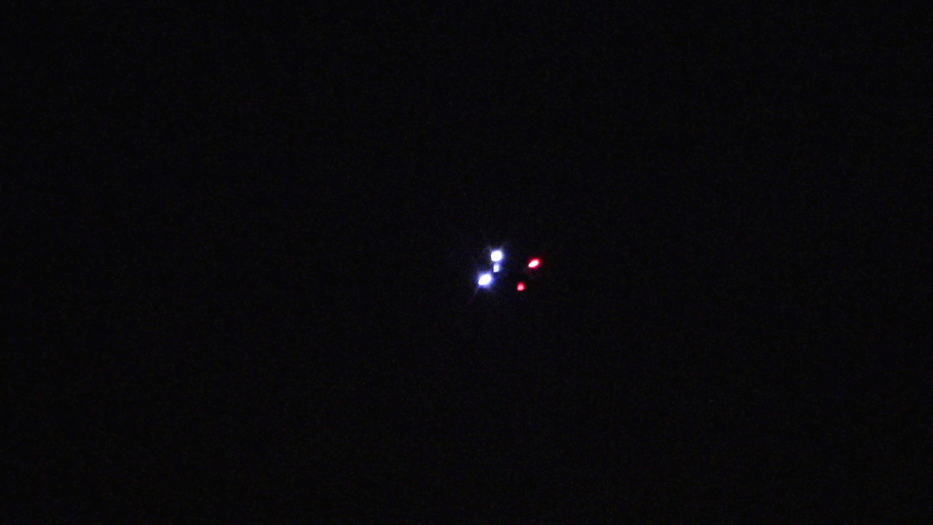 He also brought a drone and a some very tasty beef jerky.
CLOSING THOUGHTS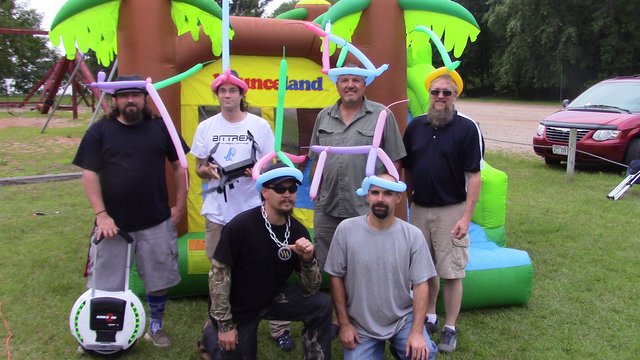 When you look at this interesting group of people with balloons on their heads, it should make you consider what is going on. Here we have people to drove to another state just to hang out with some folks they met online. You also have people from the same town meeting one another because of steemit.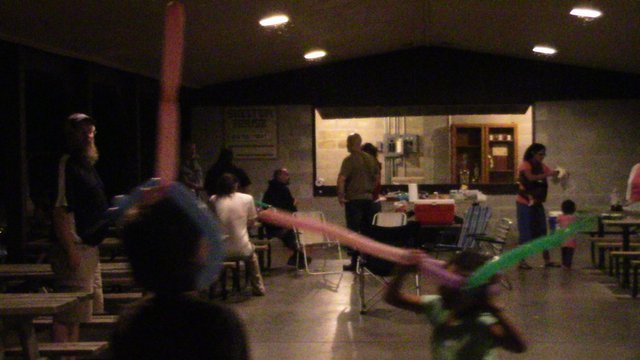 Even though the event was scheduled from 4 pm - 9 pm, we were still hanging out until just after 11 pm!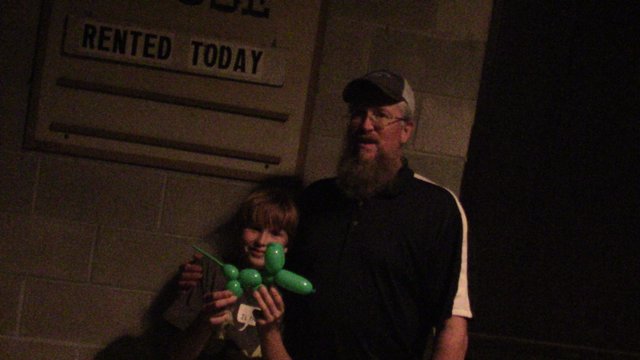 When balloon animals are still being made after dark, you know that it is a good party! As always, it was a blessing to attend this event and so great to meet even more steemians in person! You may want to keep an eye on some of the accounts that I mentioned above, because these are some very interesting steemians.
As always, I'm @papa-pepper and here's the proof: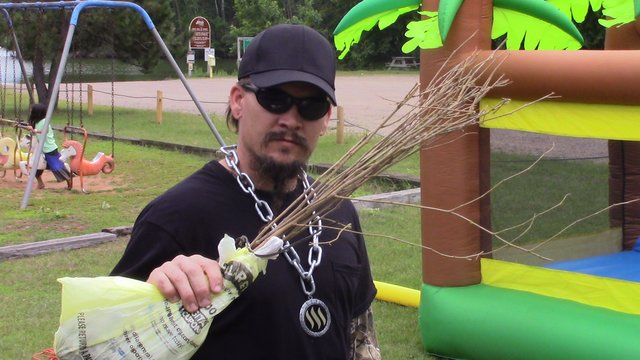 proof-of-mulberry-trees-to-give-away-to-other-steemians
---
---
Until next time…
Don't waste your time online, invest it with steemit.com
---