Publish0x, where both Writers and Readers get paid.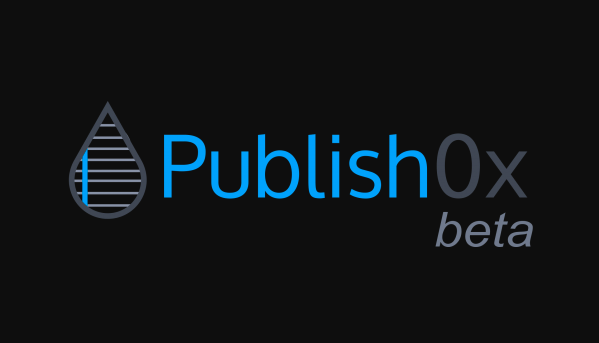 Blockchain social media platforms have come a long way, people are always looking out for that platform that suits them, some people just want to blog and earn without investing any money, some just want to supplement on their income with some great articles since they enjoy reading and some just want something completely new.
Meet Publish0x, Just as it reads Publish0x is not necessarily a social media platform though it is trying to add most social platform features, it's more of a publishing and sharing platform whereby all publishers and readers are paid for their time and engagement. I first got to know about Publish0x two weeks ago, I signed up immediately and started exploring around on how they operate, their reward system, their token, their blog quality standards and am here to tell you what I found.
What exactly is Publish0x?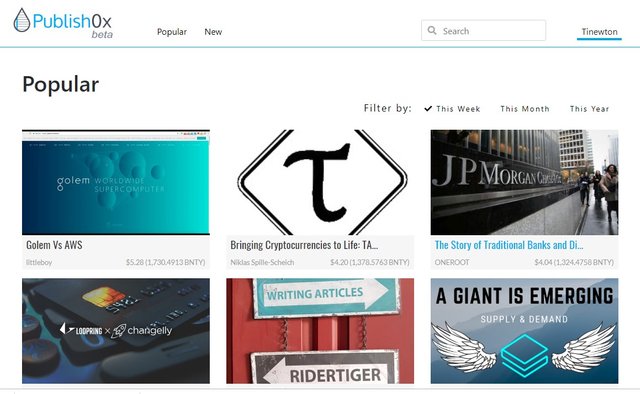 Publish0x is a content sharing platform that rewards both writers and readers. The 0x you see in its name has nothing to with the known coin ZRX(0x), right now the established currency on the platform is known as BNTY(Bounty0x) tokens, you can find it on CoinMarketCap at a price of $0.00339 at the time of writing this post. Unlike Steemit which has Steem as the only used coin on the platform, Publish0x has no specific token, In fact, it will add as many tokens as possible to be used on the platform. Publish0x has something called "Tipping", it's almost the same thing as tipping someone on your local gas station where you decide on what you keep and what you give. Users tip each other on a 100% scale where they are supposed to choose what they give the author and what they keep for themselves. Tipping(upvoting) is free. All the tips come from the reward pool of BNTY tokens (an ERC-20 token) provided by Publish0x.
When you sign up on Publish0x(which is very easy, only your email is needed, you can as well log in using your facebook or twitter account) you immediately become a reader and you can earn by just reading and tipping on your favourite articles. You can later become a blogger on the platform by filling in a form which can be approved or rejected. Currently, Publish0x is concentrating on quality content so the administration tries to pick out the good publishers. I provided proof of my blogs on both steemit and medium and I got approved in within 24 hours. They don't take long to approve your request to become an author.
Publish0x is coin agnostic. While right now, in the early phase, you are being rewarded only in BNTY tokens, Thе reward tоkеn іѕ hоwеvеr ѕubjесt to more орtіоnѕ in futurе dеvеlорmеntѕ аѕ the рlаtfоrm aims аt introducing оthеr dоmеѕtіс ERC-20 tоkеnѕ. This is a great thing for Publish0x users compared to the known social platforms like Steemit and Trybe.



Users can withdraw a minimum of $0.5 about 163.96 BNTY tokens now I was told it depends on the prices, I have been able to make about 39.3 BNTY(about $0.12) with a low to moderate activity where I posted only 3 times and tipped about 2 times a day.
In this early phase, the platform doesn't have so many writers, they have an invitation policy for new writers whereby registered users have to fill a document with proof of great writing skills to be accepted as writers on the platform.
Publish0x's reward system

Publish0x has a unique reward system, it's an interesting concept ever since I got to know about it a few weeks ago, for them instead of upvoting on articles just like it's done on other prominent social media rewarding platforms like Steemit and Reddit they instead tip on a scale of 100%. By default, the slider is at 80%-20% in favour of the publisher but the reader can adjust the slider up to 20% for the author and 80% for themselves. I have to admit it gave me some mixed feelings to reward an author any amount more than mine, so in most cases, I gave 40%-60% and the 60 is mine. This tip slider is tricky for every reader who wishes to reward enough for the good content and earn enough for himself too.

A 40%-60% tip on one author gave us 0.2532BNTY and 0.3797BNTY respectively. Any user can only vote on the same author after 24 hours.

and you can only vote for different authors every 8 minutes. your total tip rewards decrease every time you tip another author.
Publish0x Ambassador Program.
Publish0x initiated a referral program for current members to earn some BNTY tokens recommending others to sign up. This Ambassador program doesn't reward so much if compared to other known referral programs on other platforms, signed up users have to be active in order to generate some income for the person who referred them to Publish0x. You can earn 5% of every tip claimed by the audience you bring in, Access to paid/bountied articles. You can join through my ambassador program by following this link
My Verdict.
Pros:
No investment in Joining.
Publish0x picks great publishers through their initial approval method to control quality on the platform.
Coin agnostic, expecting multiple coins to be used on this platform.
I like the idea of getting rewarded for reading.
No bots or article boosters to promote bad content which is common in similar rewarding platforms like steemit.
Has a definite referral program. Good for promoters.
cons
The tipping reward method is tricky. It's likely for most readers to just skip to tipping a lot for themselves before even reading the article.
The referral program is a very slow rewarding program, you don't get rewarded for recruiting members but their activity on the platform.
Website still buggy though it's still in beta version.
I don't know if I even have followers or not, I can't control the kind of articles I want to see in my feeds just like it's done on Steemit
There is no history on who tipped who.
It's easy to play the system by creating multiple accounts and tip yourself.
While there is still a lot to perfect and add onto the Publish0x platform, I find it very unique and onto something much bigger than the existing similar platforms. Publish0x has decided to value readers as much as it values writers, incorporate multiple coins onto one platform and reward its promoters through its ambassador program. I recommend it for users who love writing and reading.
I give it 3.5 stars for the value and uniqueness but held back by a few minor social media implementations.