Each of us, as citizens, has a role to play in creating a better world for our children. - Nelson Mandela
Sometimes 'creating a better world' is easier than we actually believe.
Especially as members of the Steem community we all perfectly know that change is only one click away. We're able to create an immediate and amazing impact in someone else's life on a daily basis. So why not take these real showcases in order to promote our network?
As a Steem user you are in the luxurious situation that you can give away power without losing your own. Allocating, distribution, sharing wealth is completely free of charge.
If Steem needed a veridic Marketing claim, then this one here could be a safe shot:
Changing lives - with one click at a time.
At @dreamsoftheocean our vision is to combine these two ideas: change this world for better and promote Steem as a vehicle towards that goal. If cryptocurrencies are designed to empower people, then we should use them accordingly, being role models of that new generous world where everybody's given with a new opportunity, no matter where you come from, what your professional, social and cultural background is, what skin colour you have and what language you speak.
Where else in the world are you able to raise money and provide people with a new opportunity from one day to another?
Steem is able to change people's live for better, and we're glad that the Spanish media is now aware of that fact.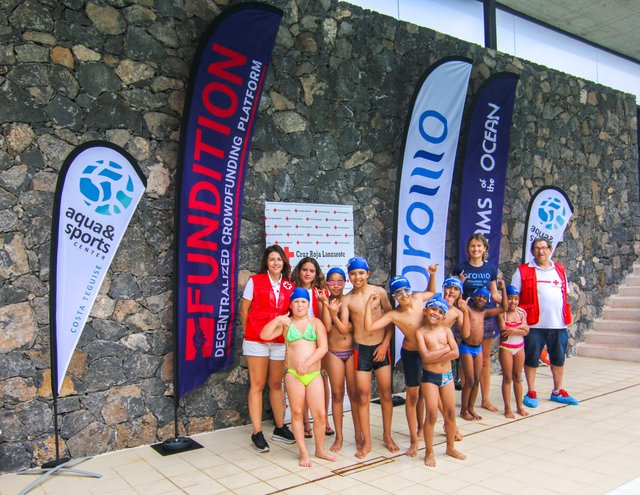 Posing for the media: our little swim superstars
Making some noise
As I mentioned before my team and I have been working on this project for months.
As a @steem-ambassador promoting Steem is part of my DNA, also the project provided some great points of action for promotional activity.
Thanks to the financial support from @starkerz (on behalf of #promo-steem), the @fundition team (decentralized crowdfunding fundition.io) and @birdinc (Business Development Steemit Inc) we were able to produce some professional banners, decorate the venue and do a nice photo-call for the media.
Yesterday a media report was sent to all newspapers, magazines, TV and radio stations on Canary Islands, inviting them to participate in the 'Steem for good movement'.
Here's the official video we provided the Spanish media with:
The story took on a life of its own
When I called the biggest online newspaper on the isle of Lanzarote today's morning in order to ask if they were planning to provide us with some coverage, they asked me back if I was interested in giving an interview on their local radio station.
What a great chance!
At 12:05am local time I was speaking live on "Radio Lanzarote", talking about the project, about Steem, the Red Cross and why I believe that giving is so important.
In case you missed the interview, you'd find it in my dsound account: https://dsound.audio/#!/@surfermarly

Caught in the act!
I had never been giving a live radio interview to a Spanish radio station before!
Thank God I had some nice training during the past weeks, giving interviews on @pennsif's 'Alternative Lifestyle Show' and at 'Steemit Habla' hosted by Mau and Juanmi (@mauriciovite, @juanmiguelsalas).
Between the phone call and the radio interview there was only one hour of time, so I didn't even have the chance to get really nervous :-)
In the meantime "La Voz de Lanzarote" (Spanish: Lanzarote's voice), the biggest online newspaper on the island, had featured our project on the front page!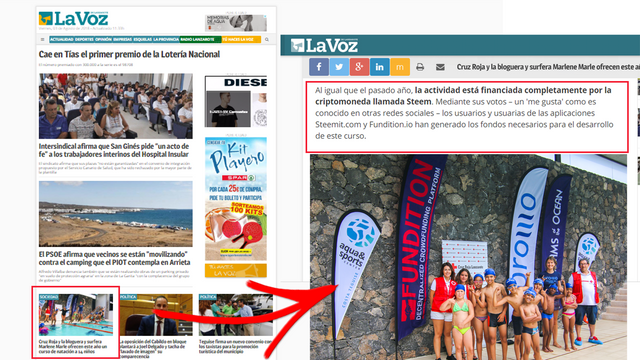 The story is gathering momentum!
Just as last year, it took some time until the bigger, national newspapers started to pick up the news and spread them in their networks.
As I mentioned in the yesterday's blog post, journalists are free to publish the media report just as you prepare it for them, or change parts of it.
In the original document just as it was sent out, Steem appears in the headline, and I'm glad some of the journalists accepted it to be there.
My favourite newspaper headline: "Once more, the cryptocurrency Steem finances a social project of the Red Cross Lanzarote." Baaam! :-)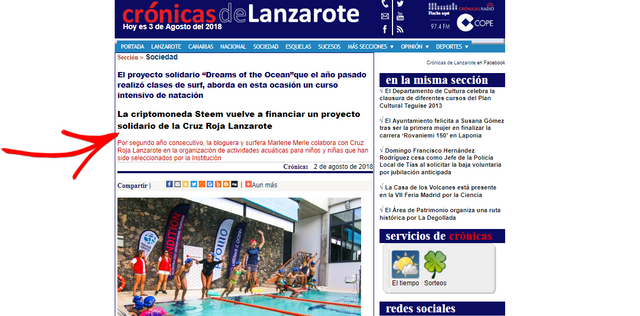 Now I kindly invite you all to cross fingers for a pending TV interview I'm trying to organize!
After today's radio interview I kind of feel being in the flow :-)
Let's see if a couple of more newspapers will pick up the news on the weekend and perhaps even come over to one of our next swim trainings in order to report from the venue.
Remember:
We're changing lives - with one click at a time.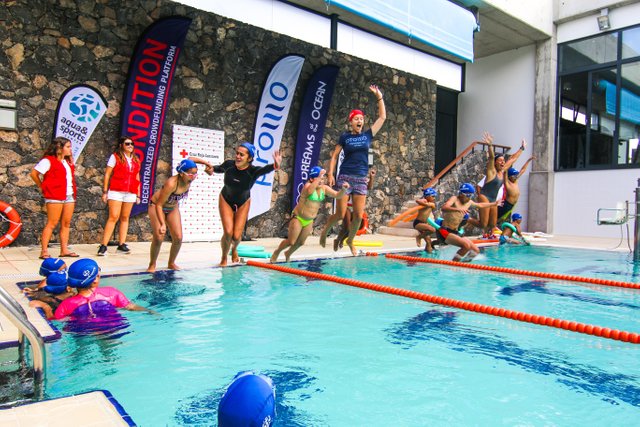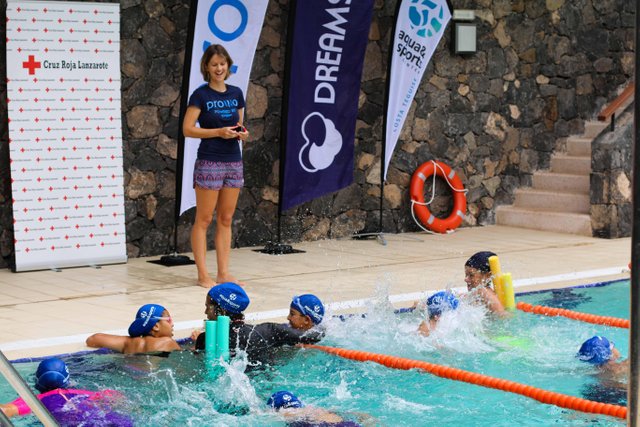 Much love,
Marly -
Steem Ambassador
.
.
.
PS: For more information on the charity project please check out: @dreamsoftheocean.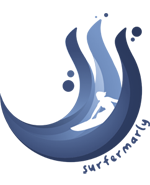 This blog was created in July 2016, aiming to provide thought-provoking content for open-minded people who go on adventure, step out of comfort zones and embrace the new.
Thanks for being part of the journey!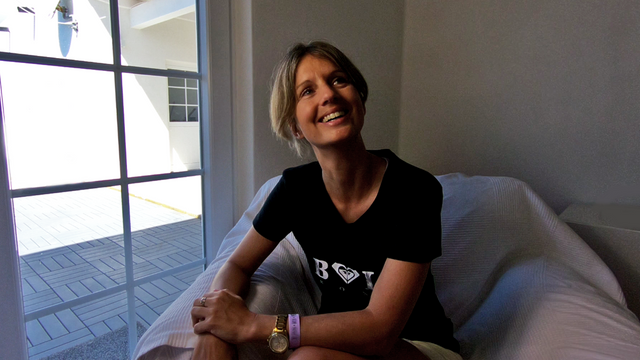 PS: This blog post was edited and submitted via eSteem Surfer 1.0.11 - my favorite Steem desktop client that was developed by @good-karma's @esteemapp team. Check out their account for more information.
Original content.