Creating Elite Players: Newsletter Day 27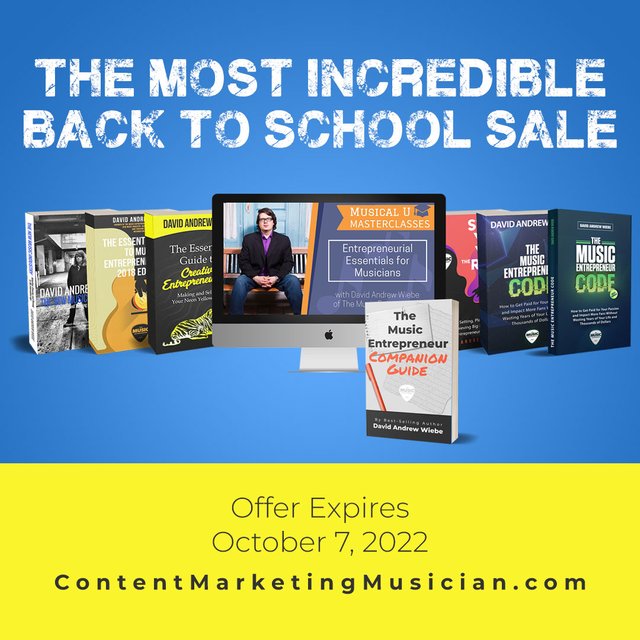 Well, it looks like it's high time we got into some of the real nitty-gritty of marketing.
Creating a print newsletter is one thing, but marketing it? That's really the core of the issue. You don't want to create an offer without some idea (preferably a good idea) why people are going to want it.
Besides talking incessantly about the newsletter, I'm not ready to market it. But as I mentioned yesterday, I do have another offer to promote. It's called The Most Incredible Back to School Sale. This is proving good practice for the marketing campaign that will follow for the newsletter, especially given that I've only given myself until October 7 to promote it (because that's when the offer expires).
So, I've divided today's post into a few different sections. Assuming nothing crazy happens, this is likely the form future blog posts will take as well.
Marketing Activity
Sent an email campaign to Music Entrepreneur HQ subscribers
Revised my email signature to include The Most Incredible Back to School Sale
Created a 1080x1080 promo graphic for use on social media (and downloaded it to my phone for use on Instagram)
Shared the graphic in my Instagram story
Scheduled an Instagram post
Added a link to the sale on the homepage of Content Marketing Musician
Added a link to the sale on the sidebar of Music Entrepreneur HQ
Added a link to the sale on the homepage of Music Entrepreneur HQ
Added a link to the sale on the sidebar of DavidAndrewWiebe.com
Added a link to the sale on the homepage of DavidAndrewWiebe.com
Wrote and scheduled a blog post for Music Entrepreneur HQ
Wrote and published this blog post
Reflections
What do you do when chaos ensues all around you? First, you set the intention to go with the flow. Second, you ground yourself. I recorded a new podcast episode on this very topic.
The more you practice launches, the better you get at them. The Most Incredible Back to School Sale is turning out to be an excellent opportunity for me to put my marketing hat on, identify all my resources and contacts, and create frameworks around key tasks.
I love creating, but marketing is where the fun truly begins. You get to make a mess and see what sticks. Noticing what sticks is the most critical part, because it helps you make necessary adjustments for future marketing campaigns.
Resolution
It seems as though the debit card debacle may finally be coming to an end. I visited the bank in New Westminster, and my teller was very helpful. He said that all the other tellers did was dress the same account in new clothing, when they should have thrown out the old account to furnish me with a new one. How that works, exactly, I don't know. If my cards starts working again, that's what I care about most, and my teller told me I could return to him if I was still experiencing any issues.
Come to think of it, it was my first visit to New Westminster. I don't know why it gets the hate it does. It seems laid back, it's convenient, it's got plenty of greenery, some great views, and it's far less busy or hilly than Vancouver. I get that the senior population might be a little higher in New Westminster, but that wouldn't be reason enough to write it off. Maybe the crime rate is super high or something.
Thanks for taking the time to read this. Drop a comment so I can follow and connect with you personally.
Today's Relevant Links
The Most Incredible Back to School Sale
Support the Development of This Project
Upvote this post 👍
Share this post with friends
I look forward to connecting with you!