Market Friday gets the Royal Treatment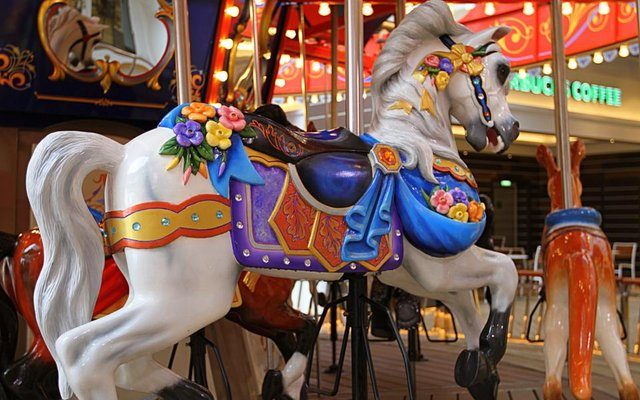 Today is #MarketFriday initiated by @dswigle (Denise, that's me!!) I hope you will join me as we share different markets across the globe. I find it one of my greatest pleasures on the platform, mixing our cultures and our lives. Share in the experience of enjoying markets from around the world and different cultures.
Edit: Apologies! I went to schedule the post for Friday morning as I will be out of town that day and I posted it for Thursday morning instead! No worries and we'll have #MarketFriday per our regular schedule.
Please leave the link to your post on here so it can easily be found by others. They are so much easier to find in one place. Where else can you take such a quick trip around the globe? Thank you so much for joining us!! ❤
Are you ready? Life preservers packed? Let's go!!
In this particular ship, there is a full-size Merry-Go-Round in a place called Central Park. This ship has actual neighborhoods. You can see in the picture below the neighborhood they call Central Park. It is an outside kind of place and is filled with cafes, tropical plants and everything you would see in an upscale promenade or walkplatz. They even have Coney Island and a hot dog stand. Welcome to Royal Caribbean, who, by the way, should be sponsoring me, but, alas, they don't.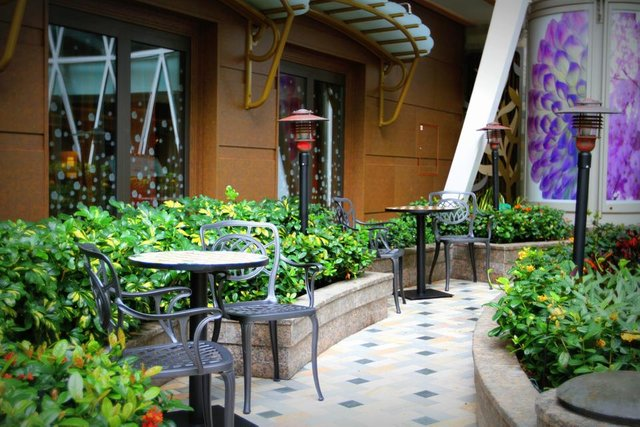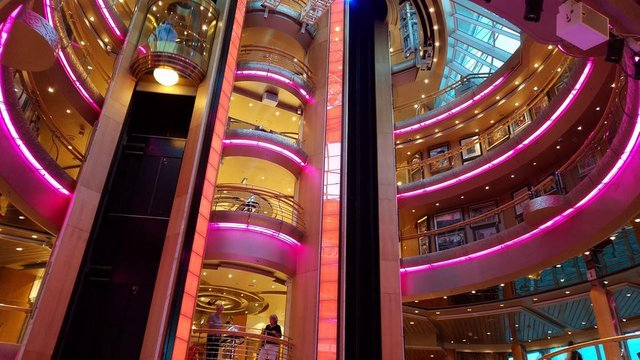 So, this is one of the ships I cruised on. It is just an alternative to going on a traditional vacation, like a floating holiday, if you will. There are times I would rather do something else, But, right now, at this time in my life, when I get time off, it feels good to get pampered and waited on. A little anyway...
Not a traditional #MarketFriday, but, who doesn't love to be a little bit different? There is no right or wrong here, just what drives you that week. I love to share and be shared with! So, yes! I would love to see yours! Don't forget to take photos wherever you happen to be shopping - whether it be the grocery store, the local marketplace or even an art gallery. Wherever money is exchanged for a service or for merchandise. Be different if you wish! It does not have to be a traditional market! We will love it! I promise you! Don't forget to use the hashtag #MarketFriday and @dswigle.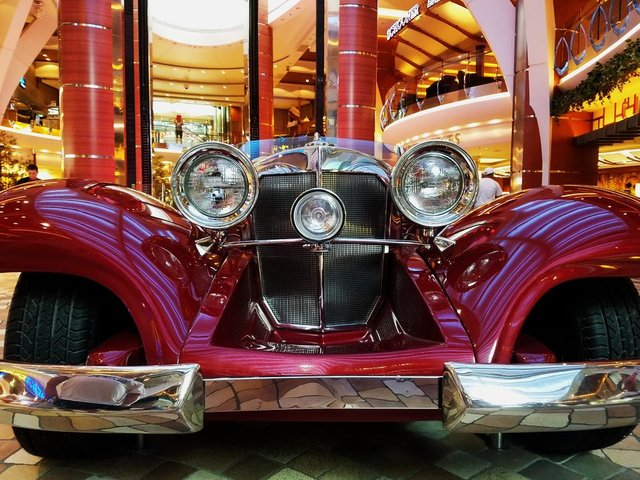 The first time I saw a car parked on the promenade of a ship, I couldn't believe my eyes. Why? Well, it does make a nice addition to the photo ops around and quite nice to be sure. No, I didn't. If I wasn't driving it, I wasn't faking it. To be clear, the promenade is the wide boulevard or main walkway where people stroll. It is usually the widest part of the ship, as far as boardwalks.

And even if this wasn't the Swarovski Crystal staircase that they had on the MSC Cruiselines, it is beautiful.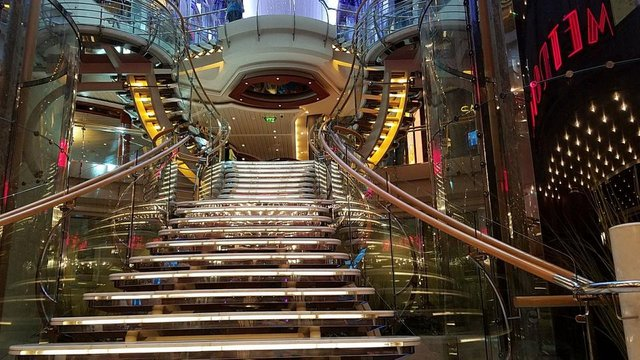 But first, a flower. Always a flower.
The loveliness of you never escapes me
May I gaze upon you, always and a day?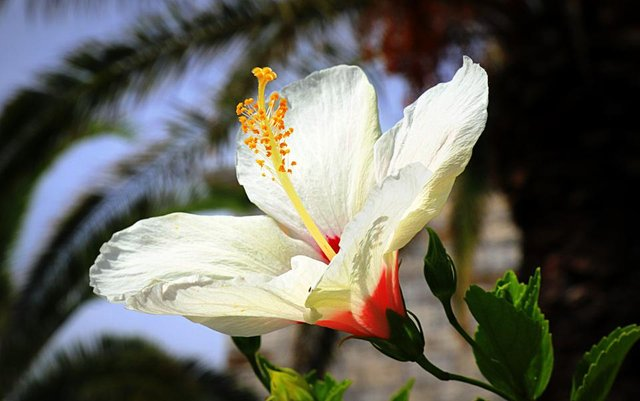 There are cooking classes at many different times during the cruises. They try to please every person's wants and needs. You can learn to make sushi, decorate cakes and many other delectable delicacies. If you are lucky, you get selected from the audience and get an up-close and personal demonstration.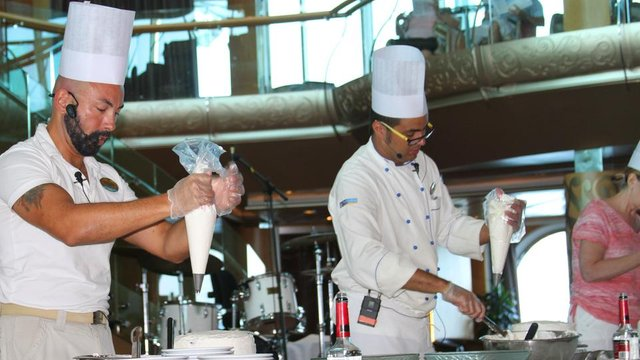 But, then again...
Sometimes everyone is part of the class. It depends on what they are doing, such as sushi! Everyone gets to make their own roll!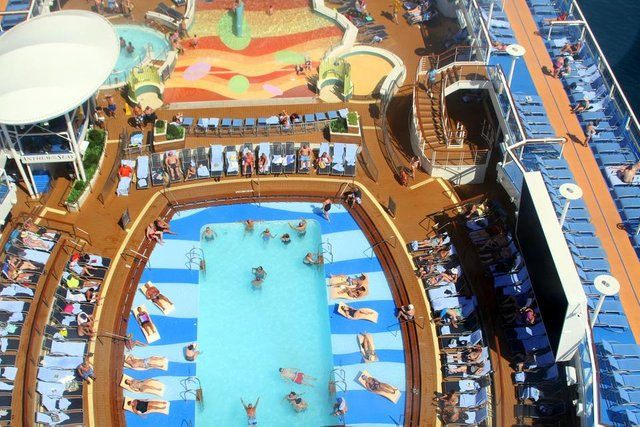 Last time I counted, there were five pools on this ship, plus the kiddie pool. That is a lot of pool. Now granted, they don't make them too big, but nice enough that you can have an enjoyable time without too much suffering.
Nobody is allowed to suffer here.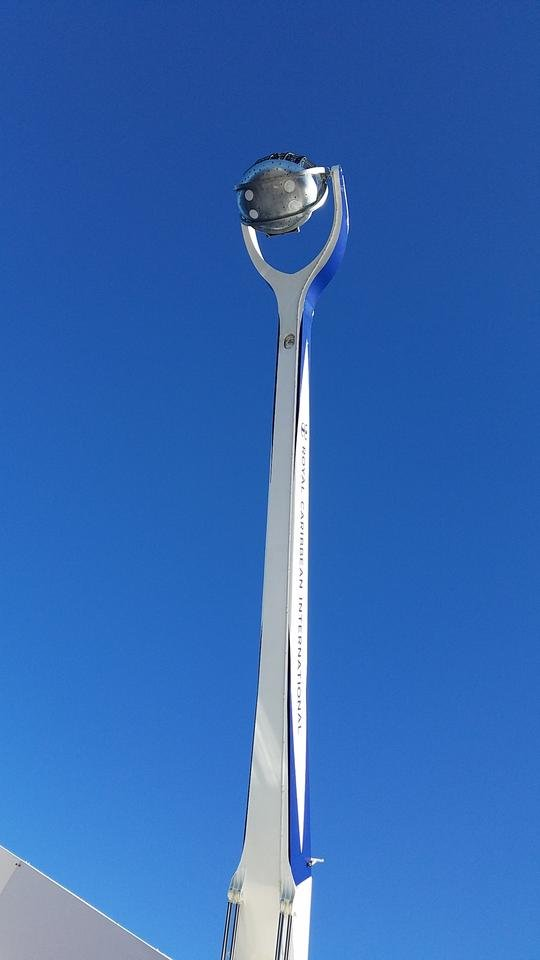 The Quantum-class ships have what is referred to as "The North Star" which is a glass-enclosed little pod that holds people and would remind you of a small London Eye. The picture of the pool was taken from the North Star. It really gives you quite the view.
And, yes! I have gotten stuck up there, for about ten minutes on two separate occasions. Yikes! Third time is the charm, right??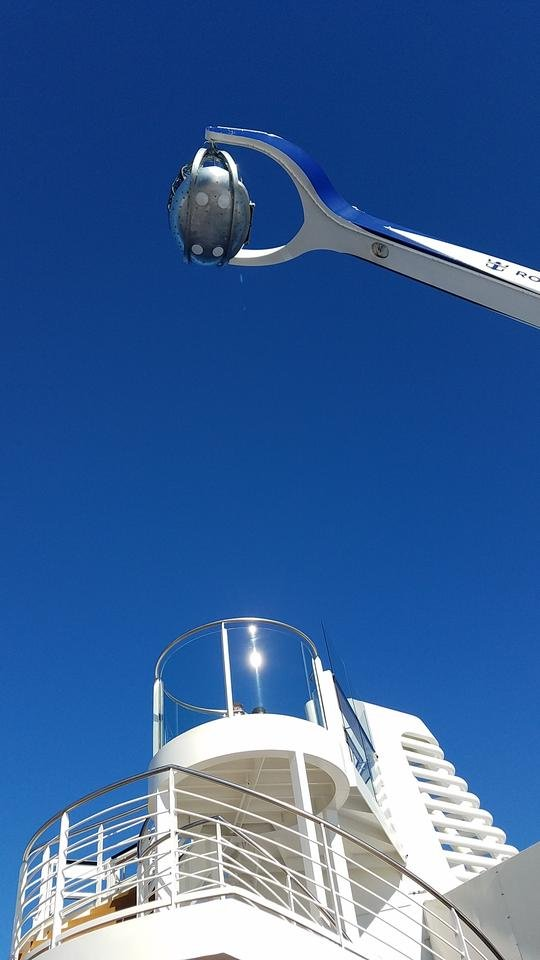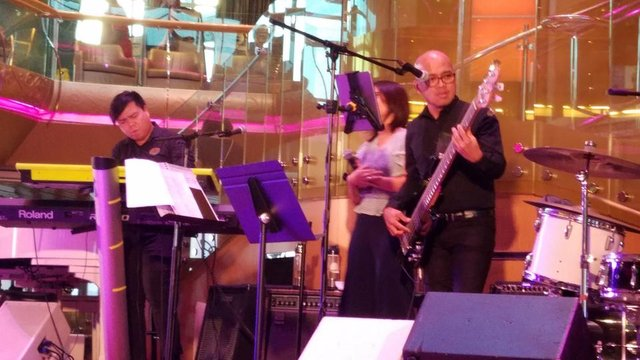 No matter where you find yourself on the ship, there will be music. Soft music, playing in the background, the mood lighting making a peaceful atmosphere. These are the moments cherished, where you find yourself living the dream, your imagination blowing through the ship. Down a flight of stairs is a place called the Crypt, a nightclub that will play appropriate Goth-themed music. You want it, they have it. Karaoke is a favorite. I may or may not have done it. What happens on Royal Caribbean stays there.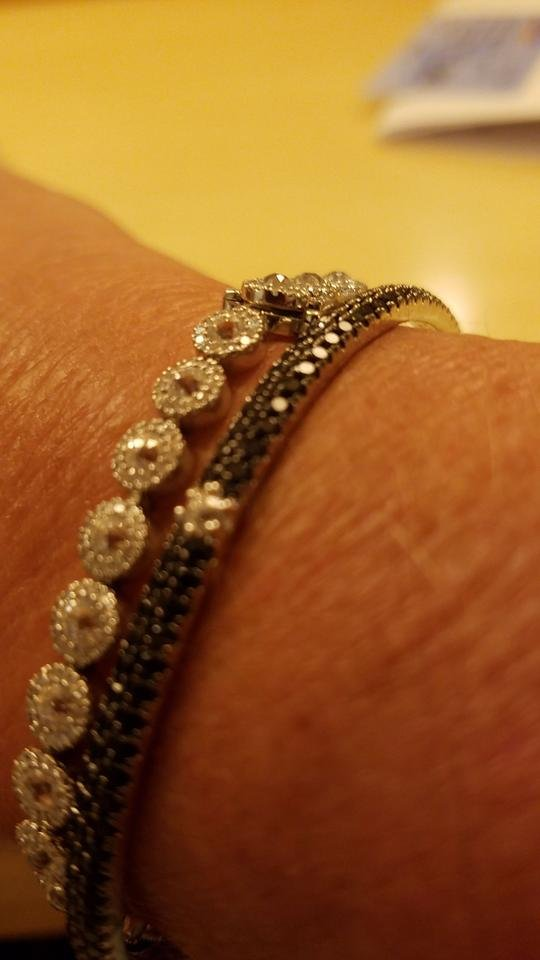 The shops onboard are abundant! Jewelry, sundries, upscale clothing, shoes, purses, watches... You name it, they may have it. The shops are open late and where else can you shop for a bangle or a diamond tennis bracelet at eleven-thirty at night? I tried on a tennis bracelet and a black sapphire and diamond bangle.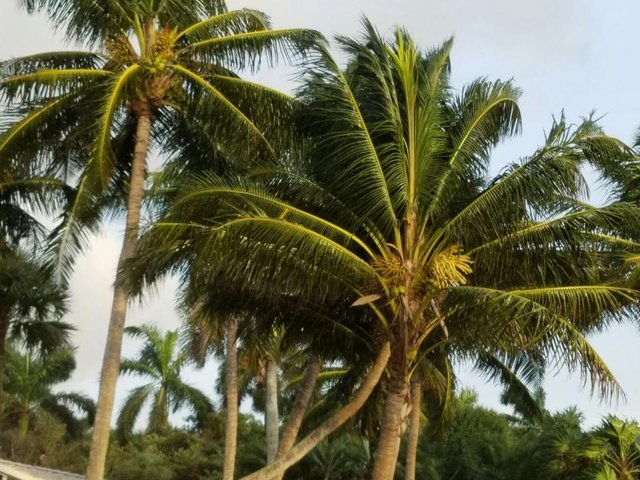 They brought me to places where palm rule supreme, throwing a coconut or two my way. The epitome of tropical paradise. Yes, please.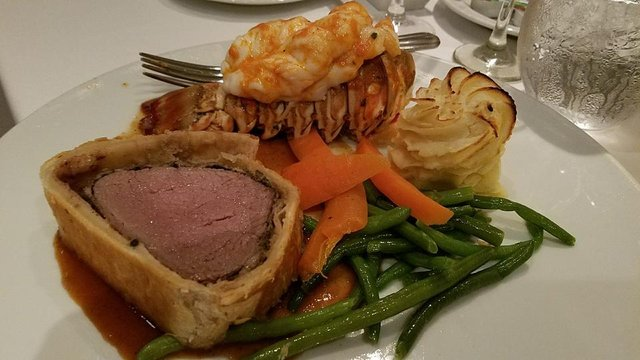 It goes without saying that this cruise line is a gastronomic event. Food is so very subjective in my opinion and if you ask a hundred people about their food on board, you will always get a different answer. I have to say that I think the food differs a bit from ship to ship, but, I can say that the smaller ships always get my vote for the best food. Usually, the service too. I have to wonder if it is because there are fewer people to contend with?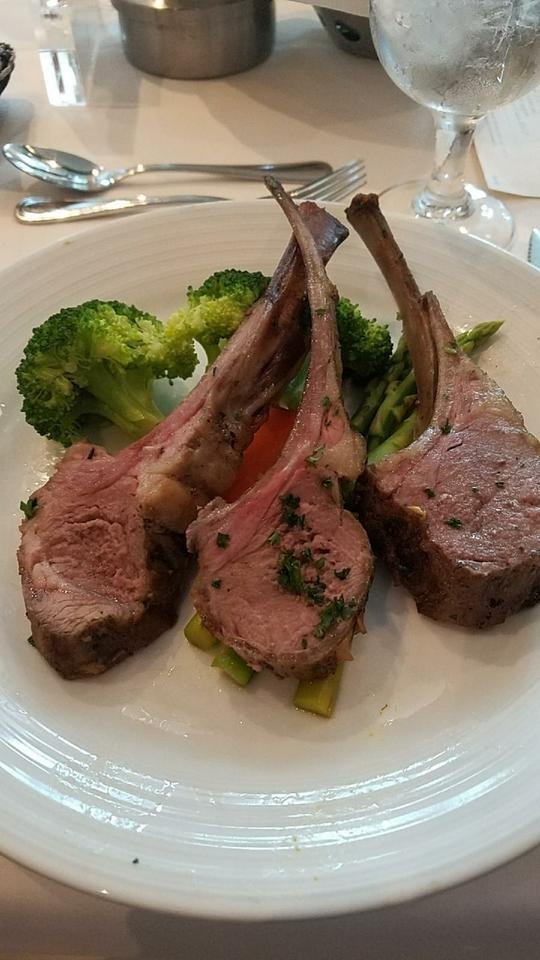 I had no complaints and to be honest with you, sampled the escargot, lobster and whatever fish was served up. They had a meat-eaters banquet every night, along with fish, vegan, and every other kind you can think of. Far Below: Prime Rib, one of their favorites to offer up and above Rack of Lamb. This is actually the best lamb I have ever had. New Zealand Lamb and I have it every time they offer it and it is consistently amazing. Above that is Beef Wellington and lobster tails, with an array of veggies and whipped potatoes. Truly an art the way they serve. We played with the food a little bit before I took the pictures. Sorry!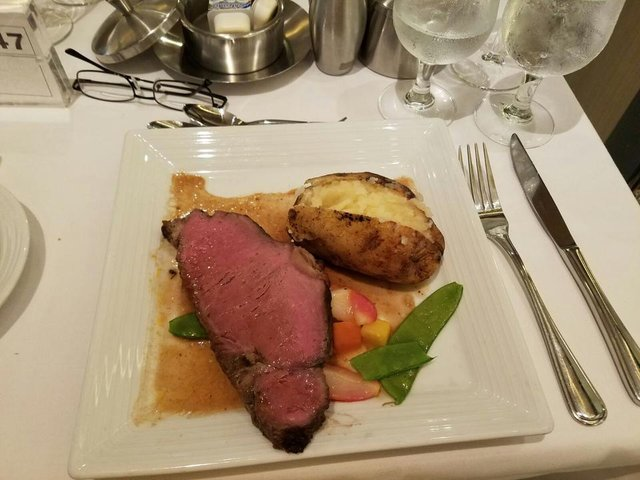 The food is glorious and the portions are generous. If they have two entrees and you can't make up your mind, they encourage you to order two.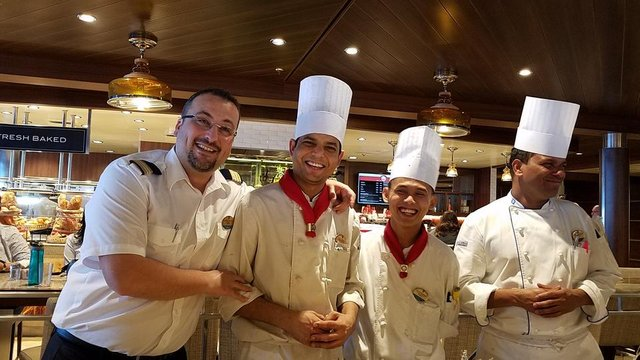 I applaud the chefs and the entire wait staff. They are truly the best! Five stars best! And I make sure they are properly thanked for their efforts. I cannot be easy serving that many people and making them happy.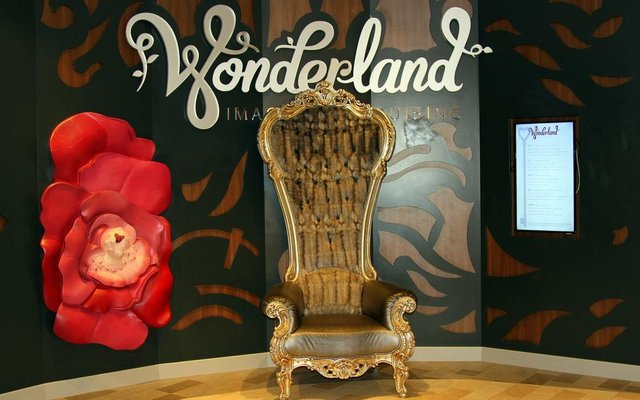 Alices' Wonderland is an eclectic restaurant with exotic tastes. Here is a sample of the Menu:
FIRE - Emanating wonderful warmth
Buffalo Chicken Eggs
Smoke, blue cheese & hot sauce
Shrimp Kataifi
Crispy crumb, scotch bonnet
Wonton Soup
Jelly, noodles
SEA - Oceanic inspirations from the tide of the imagination
Liquid Lobster
Bone marrow & caviar
Halibut cooked in clear paper
Mushrooms, potato & bacon
Branzino in Crispy Bread
Tamarind spice emulsion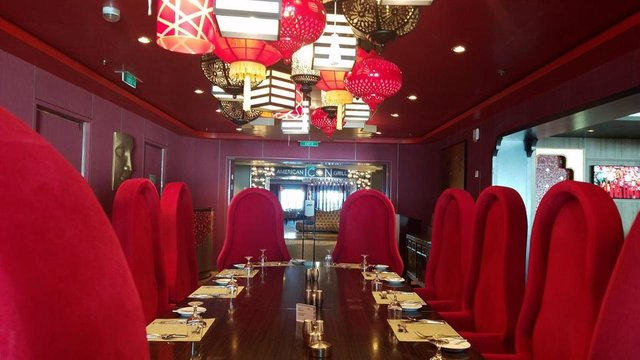 The dining rooms are all stunning. They set the tables formal (although there are plenty of informal places to eat if you prefer) and you select from a varied menu every night. That makes it nice to have different choices. If you are allergic to something, they take good care of you. Of course, it is not only Royal that does this, but, most of the cruise ships. If you go on enough of them, you will pick a favorite.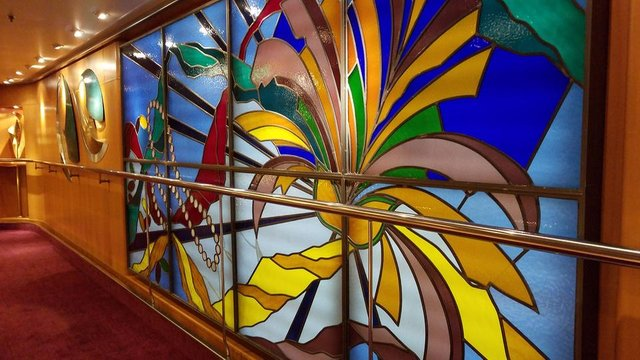 One of the newer ships in the fleet of Royal Caribbean and it has murals painted all over the ship. Truly like eye candy, it was. It is no secret that I love art - from street art to the Masters, hanging in the museums. This ship was right up my proverbial alley. Nice job, Royal!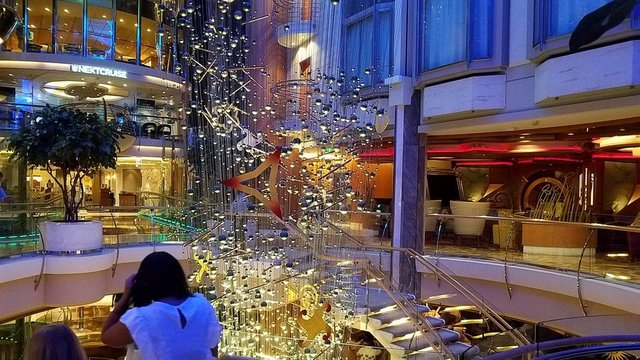 Another private space, where you and your loved one can go to sit and talk.
It's also great for a little people watching!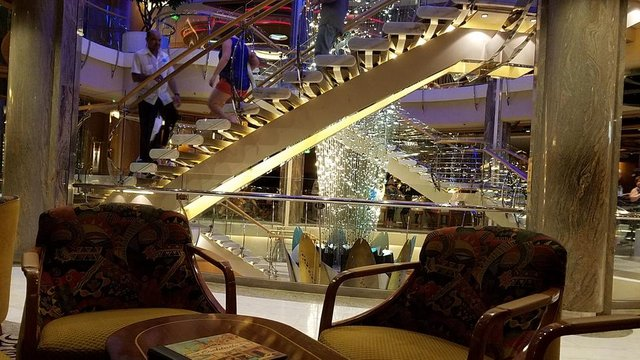 Here!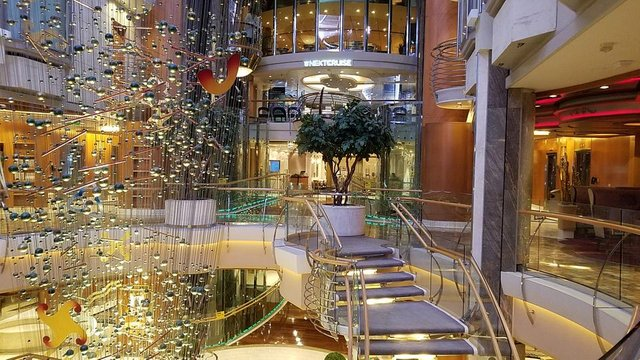 And here. All sorts of beautiful spaces created to bask in its peaceful surroundings.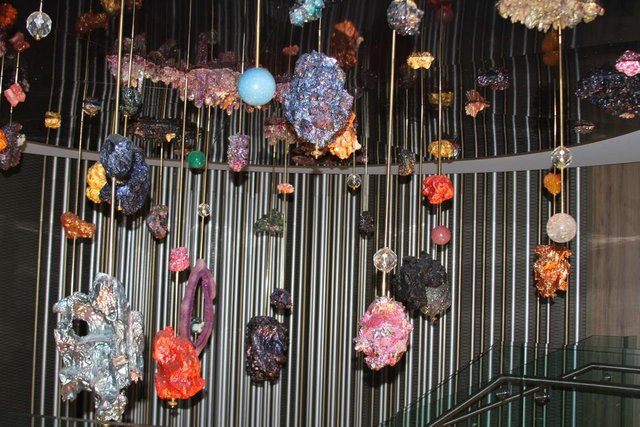 I love the way these geodes are suspended from the ceilings in the stairwells, some of them anyway. It really gives a magical feel to it. I tried to identify them one night. A total disaster.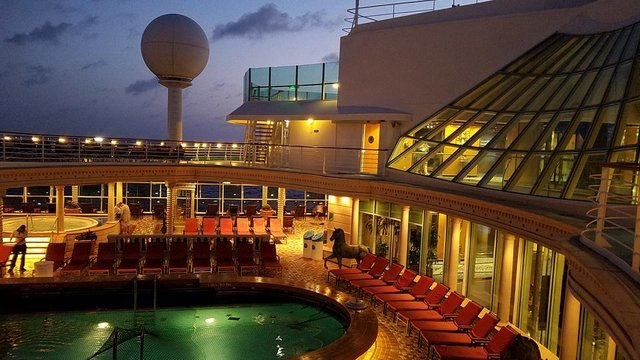 The poolside movies shown every night is a favorite of many. It's late and it is time to relax and enjoy a movie while you swim or while you sit in the beach chairs. A nice way to end the evening.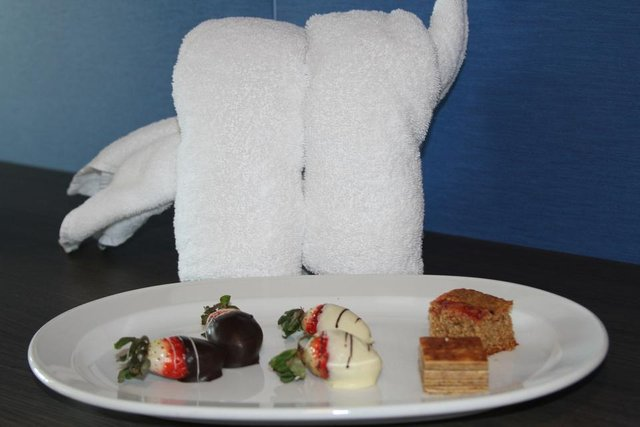 There is a turn-down every night and there is a special little "something" left for you.
Le sigh.
It is never the same, usually something different and quite delightful!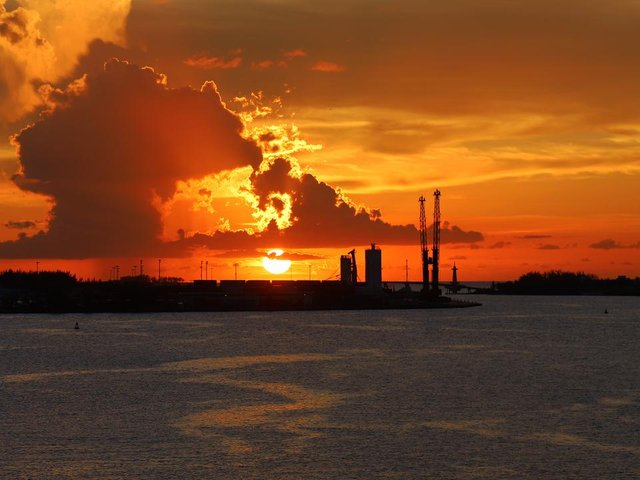 Another night in paradise, as the sun reaches down and kisses the earth goodnight.

CUE THE MUSIC MAESTRO!!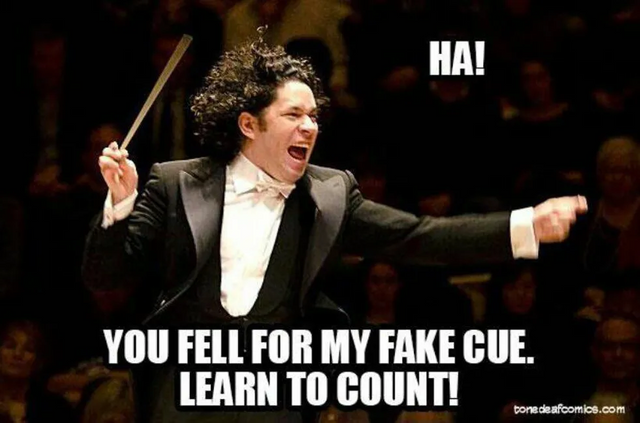 source

We'll let Lorde sing about Royal. I probably could have chosen better, but, I couldn't resist the urge to pair Lorde's song Royals with Royal Caribbean.

Fridays are all about the #MarketFriday Challenge! Looking to take part in it? Here is how:
How to Participate:
Go to the market! Any market will do! Food, Clothing, Plant or Animal, if you wish. You can go to the zoo or an art auction. Anywhere or anything that you pay money for a service. I once went to a nail salon.
Take pictures! Be creative (or not)
Tell us a little bit about the market, what brought you here?
Post the picture(s)
Don't forget to hashtag it! #MarketFriday by @dswigle
Drop the link to your post here so I can easily find them

It is always interesting to see the different markets around the globe! C'mon! Show me your market shots! I eagerly await them!

And just like that, this post is over. From beginning to end, I'll do it again, probably tomorrow. Have an amazing day! Do something fabulous!💖 I also want to take a moment to thank you for participating or reading #MarketFriday! I hope you enjoyed your virtual cruise! If you haven't tried it already, join the tag and have some fun with it!








---

Thank you for visiting my post 💖 Because of you, I come back to post, again and again, Some days, it is not as easy to see, how wonderful our world really is. Kindness counts. Wherever you go, whatever you do.




they set my aunts house on fire
i cried the way women on tv do
folding at the middle
like a five pound note.
i called the boy who use to love me
tried to 'okay' my voice
i said hello
he said warsan, what's wrong, what's happened?

i've been praying,
and these are what my prayers look like;
dear god
i come from two countries
one is thirsty
the other is on fire
both need water.

later that night
i held an atlas in my lap
ran my fingers across the whole world
and whispered,
"where does it hurt?"
it answered,

"everywhere"
"everywhere"
"everywhere"

warsan shire






#Steemusa is a growing community of quality-content people from the United States or those living here. Check us out on Discord!













Let the sun shine in on your life

So the joy may touch your soul