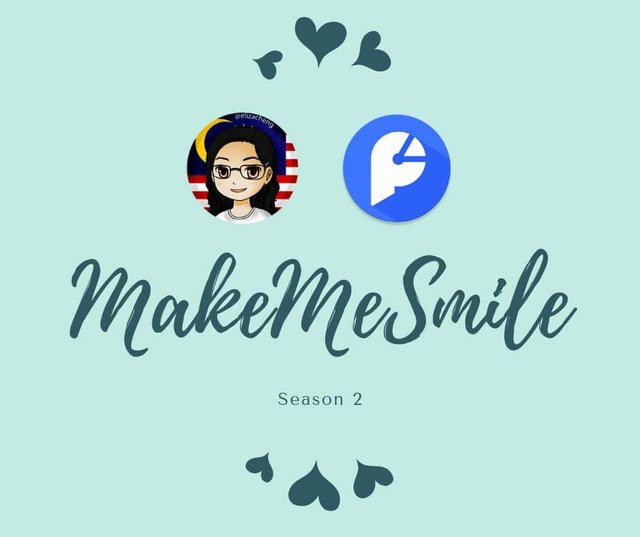 Another week passed by... Half of March is gone... Almost end of the first quarter of 2019... How's your 2019 so far? No matter what happen, just remember there's always someone, something that is there to make us SMILE...
Thanks to these four lovely participants who have shared their SMILE with us. @annepink @kadishakho @halleyleow @olymim
From this week onwards we have one more prize thanks to @tattoodjay... He will sponsor one SBI to one lucky winner!
Since we have four participants, and we already have three prizes, I have decided to add in one more SBI so that everyone's a WINNER!
@olymim is a new friend who just join Steem... And is using @partiko actively so Partiko Special is yours this week!
@halleyleow will accept the SBI from @tattoodjay
@annepink and @kadishakho will each receive one SBI from me.
Wish everyone a great Tuesday! And a reminder here... Tomorrow is the third Wednesday of the month, our second WednesdayWalk MakeMeSmile Special Edition is ON! So remember to share your WALK and SMILE with us!
已是三月中了,大家的2019过得如何啊?不管是好是坏,我们都应该积极面对。要知道我们身边总会有守护着我们的天使。总会有些人有些事能让我们会心一笑的。
感谢四位和我们分享了令他们微笑的事物。@annepink @kadishakho @halleyleow @olymim
从这集起,我们要感谢@tattoodjay赞助我们多一个SBI。所以我们现在一共有三个奖品了。既然我们只有四位参与者,我再补上一个SBI,大家都有奖!大家都是赢家!
@olymim是新朋友,刚刚加入史丁密大家庭。也是Partiko的用户。所以Partiko特别奖就是你的了!
@halleyleow则获得@tattoodjay送出的一个SBI。
萍萍@annepink和卡姐@kadishakho将分别获得一个我送出的SBI。
祝大家有个愉快的星期二!温馨提醒,明天将会是三月的第三个星期三了。我们的特别版WednesdayWalk MakeMeSmile即将再次启动了。欢迎大家把你们在散步中发现发生的有趣的微笑分享给我们吧!


Get To Know Me
10 Random Things About Me
【新手村会客室#22】活动达人@elizacheng
Posted using Partiko Android