Magic Dice Account for Sale: 2,494,464 Magic Dice Token 🎲 📈 🎲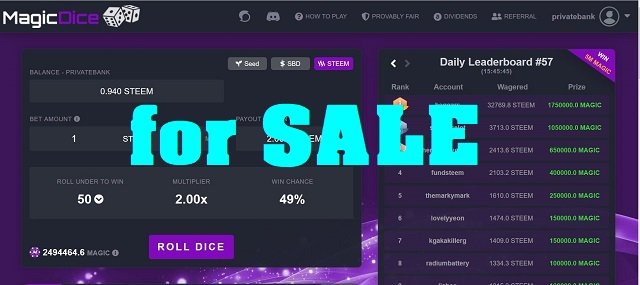 ---

update! new price 4500 STEEM (the steep price has now risen)
Today is your lucky day! For only 4500 (befor 5000 STEEM) you get without having to play almost 2.5 million Magic Dice Tokens and daily dividends of currently between 1 and 7 STEEM.

If the Magic Dice token is listed (SMT or somewhere else) at a price of approx. 0.001 US Dollar that would be $ 2494.46.-,
at 0.01 US Dollar even $ 24 944.64.-.

In the last 3 months I have received over 363 STEEM in dividends without having to make a post. So you could get your investment back in the foreseeable future or even increase it. At the moment you could only get 62.500 Magic Dice tokens with 5000 STEEM in the game and if you haven't lost them you can continue playing, but how long you need to
get the 2.5 million tokens is on another hand,
provided you still have your playing capital.

Alternatively I would also accept BTC or LTC. After receiving the purchase price you will get all keys of this account with the promise not to make a "Stollen Account Recovery" at the honor of a real Steemian!
After sending the amount you will receive an encrypted message (#)from me where I will send you my e-mail address.
It applies: first come first serve

The STEEM are used for a project to promote
the STEEM Blockchain in the offline world. Steem On!

---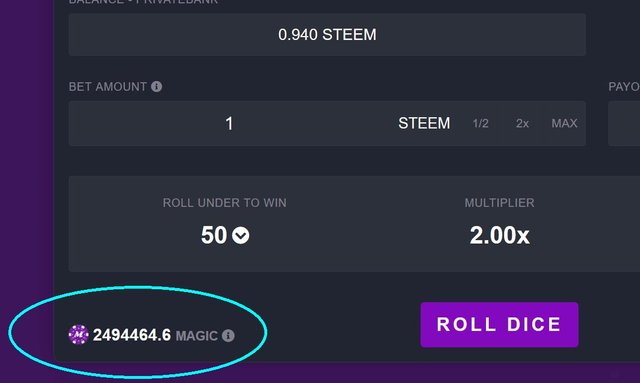 ---

Update! neuer Preis 4500 STEEM, da der Steempreis steigt
Heute ist dein Glückstag für nur 4500 Steem( alter preis 5000 STEEM) gibt es hier ohne spielen zu müssen fast 2,5 Millionen Magic Dice Token
und täglichen Dividenden von zur Zeit zwischen 1 und 7 STEEM.
---
Wird der Magic Dice Token gelistet, (SMT oder wo anders) wären das bei einem Preis von ca. 0.001 US Dollar immerhin $ 2494.46.-,
bei 0.01 US Dollar sogar $ 24 944.64.-
In den letzten 3 Monaten hab ich über 363 STEEM an Dividenden erhalten ohne einen post machen zu müssen. Also könntest du auch in absehbarer Zeit dein Investment wieder zurückbekommen oder sogar vermehren. Zur Zeit ist es so, das du mit 5000 STEEM im Spiel gerade mal 62.500 Magic Dice Token bekommen könntest und wenn du diese nicht verloren hast kannst du ja weiter spielen, aber wie lange du dann benötigst auf die 2,5 Millionen Token zu kommen steht auf einen anderen Blatt, Vorausgesetzt du hast dein Spielkapital noch.
Alternativ würde ich auch BTC oder LTC akzeptieren. Nach Erhalt des Kaufpreises bekommst du alle Keys dieses Accountes, mit dem Versprechen bei der Ehre eines echten Steemianer keinen "Stollen Account Recovery" zu machen!
Nach senden des Betrages bekkomst du von mir eine verschlüsselte Nachricht (#) wo ich dir meine E-mail adresse sende,
Es gilt: first come first serve
Die STEEM werden für ein Projekt zur Bewerbung der STEEM Blockchain in der Offline Welt verwendet. Steem On!

---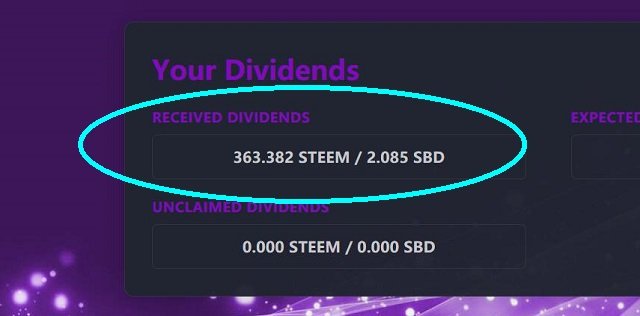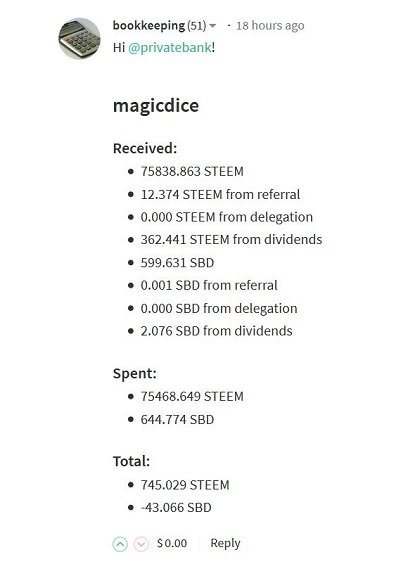 ---