I reached my MAGIC token goal...
So today I got 2nd place on the daily Magic Dice Leaderboard!
Hell yeah! A couple of days ago, I took just 15 steem and had a very incredible and unusual lucky streak. Keep in mind, that before yesterday I was about -300 steem in the hole on @magicdice. Somehow I managed to turn that 15 steem into 100, then 200, then close to 300.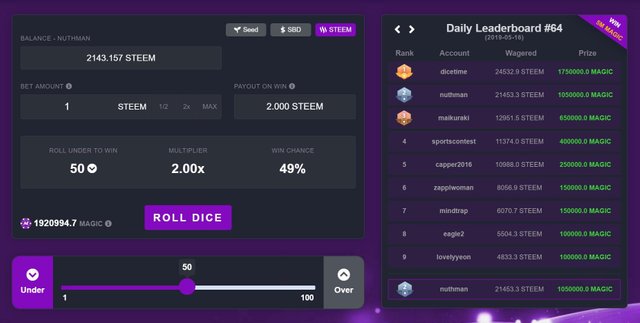 I came back today and though, well, 285 of that was free money so I'll play some more. I managed to play for about an hour, bringing my total all the way up to 21,453 wagered; all starting with just 15 steem.
Playing for the tokens, not the wins
By the time I was done today, I ended up sitting at around a -19 STEEM, and -9 SBD loss. This is for my entire history of playing the game according to the bookkeeping bot: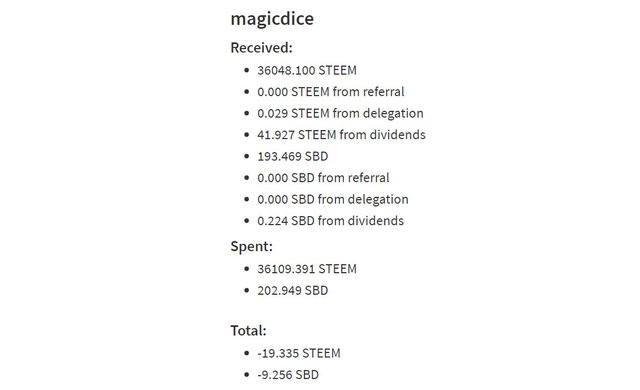 I'm perfectly fine with this because essentially what I have done is paid 19 STEEM + 9 SBD for 2 million MAGIC tokens. Of course that is nothing compared to what some of the epic players on here have accumulated. It's all good because that little dividend will trickle in every day and soon get me back to break even, and then I'll earn a little extra profit each day passively.
Don't Go Crazy!
This game is highly addictive and you can lose everything if you aren't careful. If you have a few extra Steem that you don't mind losing then go for it, have some fun! But play responsibly. If not, you'll end up sitting there in full tilt mode with a massive WHY ME? look on your face.
As for me, I think I'm retired from the betting game. It was a fine ride, but I'd like to keep my heart rate stable moving forward. Have fun guys!