Simon Dale, Lammas-Project, low impact building and the European (Austrian) answer by Wolfgang Lackner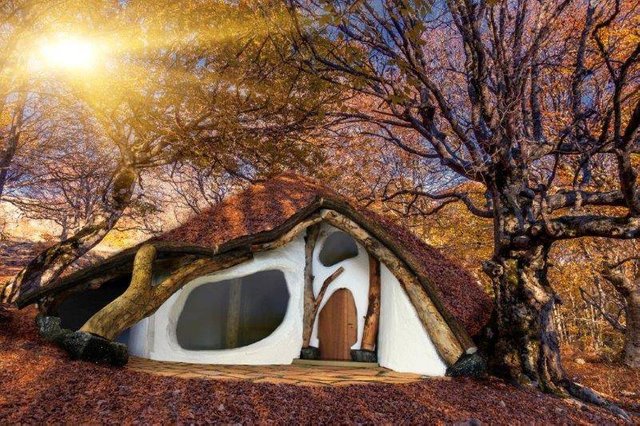 Hello Steemians, today I want to draw your attention to a project I was involved in with some translations since two years. The project was successfully crowdfunded in 2014 (https://www.startnext.com/einbaumhaus)
Plans are now OpenSource due to the Crowdfunding and finally you can book now very cheap workshops about how to do it yourself.
 
Although I am an IT-guy and highly media-addicted, I often feel the urge to get some peace and rest from the daily distractions, some bond to nature, some escape from the "norm". This project, while it is a dream for me at the moment, gives me the possibility to see alternatives in our way of living.
And probably / hopefully  I can spread this dream to some, who want to export it from Austria to the whole world.
 
So what´s that all about?
 
The inspiration for this whole thing is the photographer  Simon Dale, who one day in 2003 decided to go into the woods of Birmingham, with nothing but an axe, a saw and some other tools. He, his wife, and his two children then build a home literally out of nothing, while fully sustainable. He invested months of hard work and about 5000$ to build his personal dream house. The result is simply  stunning:
 
(The following 4 pictures are property of www.SimonDale.net ):

Come in!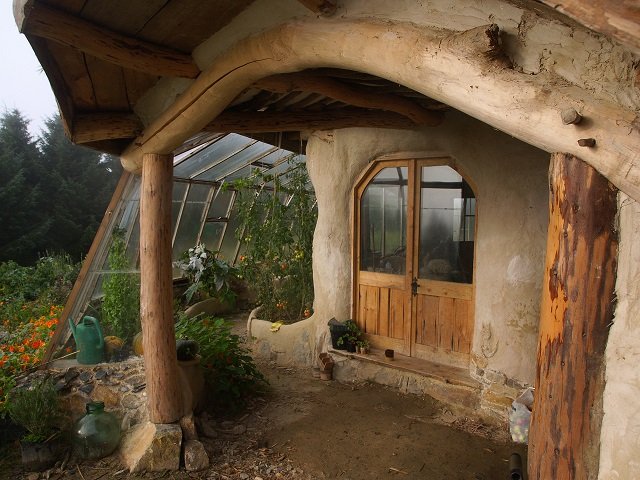 And take a look to the inside: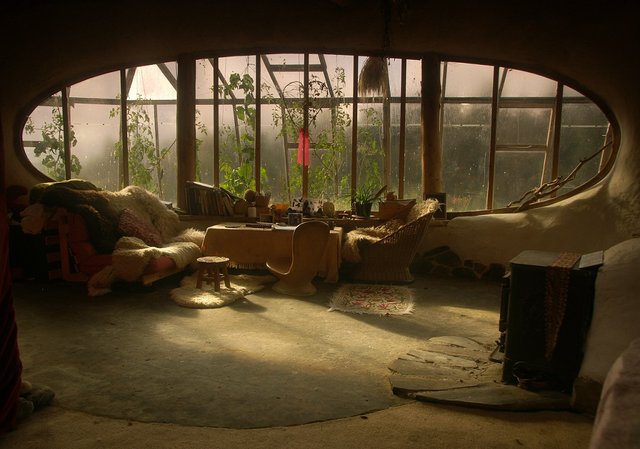 And the outside: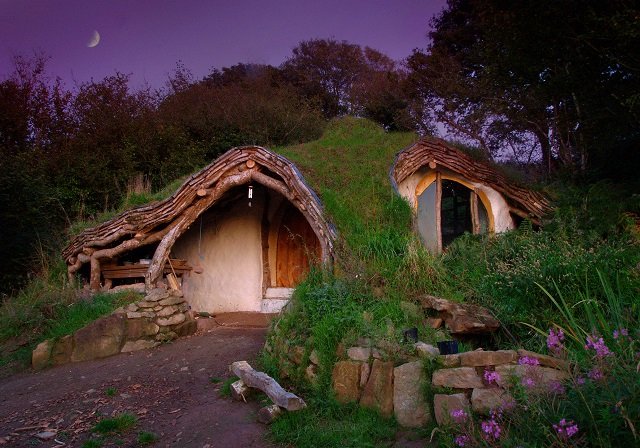 What Simon Dale did was just amazing. He created a hobbit like home that suits him , his family and his needs near perfectly and left almost no economical footprint. If you are interested in his work or in a workshop, you´ll find his contacts here:
 
The next level for this idea:
Wolfgang Lackner ( is a nice guy from Austria, an architect and inventor ) stumbled upon this idea by Simon Dale.  Wolfgang always was a creative mind and interested in nature and sustainability. He thought about what can be done to with this idea when combined with profound knowledge about building in general and in the specialities needed for this kind of house building art.
Well, he constructed an own version of Simon Dales house, but from the view of an architect. Meaning to evade all the problems a modern human could face: Assault of moulds and humidity, Thermal bridges, Up to date insulations electricity and many more.    
At the end of these thoughts and experiences stands a house build from a single tree and things you find nearby. After later removing electricity and sanitation, the rest is 100% compostable (or natural, like stones). He called this "ATreeHouse". I remember that my suggestion once was "OneTreeHouse" but he declined that :-) Wolfgang swears that such a house can easily stand for a hundred years without decay.

following images are taken from the "Einbaumhaus" facebook page: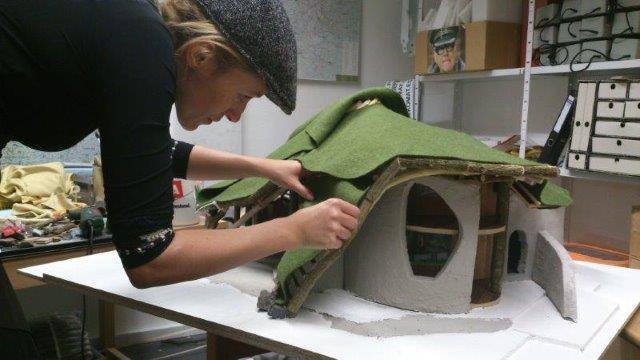 What he did then?
He successfully crowdfunded the whole project with kick-starter : https://www.startnext.com/einbaumhaus (The English translation was for the biggest part my doing, and you can read some more details of the project there.) After some disagreements about the location, now the first "ATreeHouse" is now build near the Weissensee in Austria. (Places are booked out for months).

 
So why the crowd funding and why more interest is important?
Wolfgang wanted to secure the patents of the house, so that noone with a monetary interest could prevent the public of copying his ideas (especially the very special roof construction). For private use the "ATreeHouse" is "OpenSource" now. That´s the great  thing about it.
The even better thing about it (and why it should still be supported) is the possibility to visit workshops in Austria for very little money (like 60 $ a day) and you can learn everything about how to do this on your own  (The whole house will take about 2 months to be build and cost around 25 000 € for European standards, but can be much cheaper depending on the location you are and the indulgences you desire). You can book that here.
I am sure if there is "bundled" interest from a bigger team, he would even come to you and show his know how.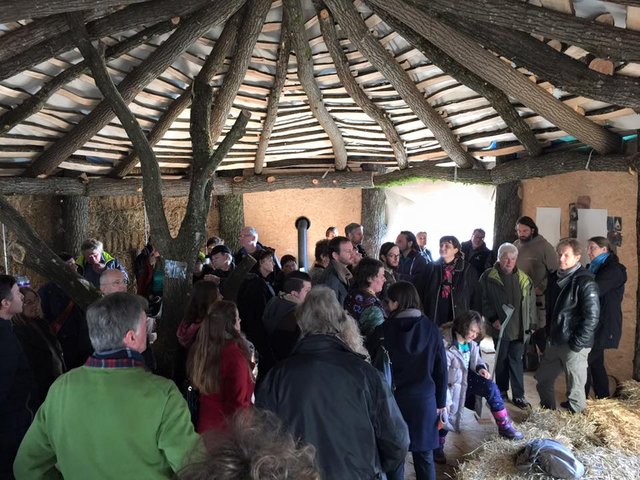 Finally more interest is important to spread the idea and the possibilitiesthat come with it. Simply that...
 
So ... and now?
Well, I know there are a lot of projects similar to this one around, you can google the Lammas project and other low-impact houses. All these projects seem purist returns to nature, which is fine for some, but not for all. For me there has to be something like luxury, electricity, security from cold, moulds and humidity. I could be wrong, but only Wolfgang did that in a perfect combination of high tech and natural old ways. I hope of being able to visit one of his workshops in the near future and will of course bring some pictures and impressions to you via Steemit.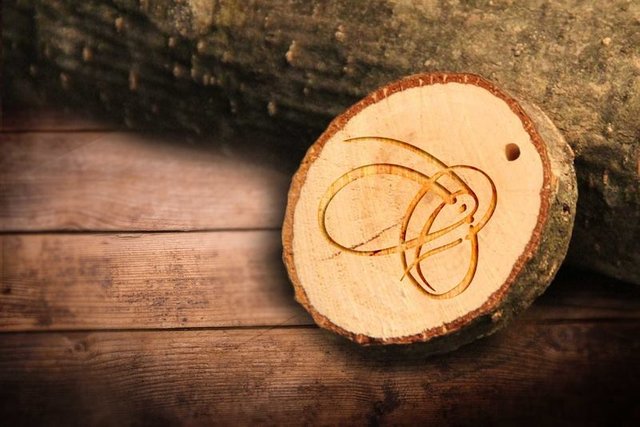 I hope you enjoyed this "advertising" for a friend (Wolfgang) and a person I even don´t know (Simon Dale). To me the pictures alone gave me some dreams to add to my nights and to my TODO-list.