Sex is overrated
Hey steemians, I'll like to know what cheating in a relationship means to you. When your partner has casual sex with someone else? Or when he has a love affair with someone else? Or both?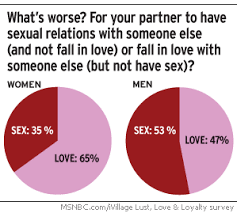 Photo Credit
My opinion:
Sex is overrated. It is simply a physical act done to ease off randy tensions. Love on the other hand is an expression of emotional affection. Sex and love means different things and should be seperated.
You can be in a long distance relationship, and choose to have protected safe sex with someone else when you're horny, and not fall in love with the person . Your partner can know about this and not make a fuss about it, because there's nothing serious to a mere physicial act, it is just sex. All that matters is knowing and trusting that you truly love him/her.
Having sex with someone that is not your boyfriend or girlfriend doesn't undermine your love. We make everything seem big in this part of the world. Humans are sexual beings, we get seduced and we get horny. Choosing to repress your sexual hormones is not a virtue. It's just a choice.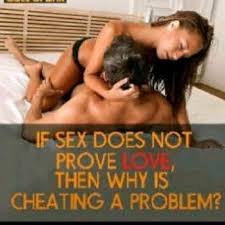 Photo credit
You own your body. Entitlement mentality is what get spouses hurt when you have casual sex with someone else. The hurt is invalid. You here statements like: "How can another person be eating what I am eating, mbok I can't share". I don't understand. Share what exactly?? Is another human being your property?