Recap..................
Afrakomah is the only child of King Antoa in the land of Ankonam. She has reached the age for marriage, and lots of people had come to see the King to ask for her hand in marriage. The King speaksto the oldest man in Ankonam, Agya Atta gives an advice to the King. The King follows the advice, and gets 6 clones of Afrakomah, and marries them off to seven Princes. Nobody else knows about this. What would happen to the six animals who have become Afrakoma clones? The story ends here. Hope you enjoy it.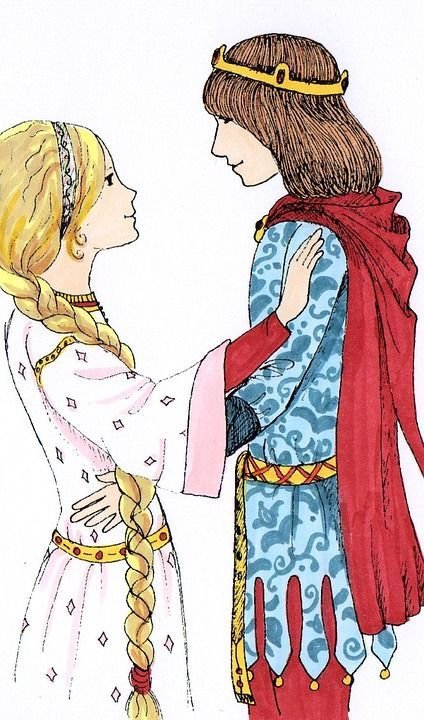 Happy Ever After???
All is well and quiet in the land of Ankonam. Afrakomah was finally married, but King Antoa was having sleepless nights. He could remember Agya Atta telling him that the animals would turn back to their initial state after 6 months, so they had to be divorced before then. Here they were, in a land where divorce was prohibited. Divorce was something sacred, and you needed to have a good reason before you could do so. The king was hoping and praying that all six 'fake' Afrakomah's would be divorced before they could be found out.
Six weeks after the marriages, Prince Akomea from Asuogyaman had finally decided to get divorce. He had tried all means to change his wife, but all proved futile. She was just dirty. She could go days without bathing. She always had to be forced or coerced. He came with lots of gifts, to appease the King, for failing to honor his daughter. After he explained his reasons, King Antoa knew there and then that, this Afrakomah was the pig. He was happy to agree to the divorce as she didn't have enough time. Later that evening, He asked her to sleep in Afrakomah's room. The next morning, she had turned back to a pig. King Antoa was happy his prayers had been answered.
In the coming weeks, there were commotions in the palace as the Princes came asking for divorce. The second to seek divorce was Prince Akuffo of the Akyem kingdom. His complain was his wife couldn't keep shut. She was always talking. She was a very ungrateful person. She would eat every hour and deny even touching food. Prince Akuffo was just tired and couldn't hold it any longer. King Antoa knew that was the hen. He placed her in Afrakomah's room, and the next day, she was a hen. Two down, five more to go and there was just three months left. This made King Antoa apprehensive but he couldn't risk confiding in anyone.
The third prince was Prince Akwasi from Abokobi. His wife was always fighting. As a princess and queen in the making, she was seen fighting with the common folks on numerous occasions. She just couldn't let issues go without a making a big deal out of it. Prince Akwaboah from the village of Anum also came to the palace seeking divorce from his Afrakomah. King Antoa, my wife is too dull. I have to tell her everything she does. It's like she can't make decisions on her own. This was the complaints of Prince Akwaboah to Afrakomah's father. King guessed that was the sheep. He now had four out of the six animals. It was left with less than a month for the remaining two animals to become their original selves.
A fortnight to the deadline, Prince Ansah from Atebubu came with his wife. He came bearing gifts and pleaded with the King to accept the divorce because he could no longer tolerate what Afrakomah has been doing. "What is the problem my son", the King asked. Prince Ansah then told the King how his wife was never home. She was always roaming. Whenever the prince received visitors, she wasn't there to welcome them.She was always out somewhere, often without informing her husband. He could never understand why his wife would behave n such a way. That must be the dog, the King said to himself. He was now left with one animal and the real Afrakomah.
It was now a day to the D-day. King Antoa was very apprehensive. He had a sleepless night. He couldn't eat that day. If the last animal wasn't coming, then he must find away to get both Afrakomah's away from their husbands so he would know which one was the animal. Deep in thought, he didn't hear the knock on his door. He had received a visitor. He jumped up with excitement hoping the visitor would be the Afrakomah he had been expecting. Lo and behold, it was the last prince. The King was too happy to even bother asking why. After he calmed down, he asked why the prince wanteda divorce. Prince Awuah from Amasaman complained that his wife was a kleptomaniac. She just took things which wasn't her everywhere. Her husband will offer her anything she wants, but she still steals from people. He had tried hiding it for long but was no longer possible. Everyone now knew her wife as a thief. He was fed up with the gossips.
King Antoa thanked him and apologized for her behavior. In the evening, she was made to stay in Afrakomah,s room and by morning, she was a cat once again. The King had accumulated wealth from six kingdoms and still had her Afrakomah happily married. He then decided to visit her since he had not seen her in awhile. The King was happy, and he owed it all to Agya Atta.