How I Photograph G-G-G-Ghosts! (5 Ghost photos and a little tutorial) SWC
For 5 years now, I have photographed Truckee's Haunted Historical Tour, and every year I get to photograph local ghosts!
Ok, I've never really seen a real ghost and I have no great supernatural experiences to write about. But I was motivated by @jerrybanfield's #supernaturalwritingcontest to write this how-to on getting fun ghost photos. I hope anybody reading this is not offended, I don't want to come off as making fun of the contest. I want to hear your stories too, I'm just having a little fun with the topic, and maybe someone will learn something new.
I have been hired five times to shoot the Truckee Haunted Historical Tour and on the first year, I had the idea to get extra creative with a few of the actors who where friends of mine. I had thought about what settings and lighting I might need but it was going to be a bit of an experiment. I ended up nailing the shot, it was used in a bunch of publications to promote the event the following year, and now they expect their cover shot ghost photo whenever I get hired, lol.
The following photos are a mix of natural low light (lights in the room) and a flash with a Garry Fong Light Sphere on it. You will need a tripod and I would recommend a shutter release cable. I like to make sure the flash is set to first shutter curtain sync. The camera settings will vary depending on the amount of light in the scene but the exposure time I like is 2 - 4 seconds, this allows for the movement of the ghosts to be captured.
I like to have both "real" mortal people and ghosts in my shots. How I achieve this by having the "real" people stay completely still during the 2 - 4 second exposure. The ghosts start out staying still for the photo, the flash fires (first shutter curtain sync) then the ghosts back out of the photo slowly. The flash lights up the ghosts in their initial position a little bit, you will need to dial in the flash brightness by adjusting it manually on your flash. When reviewing the photo, if you are not seeing through the ghosts when they are in their starting position, you will need to decrease the flash power until you can see through them. As the ghosts back out of the scene slowly, they may leave a streak of light and color that will be even more transparent than the initial starting position. This will give a look of movement to the ghosts. If you have them move faster out of the scene, the movement will not show up at all.
For these shots, I usually have about 5-10 minutes with the actors so I have to work fast. Some of the photos require a little more time dialing in the exposure and movement of the ghosts but I don't have the luxury of picking out the locations, backgrounds, or scouting the scenes first. The method above works for me. Some basic Photoshop editing was used on these to perfect highlight detail, shadow detail and color balance but nothing fancy or complicated is required. I'll put the camera settings below each shot to give you a better idea of where to start with your camera settings.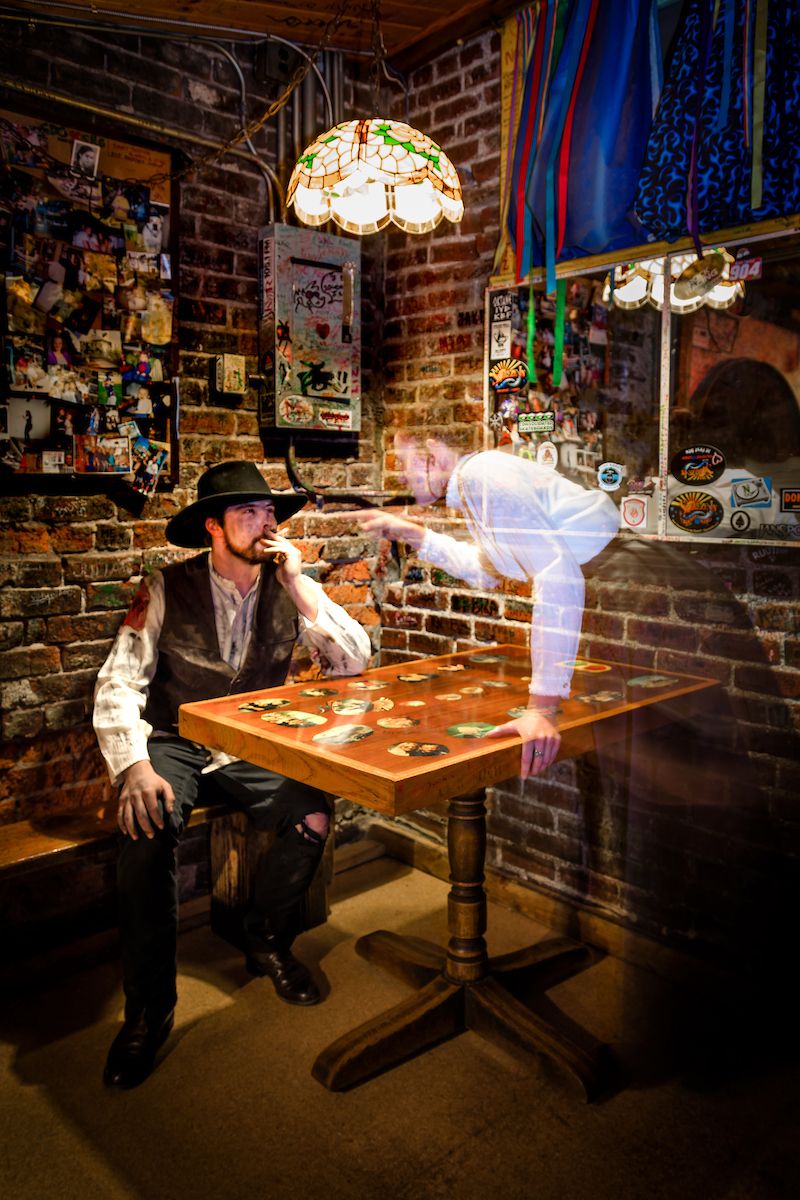 1. Canon 5DS R with 24-105mm lens set at 24mm. Flash, ISO 50, f4, 2.5 second exposure.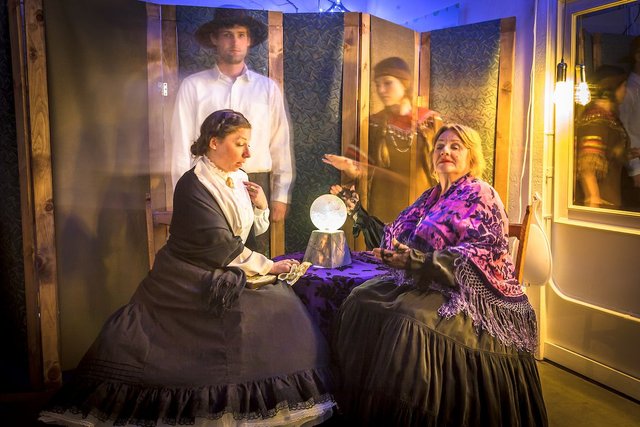 2. Canon 5D Mark II with 24-105mm lens set at 28mm. Flash, ISO 400, f10, 2.5 second exposure.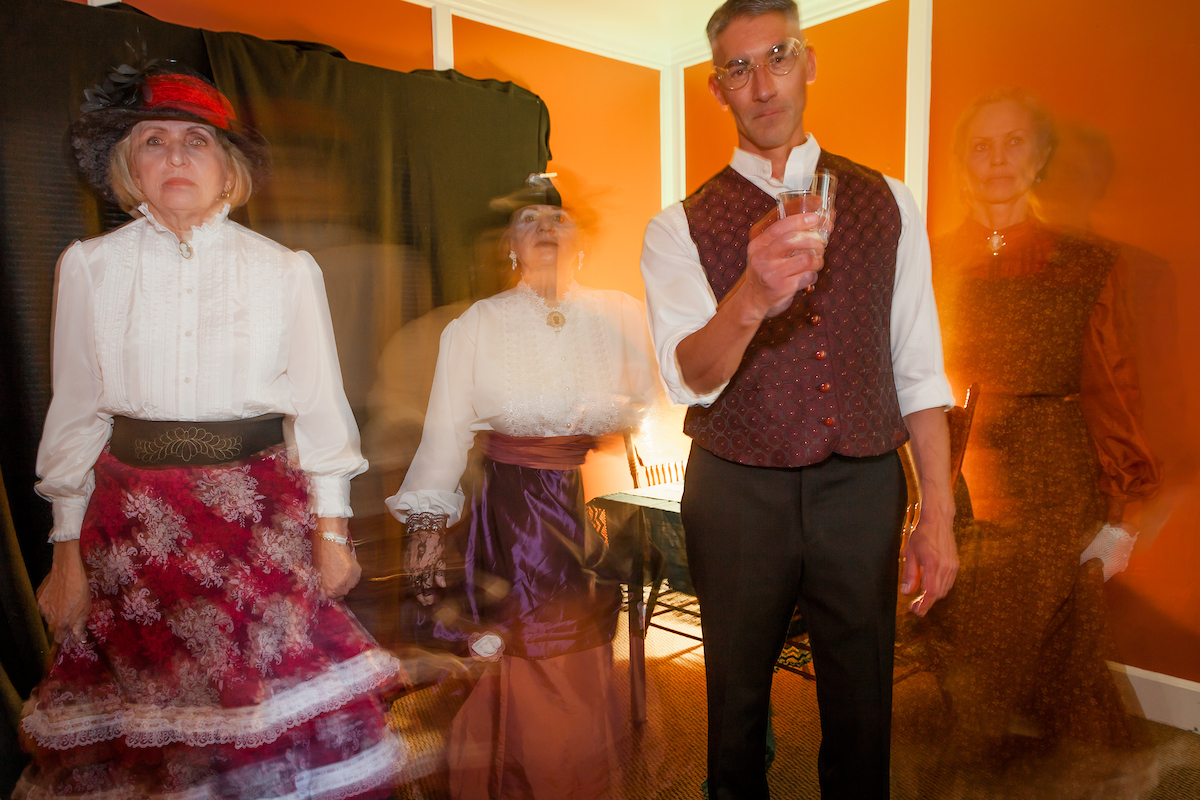 3. Canon 5D Mark II with 24-105mm lens set at 24mm. Flash, ISO 500, f5.6, 4 second exposure.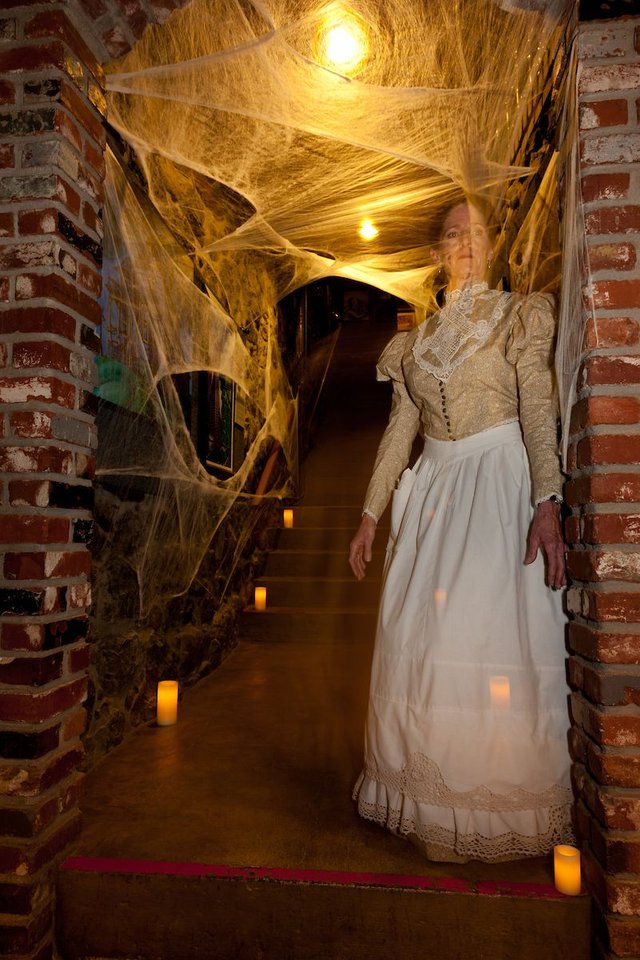 4. Canon 1Ds Mark III with 24-105mm lens set at 24mm. Flash, ISO 100, f9, 2 second exposure.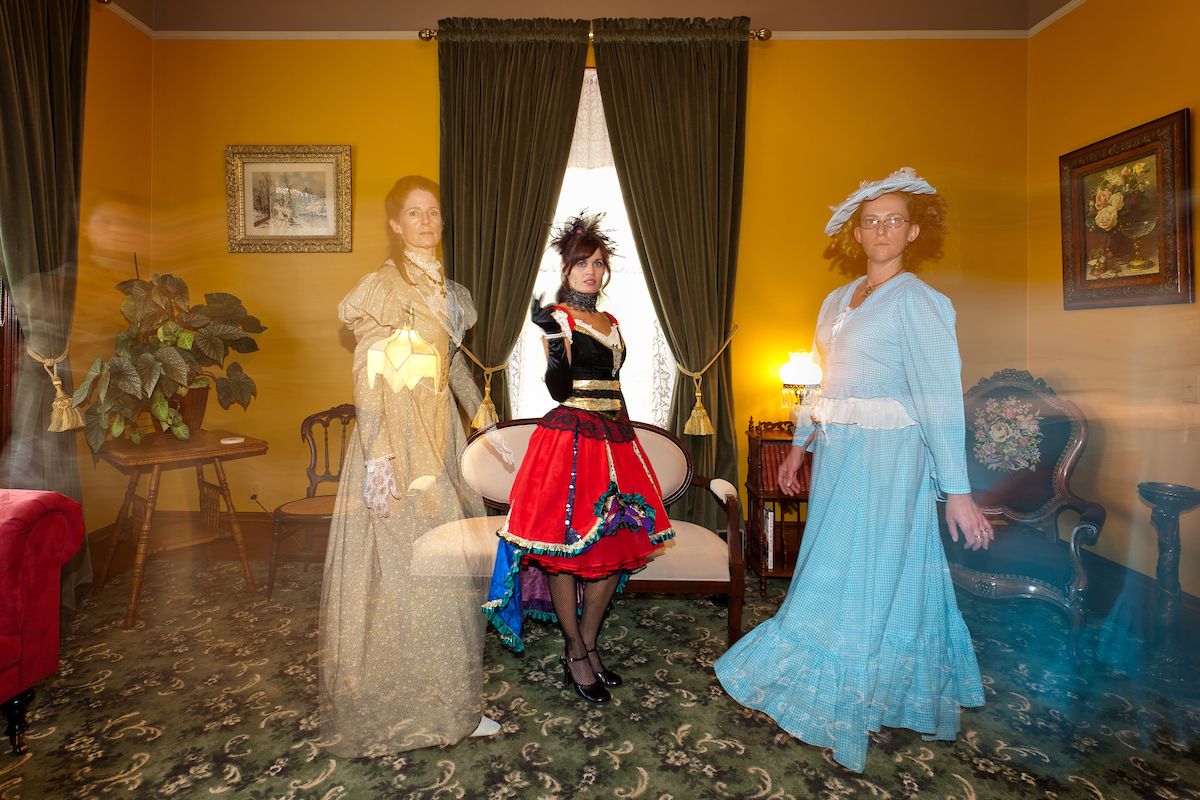 5. Canon 1Ds Mark III with 17-40mm lens set at 17mm. Flash, ISO 50, f9, 2 second exposure.
So what one is your favorite? (If you even like them at all...)
I hope this little tutorial helps you have some spooky ghostly fun! Don't be bad with this info, some people are more gullible than others...
More info about the Truckee Haunted Historical Tour can be found here: http://www.truckeehistorytour.org (most of the photos on the site were shot by me).
Please let me know if you have any questions about this technique.
Thank you for looking and reading! Cheers!
-Scott Thompson