I love long exposure photography and I also love Infrared photography.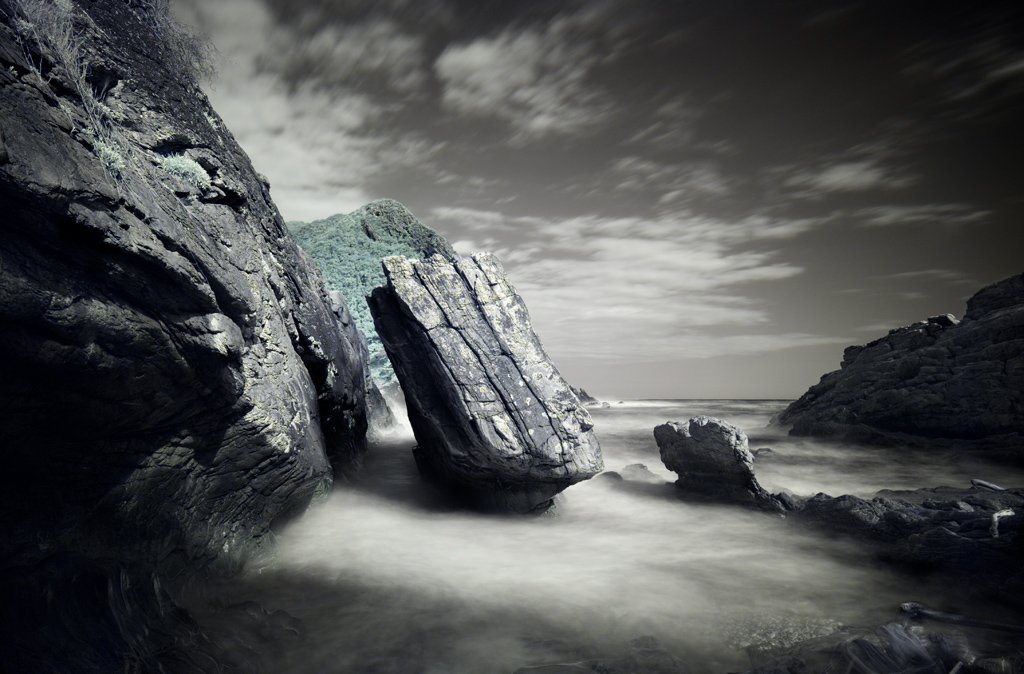 Fujifilm X-T1; XF 14mm lens; AV: F8 TV: 13sec; 720nm Infrared; Custom White Balance
In 2008 I converted my first digital camera to be a dedicated infrared camera, and since then I have "upgraded" my infrared cameras 4 times. Currently, I have a Fujifilm X-T1 dedicated infrared camera and are already contemplating converting an X-T2 to be a dedicated infrared camera.
That being said, I also love combining my infrared photography with long exposure photography by using a "normal" digital camera fitted with an infrared filter to give me "the best of both worlds".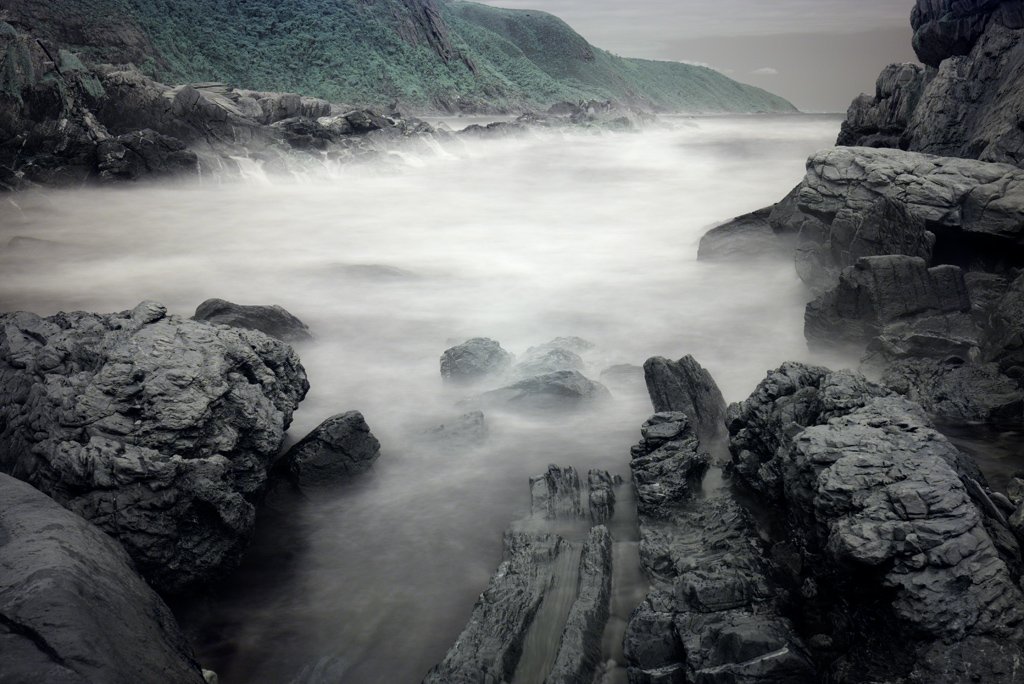 Fujifilm X-T1; XF 35mm lens; AV: F8; TV:10sec; 720nm Infrared; Custom White Balance
When I want a colour rendition of the long exposure I normally use a 720nm infrared filter, but this does not give ultra long exposures - for ultra long exposures I use an 850nm infrared filter. This filter is farther into the near-infrared spectrum and results in very monochromatic photographs. Using a custom white balance it is very difficult to distinguish between the colour and a monochrome converted photo.
For the photos in this post, I used the 720nm infrared filter.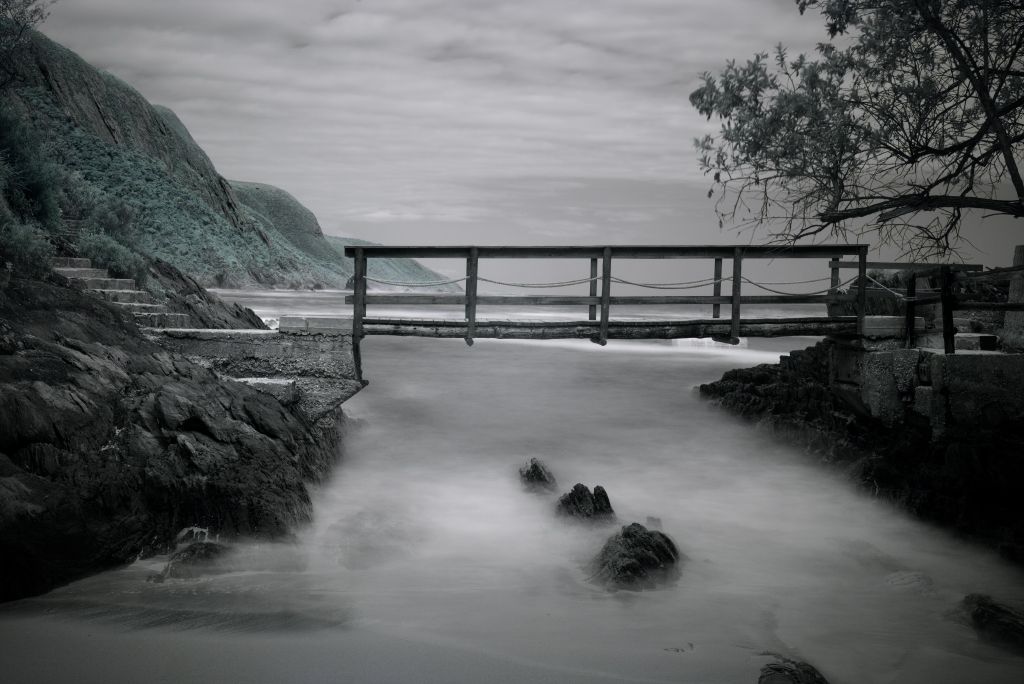 Fujifilm X-T1; XF 35mm lens; AV: F8; TV: 8,5sec; 720nm Infrared; Custom White Balance
These photos were taken at Storms River Mouth National Park in an area called the Garden Route in the Western Cape, South Africa. If you have not visited South Africa yet, this is one of the places that you could add to your bucket list.
On a Technical Note:
I use Photoshop for my post processing of infrared photos.
Below is a screen print of the above photo. The photo shows the original colour photo, as processed by the raw converter without any photoshop magic yet.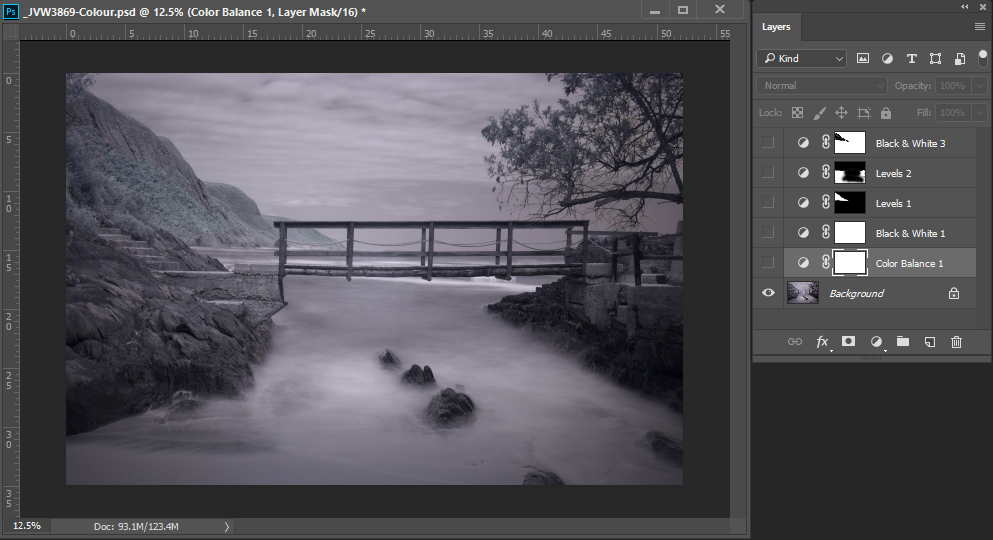 On the right is the adjustment layers I used. I started with a colour balance adjustment to get rid of the purple tint. Next, I added a monochrome layer of which I changed the opacity to 45% (to give a muted colour effect) and I also adjust the individual colours on this layer to increase the contrast and bring out more of the green of the mountain. I then added two separate masked levels layers to target the contrast in specific areas and lastly, I added another monochrome layer to enhance the monochrome feeling in all but the mountain on the left.
In a later post, I will show some of the long exposures taken with the 850nm infrared filter.
This is my entry for the #longexposurephotography weekly challenge.