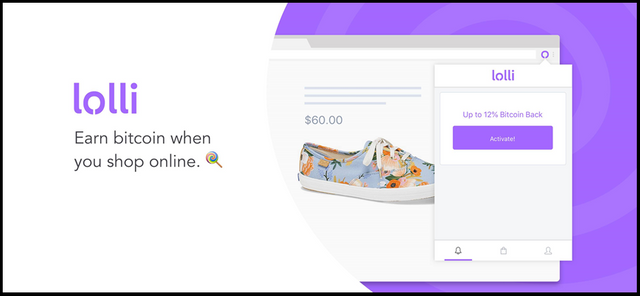 Lolli: Earn Free Bitcoin When You Shop Online!
---
If you reside in the US, then I have good news for you! There's a Chrome extension called Lolli, which allows you to earn free Bitcoins for shopping online. Lolli has partnered with over 500 top brands which allow you to earn back part of the money you've spent on purchases in their stores. You can earn up to 30% of your purchase value back in Bitcoin.
Lolli presents itself as the first rewards program that lets you earn Bitcoin in the form of a cashback reward for purchases made through online shopping. They believe that by doing this, it makes it easy for people to earn, own and share Bitcoin. In the end, initiatives like these do serve as proof, that Bitcoin is a powerful alternative currency and store of value.
---
---
Installing the Lolli Chrome Widget
When you visit the Lolli homepage, you'll notice a button that will redirect you to the Google Play Store page, where you can install the Lolli Chrome extension.
---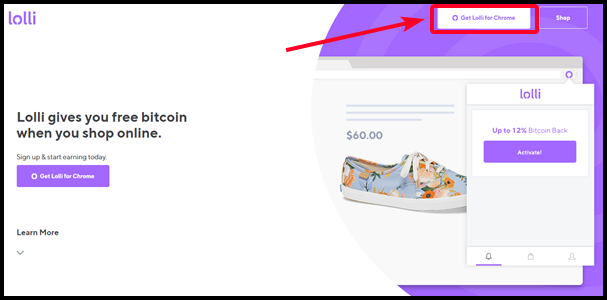 ---
Press that button and add the Lolli extension to your Chrome browser. After you've installed the Lolli widget, you will notice the Lolli icon appear on the top right side of your Chrome browser, next to your address bar. In order to activate the extension, you first need to log-in with your Lolli account. I've personally tied my existing Facebook account to Lolli, just because that makes it handier to log in.
Once you've logged in, you should see this screen pop up when you click the Lolli logo in your Chrome browser:
---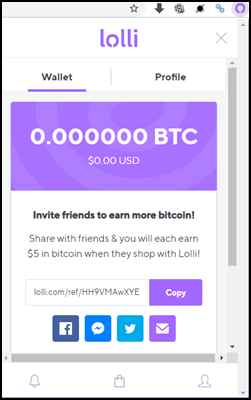 ---
Now you're ready to earn Bitcoins when you shop at one of the many partnered webshops. You'll notice the Lolli icon in your Chrome browser turn red, once you are on one of their partnered websites. To see which websites are partnered with Lolli for Bitcoin cashback rewards, check out Lolli's Partnered Stores.
In this example, I've visited the Barnes&Nobles store and immediately saw the Lolli extension icon turn red when I arrived on B&N's website. If I place an order at Barnes&Nobles, I will receive a payment of 3.5% of the total purchase value in Bitcoin. The Lolli Chrome extension also mentions which items are excluded from the Bitcoin cashback rewards. Do not forget to press the "Activate" button before you make your purchase!
---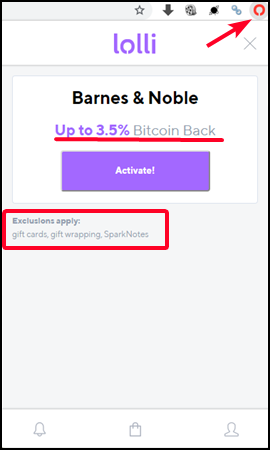 ---
When you see the following widget on the top right side of the website you're on, you can safely make a purchase & expect to get Bitcoins for making that purchase.
---

---
Simply complete your purchase as you would normally do and the Lolli Chrome extension will make sure that you'll receive your free Bitcoins for doing so. Lolli will send you an e-mail a couple of days after you've made your purchase, which contains details of the estimated rewards you will earn.
Keep in mind that it can take 30 - 90 days before your Bitcoins are added to your Lolli balance. It takes that long because Lolli needs to properly verify your purchase.
Installing the Lolli Chrome extension and getting it ready for making a purchase on one of the partnered websites only took around 5 minutes of my time. So, if you're shopping online a lot, there's no reason why you shouldn't install Lolli's widget. It doesn't cost you anything and you get FREE Bitcoins in return! Sounds like an excellent deal to me!
---
Suggestions for the Future!
Sadly, Chrome isn't my main browser that I use. I'm personally more of a Firefox fan, so it would be great if they could also make a plugin for Firefox in the future.
Currently, Lolli is only available for people who live in the United States, I sincerely hope that they expand their services to other countries in the future.
---
---