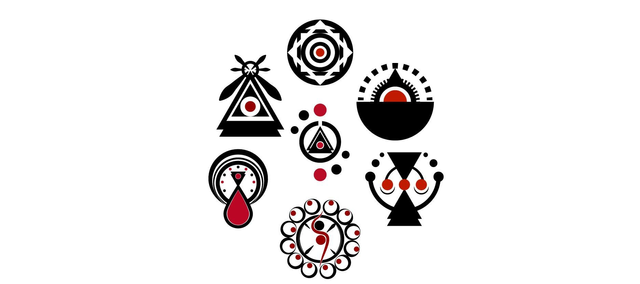 From concept to development.

Seven days, seven sins, seven stories to tell.

How are you doing? It is strange to have to type like a simple person behind a keyboard after having to go through a whole week describing a series of fantasy situations based on these moral transgressions that are so common in society every day. Perhaps not as much as we could see in each of these stories, but it is a glimpse of that apex of human misery in which we submerge ourselves on a greater or lesser scale, who here has never sinned? I think it's a question even the Holy Father couldn't answer accurately.

I have been very busy with the development of the @elarca project, struggling with the situation in my country (Venezuela), and trying to save money to be able to buy better equipment and devote myself to what fills me most, audiovisual post-production, so I have preferred to bring work in my native language and show it to my English-speaking friends. It's not that I don't have anything to write about, it's just that I haven't had time to sit down and do it, plus the internet and electricity failures, everything has been a disaster, however, I think I can tell you a little bit about some of the things I write and this was one of the most interesting.

When I started developing this series a few months ago and now brought it to you in English, I never thought I would have so many readers. In fact, I had no idea that writing about it would end in a series, but it was a battle against myself to go ahead and see what I could end up with. That's when what began as a simple notebook in my notebook during my travels in subway cars, buses on my way home and leisure time at college ended up being one story after another in which the content was increasingly richer in letters and longer. I feel that in one way or another I am able to catch an audience that is difficult to catch considering the amount of writings about fiction, fantasy and gore themes that exist in the net. To all of you once again thank you.
Deadly Sins. Where do they come from?

The more sins you confess, the more books you sell. Anne de Lenclós.
Lust, what to talk about it.... this is where the whole story started. When I started writing about this topic I didn't even know where to begin: How do I get it on board, who am I talking about, does it have to be completely sexual, or can there be a game between desire and some other element?
Well, I began to develop on the basis of these questions, taking the last one as a principle. If we're talking about sins, why not take him to his death? Sin to a greater or lesser extent is always described as evil, profane, what man should not do. Melinda was the beginning of this, I had to make her dirty, a nymphomaniacal woman and always think about her own pleasure, however, something was missing. Odin's beard kills someone! It was then that the sex game was not just a game but that these characters who interact with Lust were playing their lives. While there is a 1 in 1,000,000,000 chance that such a situation will occur in the world, it is true that from Lust you can end up going to the wrong places and indulging your desires with someone you don't belong to, and ending up in a not so pleasant situation. Careful, gentlemen.
Who doesn't like to eat? I confess that this sin was somewhat influenced by a number of external agents, including the film
"Hannibal"
and one not so fanciful; My aunt. How many people in the world do we have a direct relative who suffers from extreme obesity?a relative who will be overweight from abusing food and then, later on, have metabolic problems that would cause him to gain weight even without trying? I don't hate my aunt or anything like that, but as a writer you sometimes have to distort reality to create a completely new environment. That's where this story comes from.
I already had the character, a big character, but.... And then what? Just eat and die of overweight? Nooooooo. Hannibal to the rescue. To mix two such extravagant things had to give a grotesque result and in the end gluttony is that, the abundance, the exaggeration, a situation that can cause disgust to anyone just by looking at it.
This is one of my best friends, if sleeping is for him it represents the essential foundation of life. When I created this story the first thing I thought of was how lazy it was for him to do anything. The human being tends to be lazy in many ways; in his case, he even ended up putting a mini-bathroom in his room just so he wouldn't have to walk so much.
An almost empty room, a woman who only speaks in her thoughts, sleeping, sleeping and sleeping, we do not know how long she has been there even if she is a living being. We may think that she sleeps in a sea of lifeless bodies as a result of some feat she has done herself, but have you not thought that it could be an abstract symbolism of who she is? You have to think about it.
The creation and development of this story was somewhat difficult for me. I consider myself a non-violent person, if I hit someone it's just for the sake of "play" among friends, so there are few times I can get angry, however, there's only one thing nowadays that makes me drink blood and get into this feeling: see news on twitter about my country, Venezuela and see Maduro dancing in a public act in the meantime. There, the secret revealed. Anger is a volatile reaction that can come and go in a matter of seconds, I was able to experience that in doing this work and having to submit to states of anger greater than those to which I am accustomed was somewhat difficult.
I have it, I don't have it, I want it, I want it, he has it. Why can't I have it? When children didn't take a toy away from someone, didn't they ever see a person around them grow up with a quality that you wanted? They are examples of situations that naturally come out of our being.
Sara is the personal example of this sin; while it may be a cliché or a bit macho, it is easier to observe a woman and describe her as envious. Many are never satisfied with what they have and want in life and end up acting with a sweet look when they see a friend get their wish, but inside they turn out to be the most poisonous snake on the prairie and are waiting for the perfect moment to bite you.
For me greed is Arian, a collector, a frivolous person, a person who simply gets something for having it. It is so much his need to possess everything that he does not measure in skimping on expenses as long as he achieves his goal. I saw the story in two parts: the first one; to create a character who was surprised to see something and bored to have it and then get something new and the second one; to see in which activity everything had to be developed, that's where a reference point for the creation of this story "Hunter x Hunter" comes from, the same is a Japanese anime written by Yoshihihiro Togashi in a large part of its development we can see the theme of clandestine auctions and how millionaire people spend amounts of money in this space.
Pride. I'm perfect. Who can deny it? The construction of this character was worth his two days of creation and a departure of light. Otherwise, how could I fight with God to tell Him that I would be fairer? Between one thing and the other I remembered several series like Asylum and thought about how the devil tempts and how man eats from the apple going down that road of never returning. Pride leads to the search for perfection and what more "perfect" than the almighty god?
---
Deadly Sins | Various Curiosities.

No obstante a toda la cháchara que les acabo de escribir o hablar (Puede que ya en tu mente me hayas dado una voz y te este hablando telepáticamente en este momento.), durante la creación de este trabajo se colaron varios elementos que describen un símbolo dentro de todas mis historias.
Dentro de ellas comenzamos describiendo el uso de las palabras, específicamente el color "rojo".
"...The moonlight, just three candles in the room, a small empty bed flaunting a red wine leather bag...."
"...dropping pieces of meat and sauce everywhere and his shirt, covered with a red bib...."
"...it feels so good. Immerse oneself in these red sheets, ..."
"...It was a lonely street, blood soaked into the grey flannel of the man and from above the blurred smile of a young man was masked after each blow. ..."
"...Quickly the breeze changed course and with it the traffic light went from an incandescent red to a very full of green life...."
"...Five hundred to the man in the scarlet tuxedo!..."
"...cpeople walked warmly towards their particular destinations. In the small "Red's Spinel" café, people crowded in long lines to taste what was considered "the best coffee in the world"..."
Interesting, isn't it? The color red is a primary color, it's fire, it's blood. It is the first in the list of colours to have received a name and the colour most present in everyday life. When you imagine hell and the devil, what color comes to mind first? It's a widespread culture. That's where the idea of including this meta-message in each of my texts comes from, either by applying it directly or by associating it with different words that in one way or another denote that specific color.
It was the first way that I unconsciously applied and after the first post I wanted to include it permanently in the rest of the stories.
---
In the last number of sins there are certain names that you will say "Where do I get them from?"
"...featuring three poets from our city, they are Samael Taler, Cruz Velásquez and finally the surprise of the night ShaitanFerciul!..."
The first, Samael means "God's Blindness" (Sammael or Samil) is an important archangel in the Talmudic and post-Talmudic tradition, a figure who is accusing (Satan), seductive and destructive, and has been regarded as both good and evil. Source
The second, Shaitan is both name and adjective. As an adjective it means "mischievous" and as a name it means "he who confronts", "he who opposes" or "devil". In Islamic folk culture, Shaitan is often translated as "the devil", but it can refer to any of the beings who rebelled against Allah.. Source
Conclusions

"Who are you to condemn the sin of another? He who condemns sin becomes part of it, embraces it." ― Georges Bernanos.
The elaboration of this work was a challenge for me. It is not easy to write about sins in such an exhaustive way. It's thinking, it's observing, listening and feeling sin, shaping and developing every word, creating a name, looking for connectors and giving continuity to the text.
However, I can't complain. I love to share with the Steemit community every text and to know that there are people who like my work, cry
I want you to experiment with your writings in order to close and to visualize other contents. Do not be afraid to create, do not be afraid to dream, do not be afraid to capture in each line everything that your mind imagines. Take advantage of this community and be free to do what you want. Always with enthusiasm and desire to make the world a better place.
Original story writen by myself and translate from his spanish version here. and hive some updates.
---


---
Posted from my blog with SteemPress : http://zaxan.vornix.blog/2018/08/27/7-sins-from-concept-to-development/
---