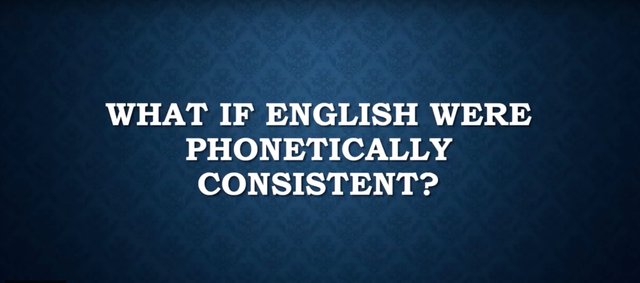 Much has been made of how English pronunciation makes absolutely no sense. Why is the "ough" spoken differently in "rough", "though", "thought", and "through", for example. Why isn't the "k" spoken in "knight"? And so on. George Bernard Shaw famously mocked English spelling by pointing out that "ghoti" can be pronounced "fish".†
Yes yes, because English evolved after spelling was settled. We know. The internet has been obsessed with the issue. That doesn't change the fact that English as it currently is is very difficult due to this maddening pronunciation/spelling inconsistency.
Aaron Alon has made a fantastic video looking at this problem in a slightly tongue-in-cheek way. He assigns exactly one sound to each vowel and he gradually changes his speech to reflect the changes. The end result sounds to me a bit like Welsh. Or maybe like someone who doesn't speak Welsh trying to do a bad impression.
See what you think.
Footnotes
†: See here.

Link Blog
To signify a link post, I'll put an arrow (→) at the beginning of the title to show you guys it is a link post and that you can skip it if such things don't interest you.

| | |
| --- | --- |
| | David LaSpina is an American photographer lost in Japan, trying to capture the beauty of this country one photo at a time. More? |
---
If this blog post has entertained or helped you, please follow/upvote/resteem. Also, consider buying me a beer.
BTC: 1Gvrie5FDBNBb6YpGBiaTvA5AyvsP814BN
ETH: 0x2Ce5c2b5F3f1a888b50A7bA9002E4F742784dF9c
LTC: LUVLvatsFqCubrJAVmCNQaoUdFAdnUCysU
BCH: qrzdazep5xfxax0ydppun89cxfts2vup9q4wnfn025
Thank you :)