Have you ever sneezed, coughed, or rubbed your eyes and seen bright flashes of light while your eyes were closed? Or perhaps closed your eyes for sleep and seen swirling patterns and lights? Those are called phosphenes.
(pronounced: ˈfäsfēns)
Phosphenes are a natural phenomenon of the human body, and should not indicate a concern for most people. They can be caused by the stimulation of nerves, such as coughing, sneezing, or when we take a blow to the head — as evidenced by cartoon characters "seeing stars" after falling. They can also be caused by the cells in your eye emitting biophotons.
In the same way that fireflies and deep-sea creatures can glow, cells within our eyes emit biophotons, or biologically produced light particles. [3]
Even though we can close our eyes, we cannot truly "power-off" the circuitry of our eyes and brain, and some biophotons are striking the retina (or even being emitted by the retina) when our eyes are closed. Therefore, signals are still being passed along the optic nerve to the brain and perceived as light and patterns. [1]
If, however, phosphenes are seen in one's everyday life while awake and alert, it might be cause for concern. Phosphenes that occur in our field of vision throughout the day could indicate a variety of medical events. Those who suffer migraines might see phosphenes along with the "aura" that indicates the onset of a migraine. Persistent phosphenes in everyday life can also signal damage that has been done to the eye, such as a tear in the retinal tissue which might need immediate medical attention. It has also been noted that persistent phosphenes can appear as early symptoms of Multiple Sclerosis and other diseases and disorders of the body. [2]
Scientific explanations aside, however, I would like to share a digital artwork I created on my computer that is intended to represent phosphenes. I hope you like it!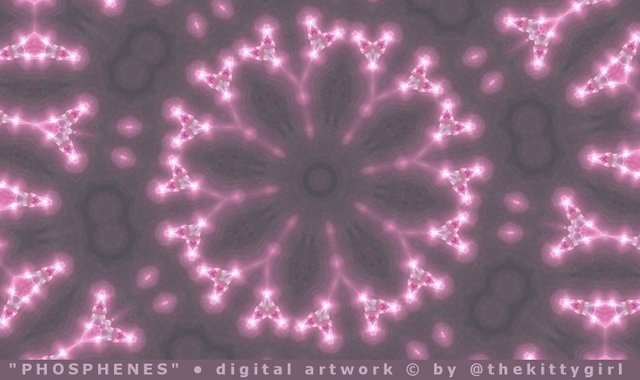 😊
SOURCES
   1 Huffington Post: Why Do I See Patterns When I Close My Eyes?
   2 National Center for Biotechnology Information:
      Cellular mechanisms underlying the pharmacological induction of phosphenes
   3 ScienceLine.org: Why do we see colors with our eyes closed?
   4 Wikipedia: Phosphene