25% APR on STEEM POWER Delegations | Delegate SP and Support #Lifestyle Content While Burning LIFESTYLE Tokens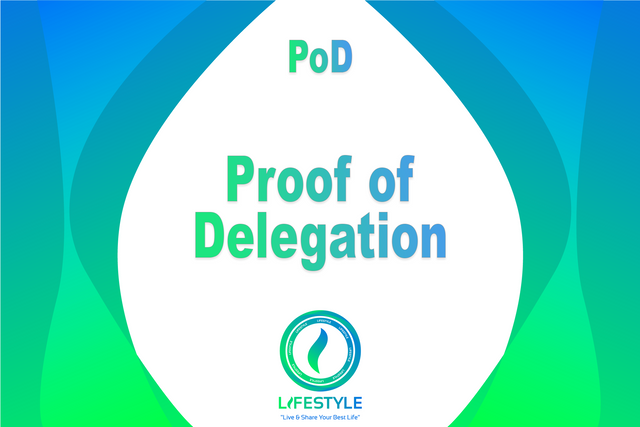 We did a soft announcement of PoD (Proof of Delegation) in our introduction post. Here is the full guide to how PoD works for the #lifestyle tribe and how we maintain a 25% fixed APR to delegators.
TLDR;
Delegate SP to @one.life
Earn a fixed 25% APR on the SP delegation, paid out in LIFESTYLE tokens
Support the LIFESTYLE token economy (75% of SP curation rewards are used to buy LIFESTYLE off the market and burn it, creating an ongoing and scalable sink for our token)
As it stands, dlease.io is one of the best marketplaces for leasing out your STEEM POWER. You can also delegate SP to various bots an earn a return. The only downside to this is that you don't always know how the SP is getting used by the other party.
For #Lifestyle, we wanted to create a way for delegators to earn a great ROI (Dlease ROIs typically go for around 19-20% APR) and also provide a means to growing a real community and token economy.
Proof of Delegation (PoD):
The LIFESTYLE rewards pool is split as 40% PoB, 40% PoM and 20% PoD.
20% of the total LIFESTYLE rewards pool is automatically being distributed for the purposes of PoD. We then calculate a fixed 25% ROI for the delegators to @one.life based on SP delegated and also using the current market price of LIFESTYLE (recalculated each day).
Time for an example!
If you delegate 1,000 SP then you will earn the equivalent of 250 STEEM a year (25% APR), paid out in LIFESTYLE tokens which will use a price snapshot at the time of distribution each day.
So 1,000 SP delegated today would result in a payout of ~5.02 LIFESTYLE tokens per day (@ an average market price of .14) = 0.7028 STEEM per day = 256.522 STEEM per year.
Burning LIFESTYLE:
So how could we sweeten the pot even more? We brainstormed a bit and came up with the idea of using 75% of the curation rewards earned by @one.life to buy LIFESTYLE off the market and burn it.
We may recalculate this number and adjust it higher if we see the need, but our test runs have shown that a 75/25 split is good for both building the native SP of One.Life and still burning a large portion of tokens on an ongoing basis.
So 25% goes to building @one.life's native SP and the other 75% goes directly to the market to buy LIFESTYLE and burn it.
---
This is a relatively complicated aspect of #lifestyle and we tried as hard as we could to boil it down so it wasn't so numbers-heavy. Hopefully it all makes sense, but we'll be right in the comments if you've got any questions!
We also want to say a huge thank you to everyone who's posting their awesome #lifestyle in our community and also to everyone who has already graciously delegated! Hopefully we can provide a great win-win for everyone involved in the tribe!
We only get one life, so let's make it the best it can be!
ICYMI, Lifestyle was added to Steempeak shortly after our launch a few days ago, check it out!!