Switched careers to Carpentry! Building my first house.
Bracebridge, Ontario, Canada 
(Muskoka Region)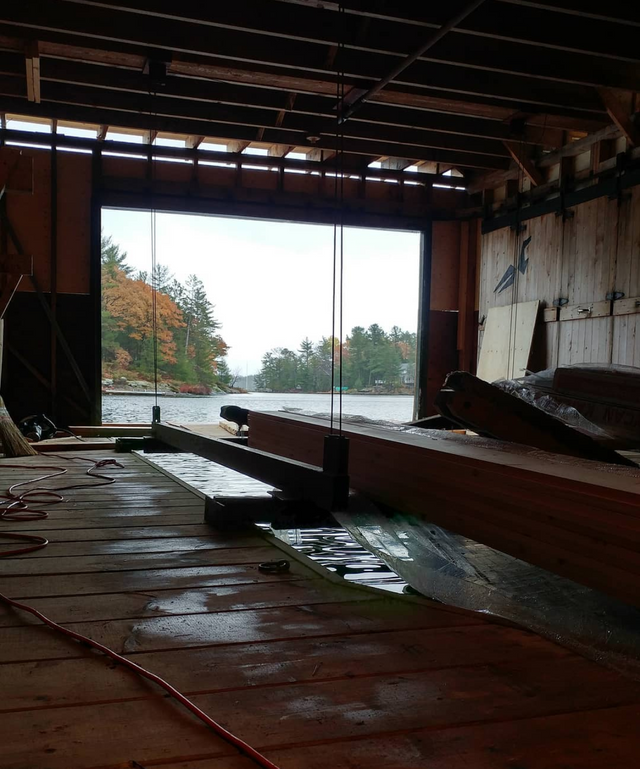 Welcome to Muskoka! I moved here to pursue a new career; I wanted specifically to work in this location on these types of houses because in my opinion — everyday is insanely beautiful and every house is to a high standard!
Please feel free to visit my Instagram where you will find all these pictures, along with my future ones! 
https://www.instagram.com/mich_mayea/
I have taken a long break from Steemit to focus on my new career, and what I learned I thought was valuable for all human beings, and I wanted to share. I believe from the bottom of my heart that if you learn how to build a house, it will change your life for the better. Home ownership has always felt like a distant dream until I acquired the skills to build one! I now have a better paying job than my previous Chef career after only a year, and I have never been more physically fit. Waking up every day to do labour has made me mentally a lot stronger of a person as well!
Just like reading a good book can change your perspective of reality forever, so can learning new skills. I no longer look at structures the same way, every house has a form that follows function, everything you see makes sense once you build a house once! You can unlock a lot of brain potential by coming to a deeper understanding of what you see all around you! I solve problems by thinking in particular power tool styles, like circular, sawzall, impact, SDS, ect! Each tool you learn to use helps you in your future problem solving. 
I wanted to take everyone through the journey of my first year of Carpentry, where I have completed my first big house from the ground up, along with many other structures! When I started 1 year ago, I couldn't even read a tape measure! I had to learn absolutely everything, from wearing a tool belt to cutting wood.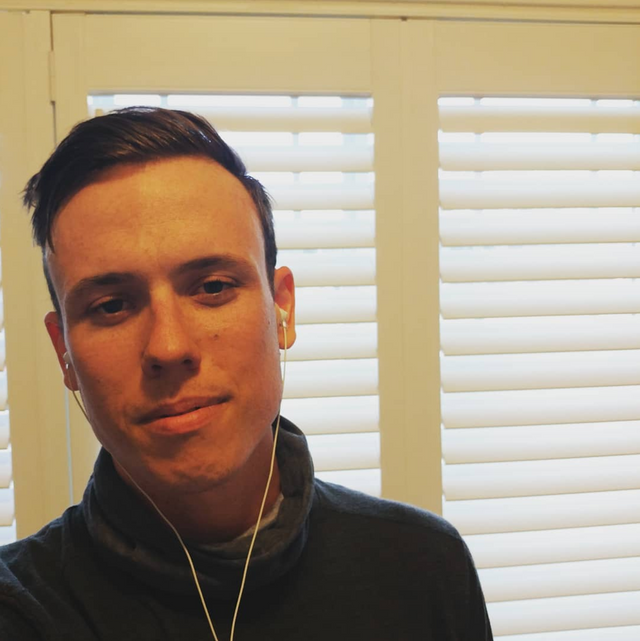 It all started in this moment! This was after my first day at an Aluminum Exterior company. This job was very difficult considering I had no carpentry background, and I was mostly just a grunt moving heavy things! Every moment I could, I pestered my coworkers with questions!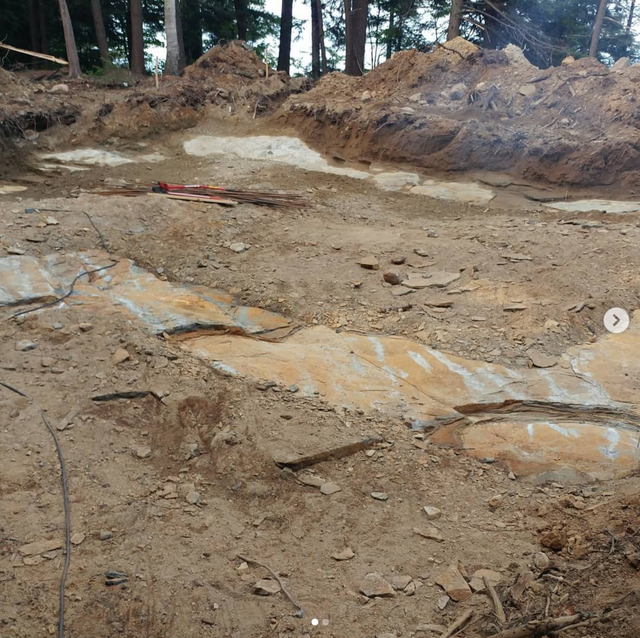 It all starts with a hole in the ground. . .
You literally have to scrap the dirt down to the Canadian Shield to lay a foundation! It is a crazy amount of work to build a house, many people do not consider that clearing trees and digging a foundation are all things that must be done first! You can spend several days simply scraping dirt off of rock, bailing water, and drilling small holes in the ground, before anything else gets done!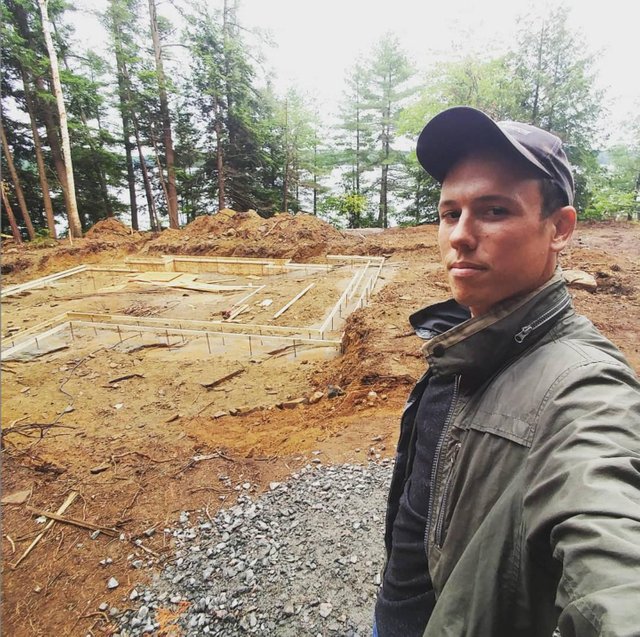 Hundreds of holes are made with a rock drill! My lower back was seized up after an hour of doing this, and I had to go all day! You eventually toughen up and learn to maintain your stamina by adjusting your posture and breathing deeply. This aspect of foundation work is extremely loud, vibrational, exhausting, and repetitive! It was surprisingly difficult to drill a perfectly straight down hole, it takes practice!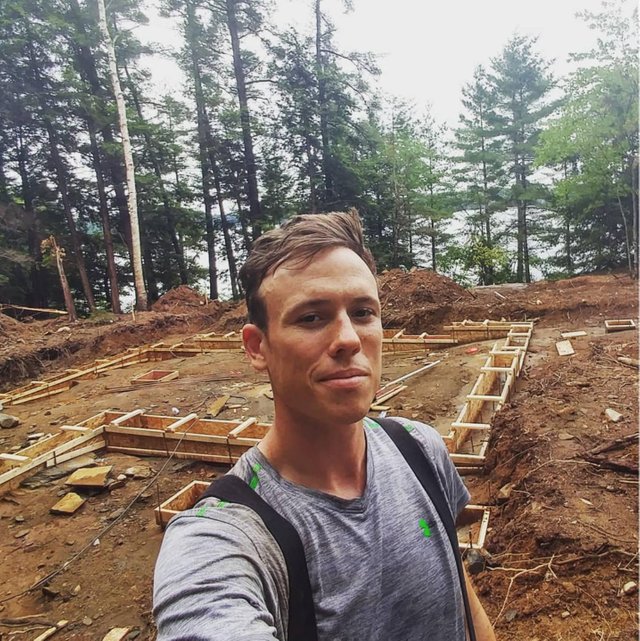 After a few days, we do the form work. We trace the rock shape and cut wood with a jigsaw so that it conforms to the foundation shape. All day you are ripping plywood in half with a circular saw, and carving the shape out with a jigsaw, you build your skill up quick with these tools! Believe it or not, cutting in a straight line is not just for kindergartners! It takes practice to rip a sheet of plywood in half in a nice clean straight line!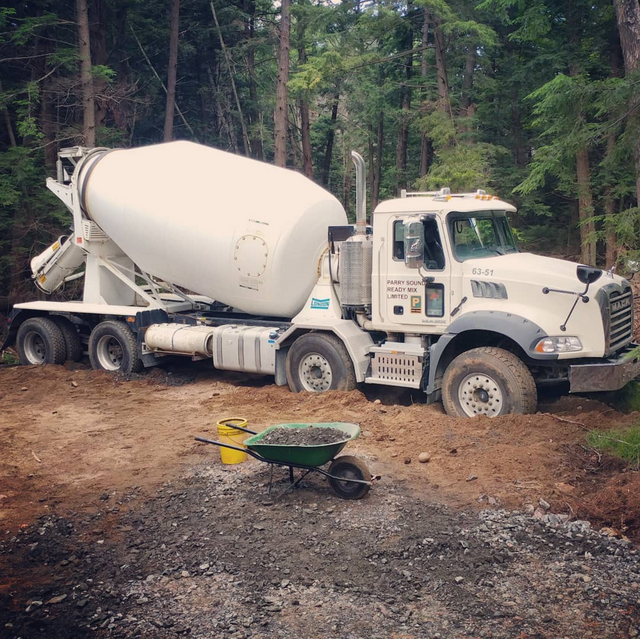 After we pass inspection of the form work, a cement truck shows up! They sent the wrong truck, you do not want a tandem axle extremely heavy vehicle driving backwards down a hilly and muddy super long 2000+ feet driveway! We had to pay $800 CAD to get a mega tow truck to pull her out before the cement cured!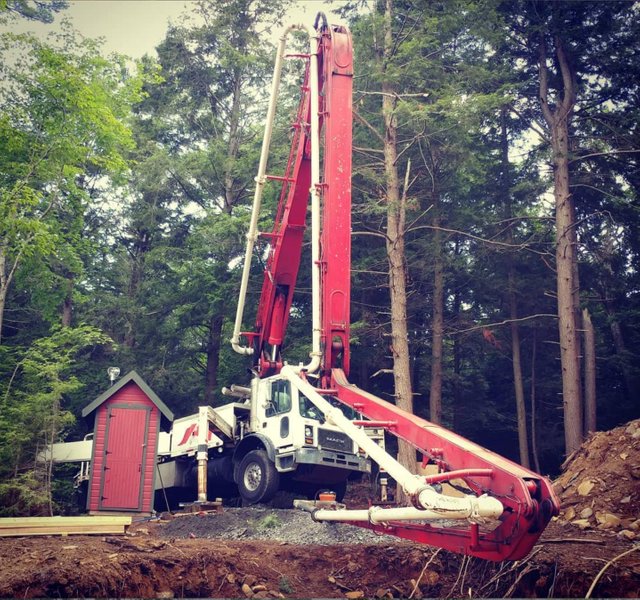 This is a pump truck, it's a luxury! It connects to the cement truck and helps put all the cement where we need it! If we did not have this, we would have to move the cement by hand with a wheel barrow, and we would likely become exhausted and out of sunlight before finishing.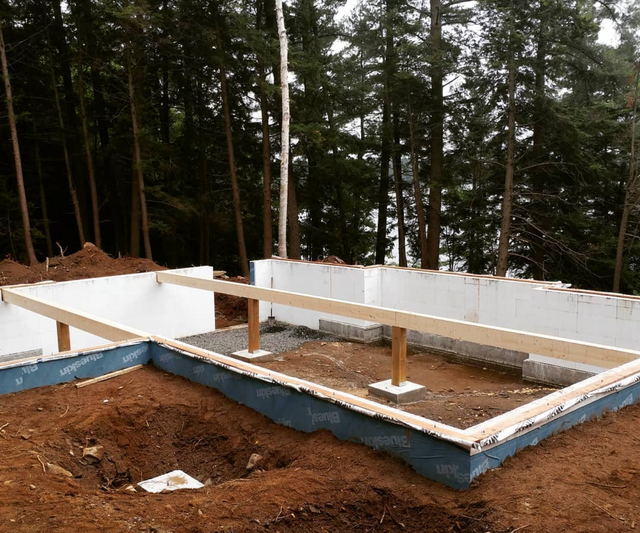 This is the second layer of foundation, called ICF! We used foam lego blocks to build up the basement walls. This type of foundation is expensive, but is very strong, fire resistant, sound proof, and a great thermal break. It gets cold in Muskoka, and if you're off the grid you will want an efficient home!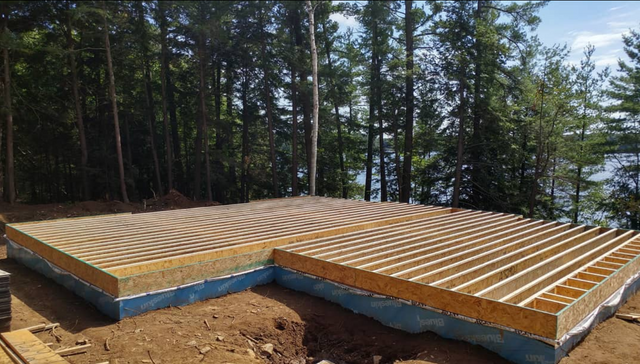 I'll never forget this day, floor joists! Straight forward to do, but very tedious! Moving these is like taking a winter jacket off in a car, with a seat belt on — awkward! They were conveniently dropped off nowhere near where we needed them!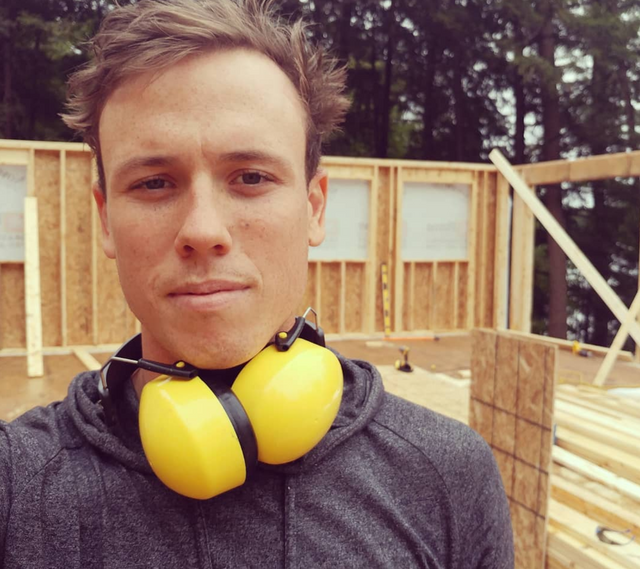 Never felt so proud as to when I put my first walls up ever! I eventually built nearly ever single wall in this house. I found I made many mistakes building my first wall, the boss yelled at me a lot. I eventually stopped making mistakes and building walls faster.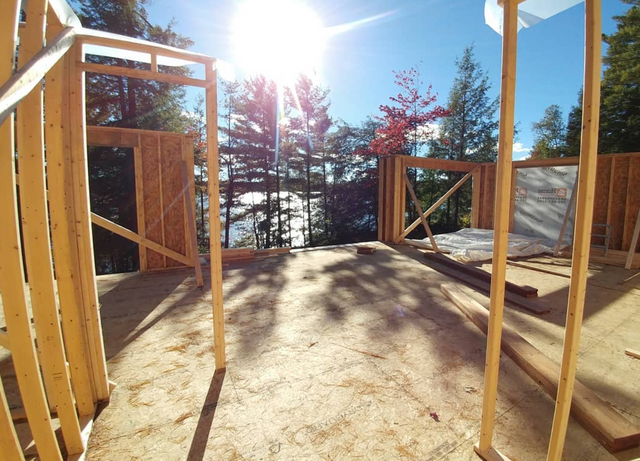 Slowly more walls go up, and the season starts to change quickly! I show up to work early just to marvel at what has been done so far.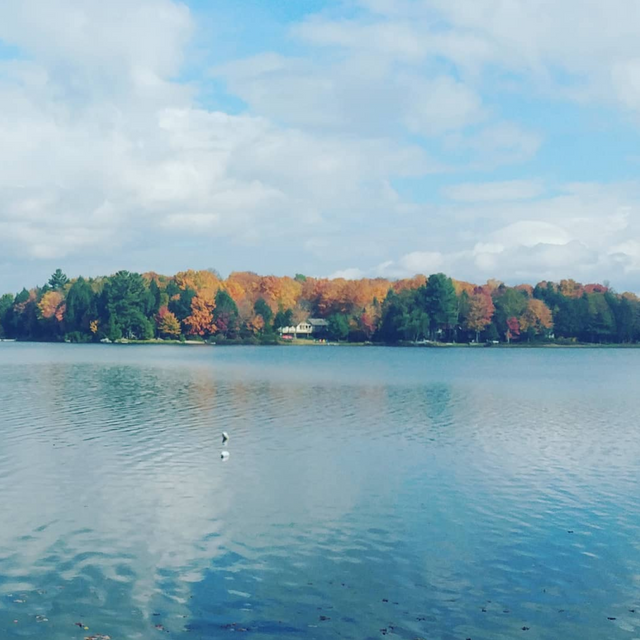 This is the Muskoka region, there are countless islands and lakes. I often travel by boat across a lake for it is faster than to drive around it!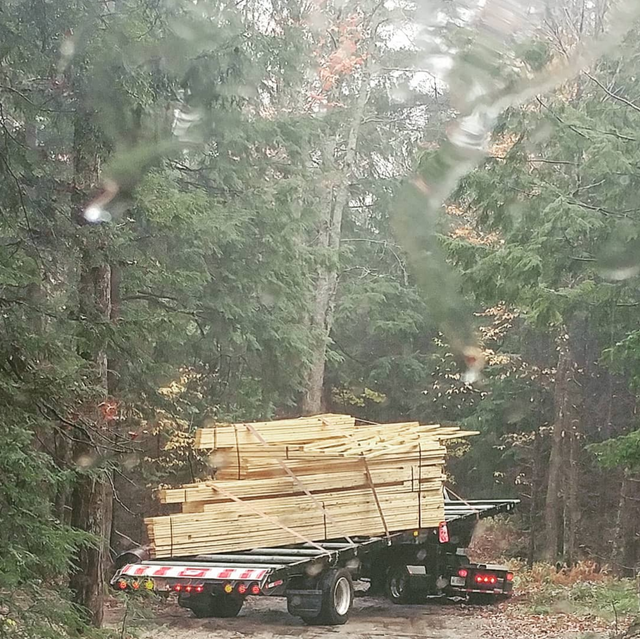 The roof trusses have finally arrived! This day goes down in infamy for the most insanely hard physical labour day ever. This truck got stuck and had to dump the trusses! We had to drag them nearly 2000 feet up a winding hilly driveway in the freezing rain! This day was about 11 hours long, and the next day was an early start for the crane was coming to hoist them up!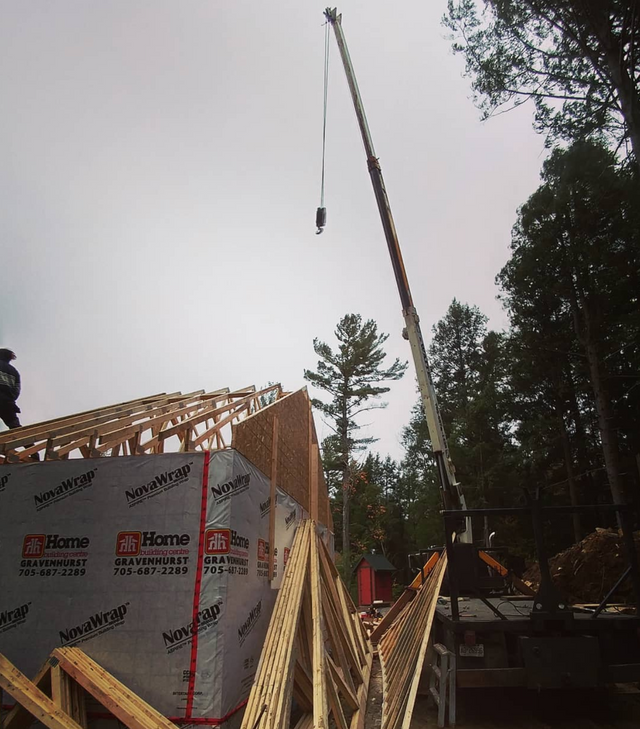 Another overtime day directing a crane! Ordinarily putting a roof on is a quick and easy task with a crane, but this house had some additional caveats. It had cathedral ceilings, as well as only one access point for the crane, so many trusses had to be swung around the entire house with my pulling on them with a rope while using hand signals to the crane operator!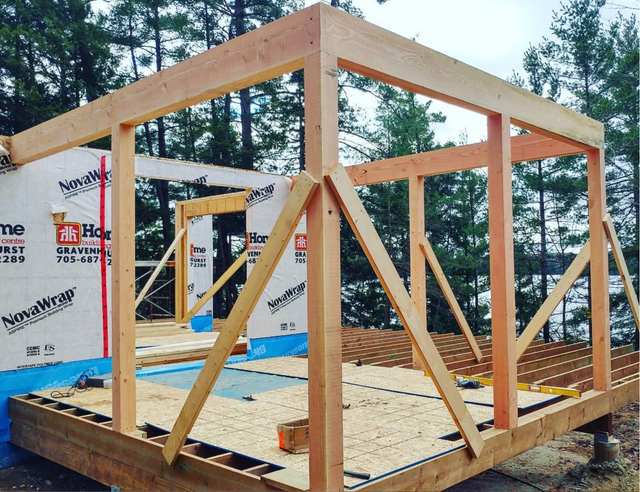 I was very excited to do my first timber framing! At first it seems almost impossible for a few guys to do such a thing, some of these pieces are a few hundred pounds, but with a Red Seal Carpenter leading the way (My boss), it all went without a hitch! The wood is actually naturally pink!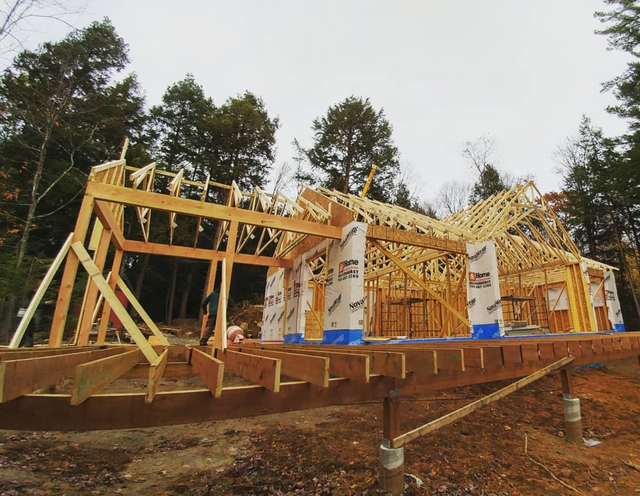 Believe it or not, we're nearly done! As carpenters we have a few tasks left; install the doors, windows and deck boards, that's it! My boss is the General Contractor, he will hire roofers and drywallers, HVAC, electricians, and plumbers, ect to finish the rest! Our job was approx 8 months to completion, taking probably 30% longer due to logistical challenges of the area and complexity of the build.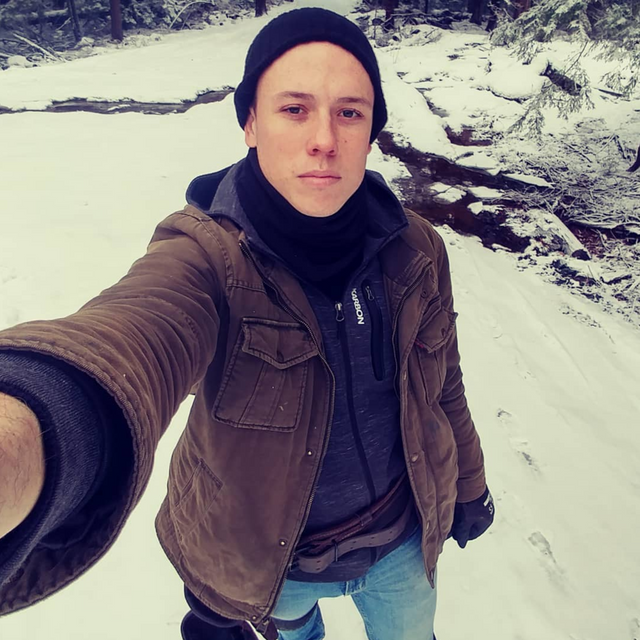 A few weeks later I return to install the windows and doors and the house is already covered in snow :D I never did get to return to take more pics, my shifts kept ending at night time! In the winter here it becomes night by 5pm. 
This concludes my first house build! After this I upped my game, working on an even fancier house! If you want to see a walk through video of the new house, check it out!
https://www.instagram.com/p/BrYeto-hXXc/
@Zastels appreciates every follow