Ramen Made by a Japanese Masked Wrestler
– April 20th, 2017
There seem to be more individuals these days who are active beyond genres and boundaries, such as Major League Baseball's two-way player, Shohei Ohtani. Tomomasa Kawano of Shoukiya (in Itoshima City, Fukuoka Prefecture) is another such person. He is the owner of this ramen shop as well as a luchador, a masked wrestler of Mexican wrestling, lucha libre.
Blond-haired, 172 centimeters tall, and weighing 85 kilograms, he is heavily built. He looks intimidating but is actually soft-spoken. "I'm shy around strangers," says this man who seems to take on a different personality when he removes his mask.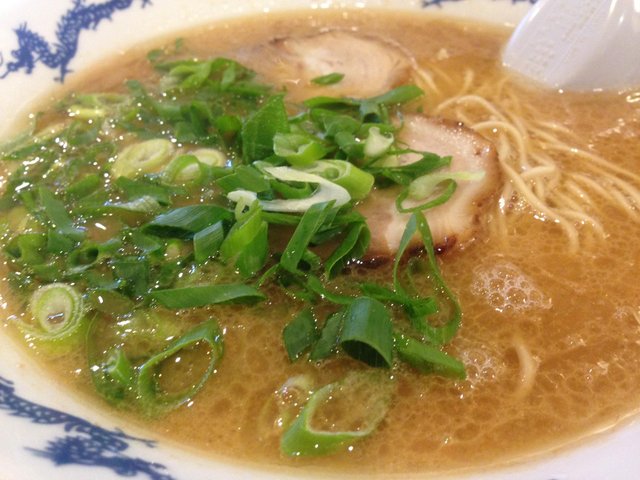 Ramen at Shoukiya
Kawano entered the world of ramen at the age of 20, when he was suffering poor health and weighed in the 50-kilogram range. He first began working at a ramen house in Itoshima City, learning how to make the soup as a full-time employee for about 3 years. His dream was to start his own business, but he was full of uncertainty and could not take the first step. "He is so excessively cautious that when he knocks on a stone bridge, he'll break it before he can even cross it," says his wife, Misa, who also works with him at his shop. After leaving his full-time employment, he drifted through a total of 4 other ramen houses, labored as a seasonal worker, and did a stint at a landscaping company.
The turning point for Kawano came when he ate at a ramen shop that opened near the landscaping firm, Fukuoka City. He was stunned by the flavor of the soy sauce-based tonkotsu (pork bone broth) soup that he ordered at the branch shop of Ajishin (now closed). "I had never tasted anything like it, and I wanted to make that ramen." He apprenticed for about a year and opened Shoukiya in 2009. The ramen he achieved has a burnished-colored, soy sauce-based tonkotsu soup. The distinct seasoning of the soup base stands out, while the umami of the pork bone also closes in on the palate. The consistency and flavor of the noodles are comforting, too.
Kawano's ring name is SHO-KI, and his signature maneuver is the Barikata, in which he grabs his opponent and slams him against the ring. "At first, I wondered what in the world I was doing. But now I'm enjoying myself." He plays the bad guy in the ring but is very popular. Spectators yell their encouragement, "I'm going to your place to eat your ramen!"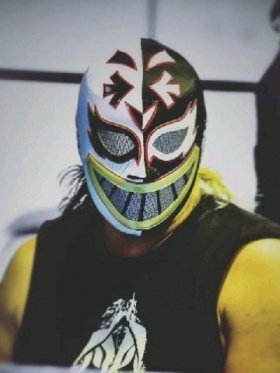 Kawano standing in the ring as a luchador.
It was about 5 years ago that Kawano began getting involved with lucha libre that is now an integral part of his life. A luchador named Jiraiya, who had wrestled in Mexico, had opened a gym behind his shop and his eldest son had begun to practice there. The boy would practice his newly-learned techniques with him, but he had no idea how to take them. "I didn't want to see him so disappointed, and that's why I began taking lessons as well."
Thus began his daily regimen of workouts and practices on the weekends. On match days, he prepares his soup before dawn and then leaves, and at the locale, he helps carry in the ring as well as set up and dismantle the venue. Matches have increased with time; last year he had one almost every month. "It's tough physically. But I feel good when I get into the ring," says Kawano. "He's also become able to take a step forward, making new dishes and so on. When the ramen master is enjoying himself, the soup becomes even tastier," his wife Misa shares her insight on the synergy.
"Shoukiya and lucha libre ― I want to popularize both." Double-jobbing isn't easy, but what is undeniable is that he has a very fulfilling life.
Note: The infromation is current at the time of publication.
---
覆面レスラー 得意技は「バリカタ」 笑喜屋(福岡県糸島市)
公務員ランナー、芥川賞作家の芸人、野球の世界では二刀流…。ジャンルや垣根を越えて活躍する人たちが増えてきたように思う。「笑喜屋(しょうきや)」(福岡県糸島市)の河野友正さん(39)もその一人。ラーメン店主のほか、「ルチャドール(戦う人)」と呼ばれるメキシコ式プロレス「ルチャ・リブレ」の覆面レスラーの顔を持つ。
金髪で、172センチ、85キロという筋骨隆々のがっしりした体格。威圧感があるが、話すと物腰は柔らかい。「かなり人見知りなんです」。マスクを脱ぐと別人格のようだ。
ラーメンの世界に飛び込んだのは「病弱で体重が50キロ台だった」という20歳の頃。糸島市の店で働き始め、約3年間社員としてスープ作りを学んだ。独立を志していたが、「本当に大丈夫か」と一歩を踏み出せない。「石橋をたたきすぎて壊しちゃう性格ですから」とはスタッフで妻の美沙さん(36)。退職後は、ラーメン店4軒を渡り歩き、期間工をやったり、造園会社でも働いた。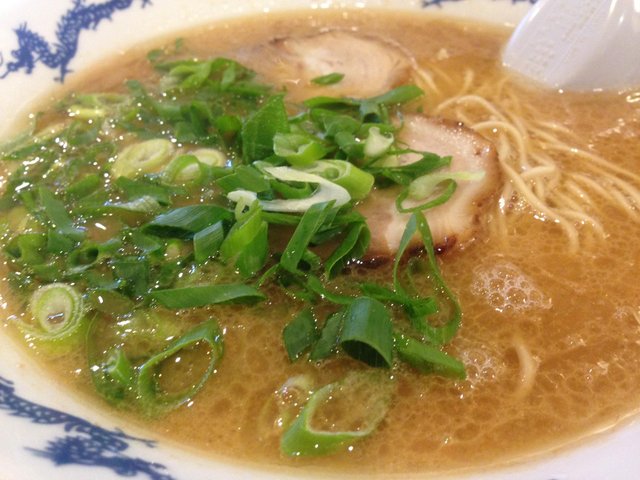 笑喜屋のラーメン
転機は造園会社(福岡市早良区)近くに進出してきたラーメン店との出合い。博多区にある「味心」の支店(今は閉店)で食べたしょうゆ豚骨に衝撃を受けた。「初めての味。このラーメンを作りたい」。約1年間修業し、2009年6月に笑喜屋をオープンさせた。たどりついた一杯は、茶色がかったしょうゆ豚骨スープ。きりっとした元だれが引き立ちつつ、豚骨のうま味も追ってくる。麺のコシ、風味も心地よかった。
□    □
リングネームは「聖氣(しょうき)」。得意技は抱え上げた相手をリングにたたきつける「バリカタ」だ。「最初は『何やってるんだろう』と思っていた。でも試合が楽しいんです」。悪役ながら人気も上々。客からは「ラーメン食べに行くぞ」と優しいげきが飛ぶ。
今では生活の一部となったルチャと関わり始めたのは5年ほど前。メキシコで活躍したルチャドール「磁雷矢(じらいや)」が、店の裏に教室を開き、長男(11)が通うようになってからだ。長男は習いたての技をかけてくるが、河野さんは受け方が分からない。「子どもがさびしい顔をするのが嫌で、私も始めたんです」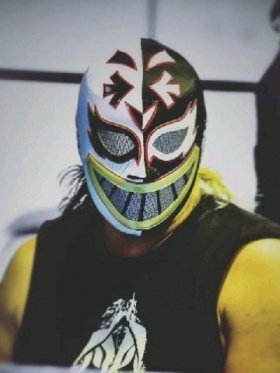 ルチャドールとしてリングに立つ河野さんの姿
毎日筋トレ、店休日は練習。試合当日は夜明け前にスープを仕込んで出発し、リングの積み込み、会場での設営、撤収もする。年々試合も増え、昨年はほぼ月1回で試合をこなした。「体はきつい。でもリングに上がるとすっきりする」と河野さん。美沙さんは「新メニューの考案など一歩踏み出せるようになった。大将が楽しんでいると、スープもおいしくなる」と相乗効果を実感する。
「笑喜屋とルチャ。両方広めていきたい」。二足のわらじの生活は簡単ではない。ただ充実しているのは間違いないようだ。
※記事掲載時点での情報です