Power Harassment? Employee Monitoring by the Minute
Power harassment, or workplace bullying, has been gaining attention in recent years. The Special Mission News Crew received a report from a reader who stated that she had been under surveillance by her supervisor and co-workers. She revealed that they had even recorded the number of times she had gone to, as well as the amount of time she had spent in, the bathroom. The company explains that it was for "labor management," but does this not constitute power harassment?
"I was the only one who was placed under surveillance, and it was agonizing," says the woman in her forties who lives in Nakatsu, Oita Prefecture. She worked at a branch office of a pharmaceutical company from August 2014 to December 2017.
According to this woman, unpaid overtime work was the norm at her office, and the branch manager would go as far as declaring that "Sābisu zangyo(unpaid overtime) is our tradition." After some protesting, she was eventually paid for her overtime work, but this lead to a strained relationship between her and her co-workers. They began to harass her together, claiming, "You can't do your job. You're completely useless" and not serving her tea during breaks. The stress from this treatment led her to develop irritable bowel syndrome, which caused her to frequent the bathroom.
Her "surveillance" began soon after that. A co-worker made a chart of the times and frequency she spent in the bathroom and sent it to other employees at both the branch office and headquarters. What was more, from January to November 2017, the branch manager had had a different co-worker report back on all of her activity.
■
Ultimately, the company handed the woman a notice of dismissal in December 2017 and immediately filed a case to the labor tribunal to confirm the validity of her termination. It was in that process that the "weekly reports" on the woman's activities were exhibited as evidence.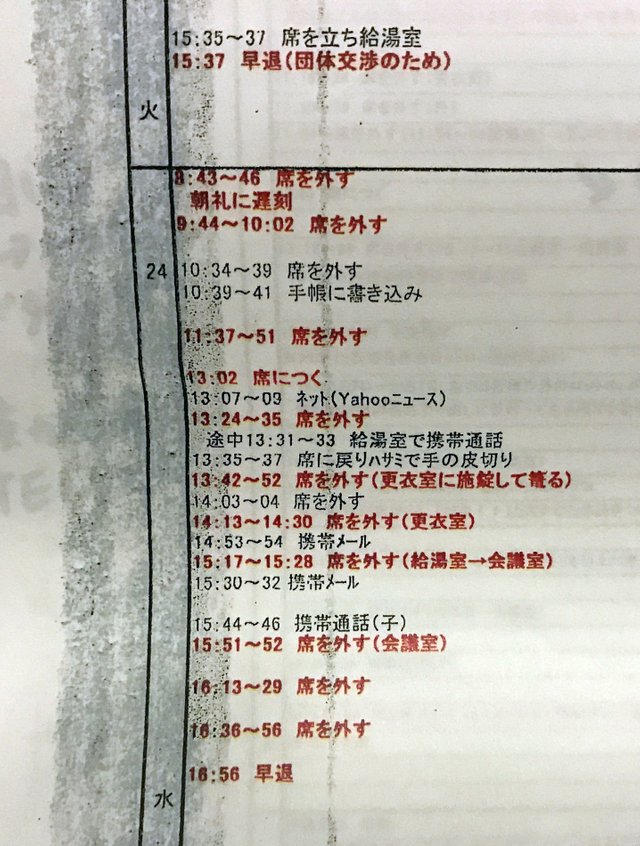 The "weekly reports" that recorded the woman's behavior in the office. She was monitored by the minute, and entries include "leaving her desk" or "writing in her planner."
The "weekly reports" not only recorded the durations the woman had been away from her desk, but they also noted her activities by the minute, including entries such as "staring at the calendar while stuffing tissues in her nose" and "texting on her cell phone." The reports also attached pictures of her desk calendar, which she had also used to note her private schedule, and they also described attempts to figure out with whom she was talking to on her cell phone or what she was doing after work. The woman says that she had not been aware that she was being monitored.
The company informed us that "it was necessary and appropriate to monitor her, as she would leave her desk for extended periods of time during work hours, which is against company policy. It was not like we monitored her private life at all hours." It also stated that there had been complaints regarding the woman's work attitude, which did not improve despite being reprimanded, which is why it had directed her co-workers to report details on her. On the other hand, the company did admit that "it was wrong" to share her bathroom schedule within the company.
The result of the labor tribunal was not released, as the company withdrew its petition afterwards.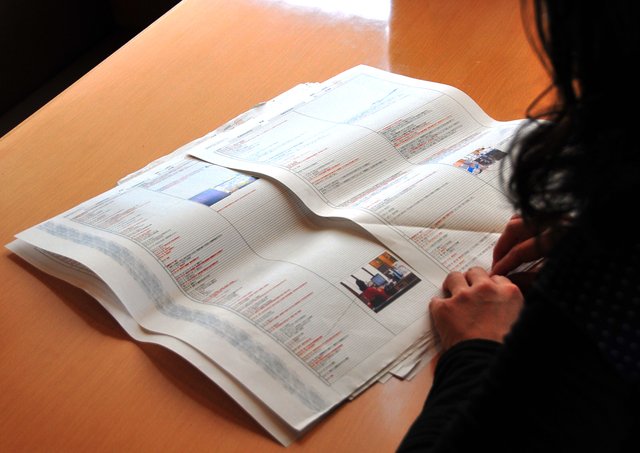 Gazing at the "weekly reports," this woman says that she "became ill for being monitored at work."
■■
According to the report released by the Expert Review Committee of the Japanese Ministry of Health, Labor, and Welfare, power harassment is defined as "behavior that utilizes one's superiority, such as status, beyond reasonable means to cause emotional and physical distress to an employee or deteriorates the working environment."
Kouji Morioka, expert in labor issues and professor emeritus at Kansai University, states that the woman's case is "highly unusual." He explains that "there are incidents in which the time that employees used to get dressed into or out of company uniforms or smoke was deducted from their working hours, but in this case, they caused emotional distress to the woman. It exceeds the limit of what is necessary, and this is surely an act of power harassment."
However, the difference between power harassment and administrative orders is quite ambiguous.
The "general labor section" that is stationed in labor bureaus throughout Japan received approximately 70,900 reports on power harassment in 2016. However, not all of them were necessarily power harassment; in fact, some of them were based on logical management reasons. The Japanese Ministry of Health, Labor and Welfare's Harassment Prevention Office confessed that "there is no legal definition of power harassment and labor laws also do not have restrictions on controlling these situations."
Shinichi Sakamoto, director of the specified nonprofit corporation in Tokyo, Rōdōsha wo Mamoru Kai, told us that "power harassment is even harder to define than sexual harassment, as it depends on the scale of the company, how the harassed person feels, and the position of the harasser. We need to consider how to solve each case according to each situation, to create a power harassment-free workplace."
---
分刻み"監視"はパワハラ? トイレの回数・時間も社内で共有 会社側「労務管理のため」
国会で働き方改革関連法案の審議が続く中、職場のパワーハラスメント(パワハラ)への関心が高まっている。特命取材班にも「会社で上司や同僚から監視され続けた」と訴える声が寄せられた。トイレの回数や時間も記録されたという。会社側は「労務管理のため」と説明する。パワハラに当たらないのか。
「私一人だけ監視され、苦しかった」。こう訴えるのは、大分県中津市に住む40代女性だ。2014年8月、ある薬品販売会社の支店に入社。事務員として17年12月まで働いた。
女性の話によると、支店ではサービス残業が常態化し、支店長が「サービス残業はうちの伝統だ」と口にしていた。抗議した女性には残業代が支払われるようになったが、同僚との関係が悪化。「仕事ができない。完全に駄目」と暴言を浴び、一人だけお茶を出されないなど職場ぐるみの嫌がらせが始まったという。女性はストレス性の過敏性腸症候群を発症し、頻繁にトイレに行くようになった。
「監視」はその後始まった。同僚が女性のトイレ時間や回数の計測表を作り、メールで支店や本社の社員に送信。17年1~11月には、支店長が女性の行動を別の同僚に報告させていた。
■
同社は17年12月、女性に解雇通知書を渡し、直後に解雇の有効性を確認する労働審判を申し立てた。その過程で、同僚の報告をまとめた「週報」が証拠書類として示された。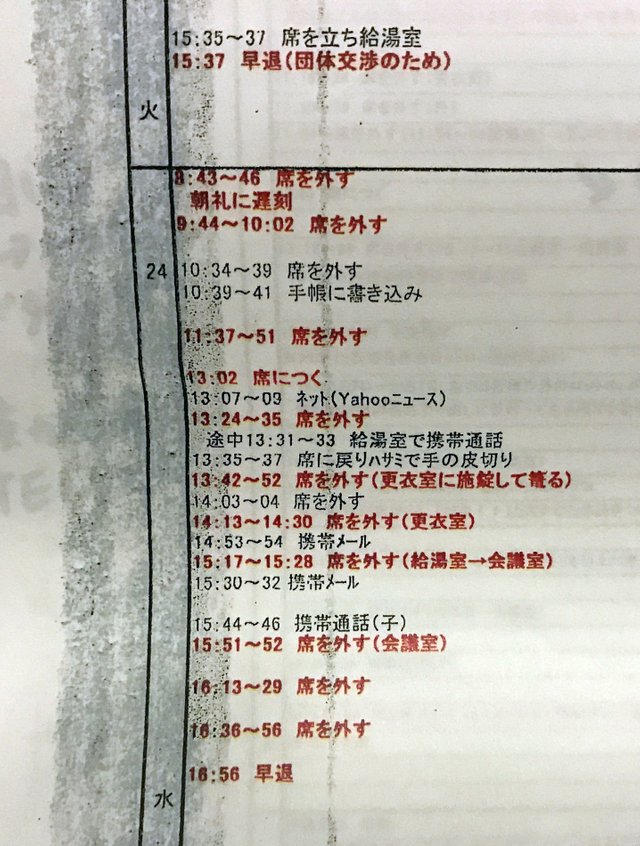 会社内での女性の行動を記録した「週報」。「席を外す」「手帳に書き込み」などと分刻みで記されている
「週報」には離席時間だけでなく、「鼻にティッシュをねじ込みながらカレンダーを眺める」「携帯メール」など、女性の行動が分刻みで記されていた。プライベートの予定を記した女性の卓上カレンダーの写真を添え、携帯電話の通話先や就業後の行動を探る記述もあった。女性は記録されていたことを知らなかったという。
特命取材班に対し、同社は「就労時間中に長時間にわたって離席し、職務専念義務に違反していた。プライベートを四六時中監視したわけでなく、労務管理上、必要かつ妥当だった」と説明。職場で女性の就労態度に対する苦情があり、指導しても改善されないため報告させたという。一方、トイレの計測表を社内で共有した点については「問題があった」と認めた。
その後、同社が申し立てを取り下げたため、労働審判の結論は出ていない。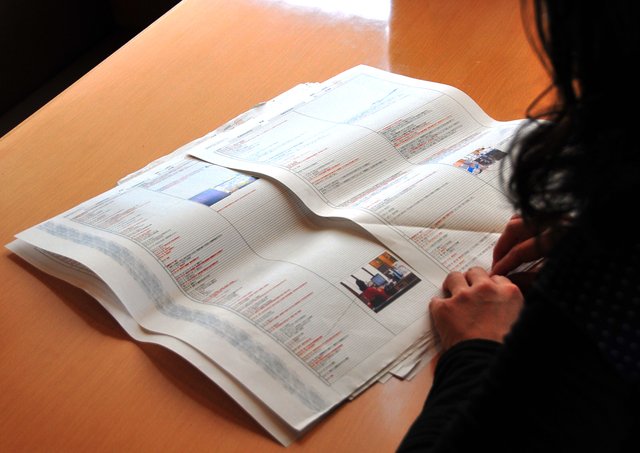 勤務中の行動を記録した「週報」を眺めて「会社内で監視され、体調を崩した」と訴える女性
■■
厚生労働省の有識者検討会が3月にまとめた報告書では、パワハラは「職務上の地位など優位性を背景に、適正範囲を超え、精神的・身体的苦痛を与えたり、職場環境を悪化させたりする行為」とされている。
女性のケースについて、労働問題に詳しい森岡孝二関西大名誉教授(企業社会論)は「着替えや喫煙の時間を計り、労務時間から引く事例はあるが、今回は女性に精神的苦痛を与えており、極めて珍しい。業務に必要な範囲を逸脱し、パワハラ行為だ」と指摘する。
もっとも、パワハラと業務命令との境界は、あいまいな面がある。
全国の労働局などが設置する「総合労働相談コーナー」には16年度、パワハラを訴える相談が計約7万900件寄せられたが、必ずしもパワハラとはいえず、業務上合理的な理由があるとみられる事例もあった。厚労省ハラスメント防止対策室は「パワハラの法律上の定義はなく、労働関係法令にも取り締まりの規制はないのが現状」と打ち明ける。
NPO法人「労働者を守る会」(東京)の坂本真一理事は「会社の規模や当事者の気持ち、相手の立場などでパワハラかどうかは変わり、セクハラ以上に基準が見えにくい。パワハラのない職場づくりに向け、ケース・バイ・ケースで考えていくしかない」と話した。
=2018/05/13付 西日本新聞朝刊=