Controversy on Japanese Escalator Manners: As a Response to the Article, Man with Partial Paralysis on His Left Side Says "I Can Only Stand on the Right."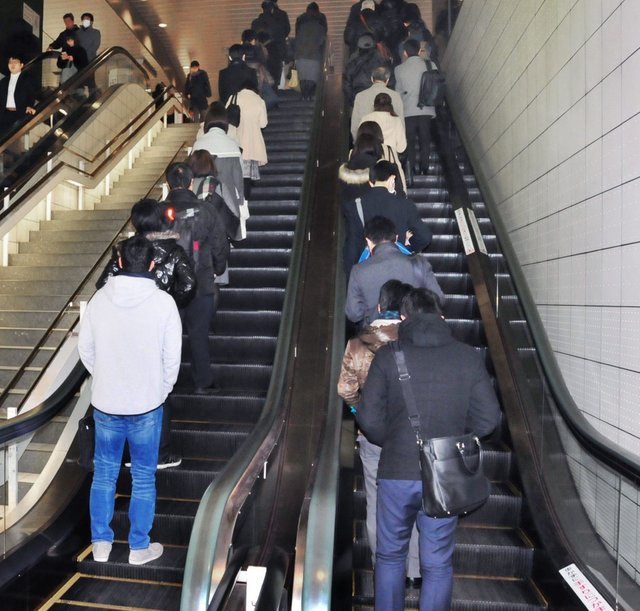 The West Japan Daily (The Nishinippon Shimbun) article on escalator manners has been met with a huge response from readers. The convention to line up on the left and keep the right side open for those in a hurry has had mixed receptions. "I want people to understand that some people cannot stand on the left," pleads a man who can only grab onto the right handrail due to a physical handicap.
The article discussed the historical background of how keeping one side open on escalators in the subways and other facilities came to be recognized as good manners, as well as the current situation. Railroad companies are prohibiting people from walking on the escalators and instead encouraging them to stand in two lines, in order to prevent accidents.
Still, many people believe that keeping one side open is proper etiquette. Many readers reported their experiences: "My daughter was yelled at by an older woman when she stood on the right to make two lines." "I heard a lady telling her child that the right side should be kept open for those in a hurry."
On the other hand, some people were sympathetic of this custom. "Some people might be startled if a stranger stood next to them. Besides, some women don't want to stand next to a man."
A 66-year-old man from Fukuoka city, cannot use his left hand freely, as the left side of his body has been paralyzed due to a stroke. When riding the escalator, he stands on the right to grab the handrail with his right hand. Some people walk past him on the left. He says "I worry about my safety when people brush against my left hand. I wish people in a hurry would use the stairs."
A 53-year-old housewife living in Dazaifu City, Fukuoka Prefecture, sent the Mission Crew a message via the messaging app. "People should act according to circumstances, rather than setting rigid regulations where people are forced to stand on both sides. I hope that people will start to understand that it is not a breach of manners to stand on both sides of an escalator step."
---
「片側空け」歩行に賛否 エスカレーター、マナー記事反響 左半身まひの男性「右しか立てない」
エスカレーターの利用マナーについて考えた西日本新聞の記事に、多くの反響が寄せられている。利用者が左側1列に並び、空いた右側を急ぐ人が通る「片側空け」に賛否の声が上がる中、障害があって右側のベルトしかつかめない男性は「左側に立てない人がいることを知ってほしい」と訴える。
記事は、地下鉄などのエスカレーターで片側空けがマナーとして定着した歴史的経緯や現状を報告。転倒事故につながる恐れがあり、鉄道各社は歩行禁止や2列乗りを呼び掛けている。
それでも、片側空けはマナーとして正しいと信じている人が多いようだ。「娘が2列で乗ったら、知らないおばちゃんに怒鳴られた」「子どもに『右側は歩く人のために空けるのがマナー』と諭す女性がいた」などの声が相次いだ。
一方で「2列乗りで隣に他人が立つとびっくりする人もいるし、男性の隣に立ちたくない女性もいる」と、別の視点から片側空けに理解を示す声もあった。
脳梗塞を患い、左半身がまひしている福岡市博多区の男性(66)は、左手を自由に使えないという。エスカレーターに乗る際には右手でベルトを持つため、右側に立つ。ところが、空いている左側から追い越されることもある。「左手が触れることもあり、危険を感じる。急ぐ人は階段を使ってほしい」と語る。
福岡県太宰府市の主婦(53)は無料通信アプリLINE(ライン)でメッセージを寄せてくれた。「全員が(スペースを)詰めて2列に、と極端に規制せず、臨機応変にお願いしたい。とにかく『2列で乗ってもマナー違反でない』という考えが浸透してほしい」