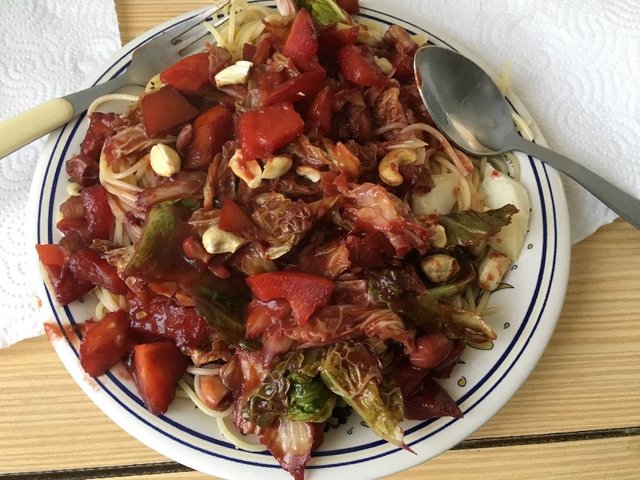 I realized the above - see the title - while cooking my dinner. Just before I was about to call with fellow Steemian and filmmaker @maxjoy
I usually improvise my cooking, hardly ever follow recipes. I tend to tell people that I cook the way I live. I improvise a lot, try to be flexibel.

This dish was a quick spaghetti with tomato, salted cashews, some kind of Portuguese cabbage and a sauce of red wine and tomato pulp. All of this seasoned with just black pepper and salt. The cabbage cooked in olive oil and later some coconut butter, to add some softness.
After pouring the hot water off the cooked spaghetti, I added some more olive oil and pepper and salt ( directly on the spaghetti, in the sieve. I learned this trick from an Italian girl, who stayed at my place in Madrid, back in 2009).
Anyhow, nothing special but I enjoyed it. I also added some ( semi hard ) goat cheese afterwards.
It was a big plate, hard to see on the photo, so I needed to napkins. That didn't keep me from getting my clothes dirty though. This always happens to me with tomato sauce haha!
Anyhow, this write up wasn't meant to be a recipe. In fact, although I don't mind you copying this dish, this is the point I wanted to make:
You can cook up your own dish, in life. There's no need for someone else's recipe. In fact, there's way more freedom than you might think. It's just a matter of seeing that, believing it and then going for it. Grab all the ingredients that you like and start cooking up your own awesome dish.
*You will probably spill some stuff ( but you can always clean up ), make many mistakes ( learning opportunities ), add too much or too little of something ( just take a mental note to change this next time ) but - one thing is for sure - everything tastes better when you cook it yourself, instead of just following someone else's recipe.
The other option is going for the safe path and always follow other people's recipes. Safe and boring. Not really living.
What if we only have one life?
I am starting to see, more and more, that I can shape my life the way I want it to be. All things that I just dreamed off in the past ( or not even dared to dream off ) seem to be possible, or even about to happen, now. And you know what? I'm totally up for the ride.
I am releasing all fear.
Thank you crypto! Thank you Steemit! Thanks for all the awesome people out (t)here who made me aware of this, who made me believe ( in myself )!
P.S. As mentioned before, I had a talk with @maxjoy We talked for over an hour and a half. And here's the cool thing: he's gonna visit me ( sooner or ) later this year, here in my little ghost town in the Portuguese mountains and we're gonna do a film jam. Pretty cool, right?
Then there's the amazingly inspiring @yangyanje with whom I will be going on so many adventures ( possibly Berlin, Germany and or Amsterdam / Rotterdam, The Netherlands. And later this year, India ). And there exists a bunch of other Steemians that I would love to meet up with, especially @inuke - who I will be seeing in India too and @whatamidoing - we need to meet soon, no matter what! and all those of you who are being shy, making excuses, afraid of traveling, somewhat far away or too 'busy' who are welcome to hang out with me if they dare. Especially those who frequent my blog and vice versa, you know it if you feel it when you read this. And what about you @paradigmprospect ? Are you in Germany in August
Time is precious, valuable, way more than money. I am starting to see that more and more. My time as much as yours. So, if you want to meet up, don't wait too long. Let's enjoy the now as much as we can, when we can, okay?
Peace out and much love and overall good vibes from me to you...
:>)