Welcome to the Human Kindness Project - A positive newsfeed on Steem - Intro and Rules to qualify
Hi everyone,
A couple of weeks ago I wrote a post about kindness and started the hashtag RAK (random acts of kindness). A lot of people reacted very positively to it and that got me thinking... I decided to create a new account (@humankindness) which purpose will be to group and showcase all of the beautiful stories about the kindness around te world published on the Steem blockchain. And I would love for you to be a part of it! Just keep reading :)
This is the logo I developed for the account, I hope you like it!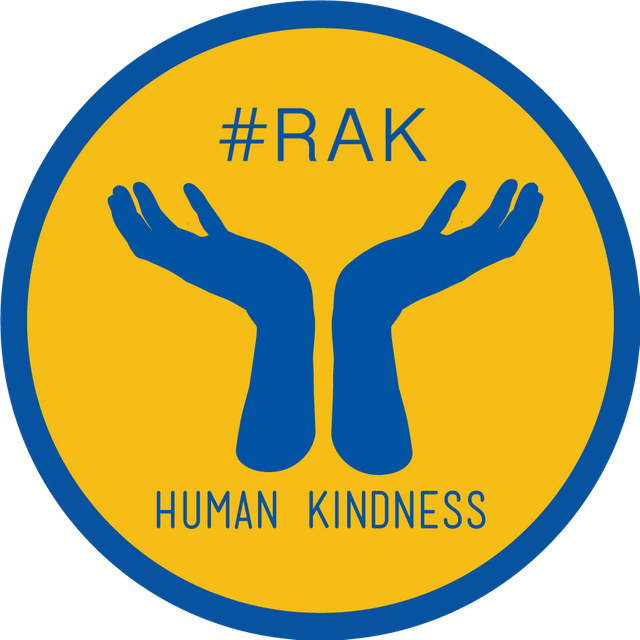 FUD
To start things off, I want to share a little bit of background as to why I started this project. It all started when I got to know the term FUD a couple of months ago. Before I started making my way through the crypto-sphere I had never heard of it.
Fear. Uncertainty. Doubt.
Now that I know the term, it comes up in my head quite a lot, especially when I look at the news on TV or hear it on the radio. If you want to believe Big Media it seems like the whole world is falling apart and everything is going wrong. Or, at least that's what they are making you see and listen to, over and over again. It isn't that weird that most people start taking this so-called-truth for a reality and are becoming so brainwashed that they turn this overly negative world view into their own truth, into how they think the world actually operates. This has a huge impact on your daily life and on the world all together. When I watched this
TED talk by Shaun Achor
I knew there was a huge problem with the way we consume negative news all of the time.
TOGETHER WE CHANGE THAT
I absolutely think that Steemit is the perfect platform to change all of this. Together we are stronger. Let the world know that no matter where you are living on this planet, you can tell a story that shows how kind a human can be. Write a post about something kind that you have experienced in your life recently. Tag it with #RAK (Random Acts of Kindness) and the @humankindness account will upvote your post and hopefully a lot of others will follow. My goal is simple: to create a positive newsfeed on Steem, so that if people are down or just want to get inspired they can read through all of the beautiful RAK stories on @humankindness and start their day in a positive way.
IMPORTANT!! TO QUALIFY FOR AN UPVOTE AND A RESTEEM FOLLOW THESE 3 SIMPLE RULES BELOW:
Follow @humankindess

Write a genuine post about something kind that has happened to you, the more recent the better! Document with a couple of photos (they don't have to be professional at all) and if you really don't have any, that's fine as well!

Write the title of your post according to this format:
PART ONE: The Human Kindness Project (always use these exact words)
PART TWO: Country (where did it happen?)
PART THREE: Title (short description)

Example of a complete title:

The Human Kindness Project - Mexico - Thanks to a stranger I got my wallet back

Please, please make sure you use this format, it will give a clear overview for the reader and will have a bigger impact on the Steem blockhain if every title is written in the same way. People who will see a title like this will know that when they click on it, it will brighten their day.
The link below is a perfect example of an incredible RAK story (yours does not have to be this crazy, it can also be about a very small gesture, but it really shows how kind humans can be) and it brought tears to my eyes:
https://steemit.com/toocurious/@dicksonmujuni/the-human-kindness-project-uganda-rak
Lets make the #RAK tag a trending tag on Steemit.
Imagine this as the biggest anti-FUD campaign ever and show what we are capable of as humans!
FUTURE OF THE PROJECT
I am only a minnow on Steem, but I really believe in the potential of this platform. I'll contribute to this account as much as I can time-wise (I also have delegated 500SP to it), if there is anyone else who wants to delegate to this project and help it grow, you can find me on discord (toocurious) to talk about it. The core of @humankindness will always be about trying to change the worldview on humankind and support projects that attempt to do so. The transparency of the Steem blockchain will showcase just that!
If you want to get to know more about me, you can:
Follow my personal blog on @toocurious
Follow my travel blog about our hostel on wheels on @letsbenomads
All the best!
PS: Please post the link of your #rak story in the comment section.