☠Secret cult☠ among students, individuals, and youths in African countries ....how it originated ? ☠☠☠
Goodday steemians, today I will be emphasizing on cultisms, different types and where it originated from ....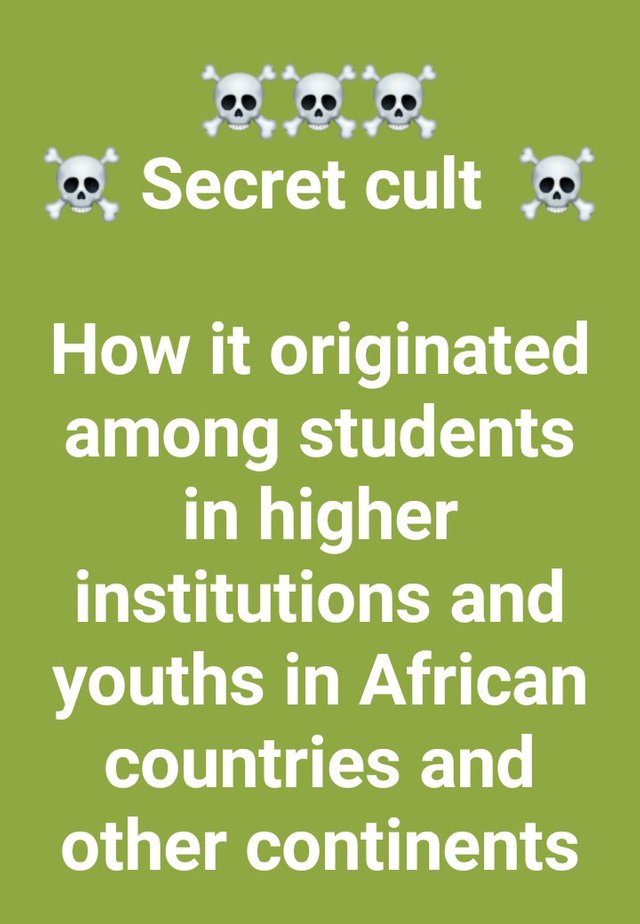 ☠ Secret cult ☠ is defined as a group of students, youths, individuals who are collaborated together by secret oaths without carrying other members in the society along however any organization, association whose activities are secretly exclusive with different rite and sacrifice are described as SECRET CULT......They are refers to as DANGER CLUBS because their activities take places at night under the cover of darkness so that members of the cult won't be known and recognized them..they usually refuse to reveal the identities of their own and other cults when intertogated because they are all under the oath of loyalty, secrecy, steadyfastness, to the development of the cult.
The initiation rite of the members of secret cult is hard and dangerous and are done in an hidden or secret places so as to remain unknown to the non members and at times it may leads to the death of the new members being initiated which his remains could be dispose by members of the cult
they commonly refers to themselves in an ungodly ways such as TIGER, LION, LUCCIFER, EAGLE, BRAVE, IRON MAN, JUDAS, FEACES, COCONUT, METAL...e. t. c
💥💥💥 SECRET CULT ARE DIVIDED INTO 2 MAIN PART WHICH ARE
Traditional secret cult
Modern secret cult
💥💥💥 TRADITIONAL SECRET CULT☠☠☠
these groups of cults have being for a long time before the modern day secret cult however it is clearly observed they the modern secret cult originated from the traditional secret cult. They take after the great oracle like ESU
OBATALA
OSUN
SANGO
ORISA
OGUN
AYELALA
IFA
etc....in most Africans countries they carried out their operation secretly. These cults later developed into a dangerous and powerfull group and political tools in the hands of the traditional ruler such as the EMIR, OBA, CHEIFS, OBIS etc..... For example in African countries today, there are OGBONI FRATERNITY which includes the prominent people like the OBAS, CIVIL SERVANTS, EMIRS, PROVOSTS, RECTORS AND VICE CHANCELLORS,GREAT POLITICIANS, HEAVY POLITICAL APPOINTEES etc.. they created a political party in which the non-ordinan members we not be allowed to occupy the great position.... though some individuals join this fraternity to be rich and be involve in the controlling power
💥💥💥 MODERN SECRET CULT☠☠☠
this fraternity was first created with an harmlessness aim, objective and norms which first started in the Nigeria university however only AHMADU BELLO UNIVERSITY that didn't have this fraternity on their campus based on certain reasons.... Modern secret cult started in the first and foremost UNIVERSITY in NIGERIA which happens to be UNIVERSITY OF IBADAN which started with few groups of students... They started as ☠PIRATES ☠who did all their best then to eradicate
CORRUPTIONS,
RAPERS,
EVIL DOERS, MALPRACTICES, IMMORAL BEHAVIOUR AND ACTIVITIES ON CAMPUS which makes the University one of the best back then..
some years later some youths, students and individuals started creating another cult in the community which happens to be
AYE
EYE
BUCANEERS
DRAGONS FLY
FIRE
IJAYA
HORSE
which initiate members by blood sucking as their oath of steadfastness and loyalty which their aims and objectives includes
💥 KIDNAPPING
💥 RAPING
💥 *ARMY ROBBERING
💥 KILLING OF RIVAL MEMBERS AND OPPONENT
💥 TERRORISM
💥 EXTORTION TO MONEY
💥 POLITICIANS TOOLS
💥 MAIMING
In conclusion secret cults in African countries and other continent are created with an exciting motives before they later metamorphosed into evil doers, war, riot and violence tools.
Thanks for reading