Over the last few days, I have been reflecting on my present reality and where I want to be in the future. My mind quickly runs to my financial goals, recreational aspirations, and the physical comforts of this world.
Like most people, I would like to improve vairous physical aspects of my life, but I am equally concerned about who I am as an emotional and spiritual being.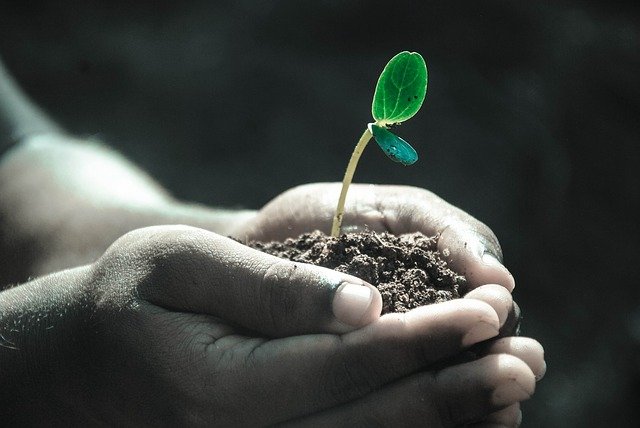 source
My Heart Is Like Fertile Soil
We reap what we sow. Farmers especially understand this concept, but it still applies to all of us. Whatever "seed" we plant in our hearts determines the "fruit" that will grow.
Consider the following types of "seeds" that people can plant.
Sacrifice or Selfishness
Sacrifice: willingness to give up something of value for the sake of another person
Selfishness: thinking only about personal gain and comfort
Sacrifice is an outward-focused lifestyle, while selfishness is an inward one. Selfishness tends to be the default position for most people. It is like a weed that grows and takes over. There are some people in the world that are naturally sacrificial, but most of us (myself included) are prone towards selfishness. We tend to think of ourselves first until we have been taught how to look past ourselves and outside of our own needs.
When selfishness grows in our hearts, we have to find ways to prune back our self-centered mentality. Like with weeds, we can cut back on the growth that is farthest reaching, but we also need to find the root of the problem.
Is there a current lack of resources or an extreme need from the past that impacts how we think about our self and others?
Are there abandonment issues that cause a person to believe that no one cares or loves them?
Is a person completely self-absorbed and, therefore, no longer willing to think of other people?
Planting the seed of sacrifice can be a painful process because it requires letting go of valuable resources for the sake of others. Sacrifice comes with a cost. But as sacrifice is practiced, it can also bring about unexpected rewards as we watch other people benefit and feel loved from what we were able to give.
As a general rule, I am not advocating that people give all of their worldly possessions away, but I would challenge all of us to think about what we are willing to give to others - especially in regards to our time, money, and energy.
Sacrifice is learned, but only once it is planted in our heart.
Patience or Pushiness
Patience: the ability to tolerate problems or delay without becoming angry
Pushiness: aggressive forcefulness
Patience is a mindset of handling the bumps and challenges of life. A patient person will be able to stay in control emotionally (not get angry) when he or she faces unexpected problems. An impatient person blows a gasket and flies off the handle, even when small challenges arise.
People who are impatient tend to exercise force on a situation to manipulate the outcome - especially in stressful or time restricted situations.
Patience must be practiced. Like sacrifice, patience can be "planted" in a person's heart and mind, but often times it is learned through hard life lessons. Patience is a quality that is grown and tested in real-life battle situations.
Did one of your children drop a glass of orange juice on the floor?
Is your family running late for a critical appointment?
Did a close family member just get involved in a car accident?
Are you dealing with a divorce, bankruptcy filings, or criminal accusations?
How you respond to unexpected life events is proof of how well you tolerate challenges and change or how much you aggressively force your will on other people and circumstances.
Benevolence or Bitterness
Benevolence: kindness shown to other people
Bitterness: a strong feeling of being treated unfairly
While the ideas of sacrifice and selfishness speak to the degree to which someone is willing to give/not give, benevolence and bitterness address the source of that willingness or lack thereof.
Benevolence is driven by kindness, not selfishness. It looks outward and with a pure heart. There is no ulterior motive.
Bitterness cannot show kindness because it is too concerned about kindness unevenly distributed. We cannot give when we are too busy evaluating what we have received and complaining about the unjust distribution of the gift.
Have you ever seen a child get mad because someone else was given a "bigger piece of the pie"?
Imagine a child receives 2 ice cream cones, but his sister received 3. Instead of receiving the gift with grace and possibly offering the extra ice cream cone to another child, this boy is most concerned about his sister receiving more than he did.
Most likely the boy's mom or dad will not let him eat 2 ice creams cones. And if they did, they most likely would not allow the sister to eat 3. But that does not matter! The perceived unfairness overshadows the blessing.
When our hearts are filled with the awe of blessing then we are able to pass along blessings and kindness to others. When our hearts are filled with bitterness and perceived injustices, we have little or nothing to give.
Unwavering Resolve or Uncertain Spirit
Unwavering Resolve: strong determination
Uncertain Spirit: hesitant at the core of one's being
Do you have an inner strength or are you shaken by everything that comes your way?
We admire our leaders and heroes because of their determination to press on and move forward. And although many of us may never hold a lofty leadership position, we too can take those gradual, consistent steps that lead to change in our lives and the world around us.
On the other side of the spectrum, we see people who question every step to the point that they are no longer able to take a single step.
Our resolve is not measured by the number of punches we take or the number of waves that knock us down. Our resolve is measured by the number of times we return to our feet and start moving forward.
You may not be able to change the circumstances that you are facing today, but you can decide how you will respond to those challenges. Will you stop and give up or will you keep pressing forward?
Humility or Haughtiness
Humility: a modest opinion of yourself
Haughtiness: an arrogant feeling of better than others
I believe that we all should strive for excellence. It is important that we properly understand our strengths and weaknesses so that we can understand who we are and what we have to offer.
But there is a difference between being confident and an overinflated (often undeserved) view of one's own superiority.
Arrogance and pride in one's self is like sitting on a high, swaying pedestal. We love being seen. We love being higher than other people in position, rank, authority, etc. But we run the risk of falling. Pride comes before the fall.
A humble person holds an appropriate view of himself or herself - a view that is supported and validated by other people. Unlike an arrogant person, a humble person builds a strong pedestal that does not move or sway. Granted the pedestal is not as high, but the fall is not as far.
Final Thougths
My heart is like fertile soil. Whatever seeds I plant will grow. So I must make a decision about what kind of life I want to live and what kind of man I want to be.
I can not just plant seed and then do nothing. I must also continue to pull the weeds and cut the thistles and thorns. I must water and care for the seeds that bring a good harvest.
I want to hear from you.
Of all of the characteristics mentioned in this post, which one do you want most?
What is a characteristic that you do not like in other people?
What do you do on a daily basis to improve who you are and how you treat other people?
Thanks for stopping by!
---
More About My Steem Projects