30 Day Challenge ~~ DAY SEVEN!
Day Seven of my Thirty Day Challenge saw the continuation of a disturbing wider trend for me, so lets nip it in the bud by airing it out here now.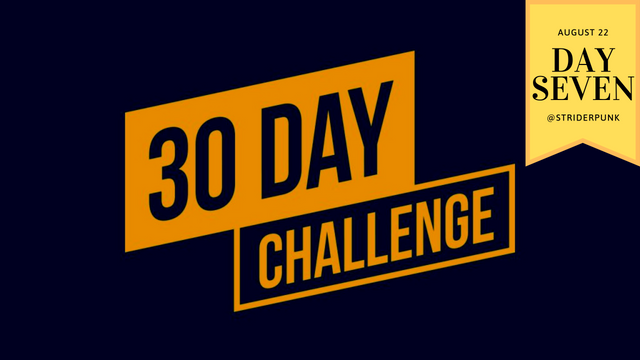 src
30 Day Challenge!
~DAY SEVEN~
I'm not going to beat around the bush. I saw myself growing complacent in my shortcomings, which is what got me into my current funk in the first place. However, this time, I'm more aware of something.. It's strange.. like some astral projection, I saw it happening to me as if I was on the outside looking in.
The issue, as I see it, is this: I decide I want to do things, need to do things, to improve myself, so that I can operate more efficiently in work, family, and well, life. This things require time and discipline. But then I also have to balance being present as a husband and father, and a friend. And thirdly, there is the pleasure seeking me that kicks into overdrive every I try to refrain from things that provide instant gratification, and an immediate spike in dopamine.
So, I want to write more, I want to sleep better, and exercise. I need to eat healthier and dedicate time to doing all the good things that don't feel good, but I know will pay off if I can just stick with it.
Two days ago (Day Six) my wife asked me to take her here and there.. Trying to be more present, and a better husband, I complied.. but devoting time to helping her run errands, and also watching the baby, ate away at the little free time I had to write and exercise. and pretty soon that short window had closed, and I had to go back to work and then it was too late.
Then, yesterday, (Day Seven), the boys had off of school. Because they had off of school, they wanted to go out and do fun stuff.. go to the park, go swimming, eat ice cream.. etc.. and I felt pressure from my wife and kids, but also myself, to oblige and spend time with them. However, I had to watch that time window I have in the middle of the day to dedicate towards writing, exercise, etc, slowly and slowly disappear as we went from shopping, to eating, each other successive activity together. Which meant another day undone for my challenge.
Now, as I'm about to enter Day Eight, there is an old friend who is in town. He wants to meet up tonight (Friday night).. in the past that would have meant a debauchery night of alcohol-infused mischief and revelry. In fact, most of my social interactions are alcohol-infused.. it's kinda the EXPAT thing in Thailand, as if ethanol lubrication is a vital requirement to interact with any other EXPAT or tourist that comes around. To say I have some trepidation about meeting up tonight is an understatement.
The thing is, alcohol is the one thing that can easily shatter this fragile attempt to lift my life out of the mire of complacent mediocrity.
Being a helpful husband, loving father, and dependable friend are all good things, but when they are put at odds vying for the short amount of time real estate that I have each day, it creates a cognitive dissonance which manifests itself as a degree of physical stress that isn't good for anyone. Add the little pleasure-seeking devil that loves to apparate whenever the going gets tough and nag me to have a drink to relax, play video games and stay up late watching Netflix because it feels good and its what I want to do..
But I DO like playing video games, and reading, and watching movies.. and drinking.. but when can I find the time to do what I enjoy? I feel like my interests.. and well, me, are caught in the middle of a constant three-way tug of war between outside responsibilities, personal responsibilities, and personal interests.. and its tearing me limb from limb.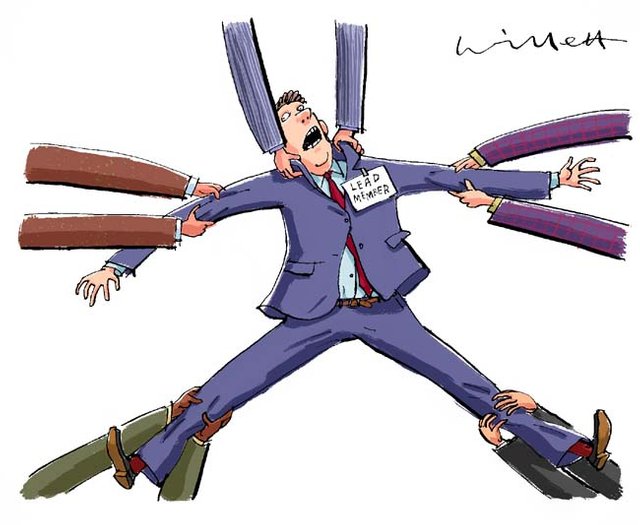 src
I guess a possible solution would be to align these three in someway.. but for now they seem irrevocably at odds. At least I got it out there.. sorry for the extra long post, if you have any experiences with this or any advice, I'd love to hear about it in the comments. Thanks for reading.