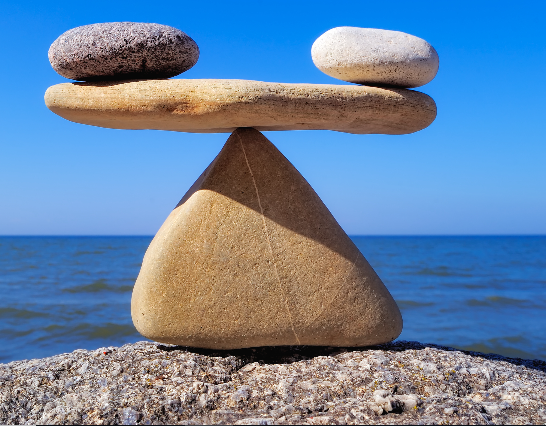 Okay I made that sound smarter than it needed to be.
So let me make it sound simpler.
In order for a word to have value and to have meaning, we must accept the value and meaning of the opposite word.
Tall ~ Short
Rich ~ Poor
Normal ~ Special
Old ~ Young
One cannot exist without the other and vice versa. How do we know that someone is tall everyone else in the world is the same height? In order for someone to be considered tall, he/she has to have a bigger height than the average person. That is, someone has be a bigger height than someone else to be considered tall to any degree.
How about the rich and poor? how do you know if you are rich or poor? Is it simply your salary? No. It is what you have in contrast to what others have. If almost everyone has more than what you earn or what you have then, you are poor.
Same with age. If everyone seem to exist on this earth for a longer period than you, then you are young.
Same with Good and Evil. In order for one to be hero, they must defeat a villain.
Neither can exist without the other.
Why am I introducing this elementary lesson on English?
It seems that this simple lesson is being forgotten on purpose in order to protect the safe spaces of the mentally fragile and the salaries of clever political agitators.
One example is the body acceptance movement; The movement demands that we accept women of all colors, shapes, and sizes to be beautiful. While this may sound like a wonderful idea to some, it makes no sense to the educated individual. If women of all colors, shapes and sizes are beautiful, then that means that every woman in the world is beautiful. If every woman is beautiful, then the word beautiful carries no merit; they are beautiful simply because they are women. You may as well take it out of the dictionary. By just being a woman, it is already expressed that they are beautiful. So why say it? Does it mean anything anymore?
Of course not. Beautiful can only exist with ugly. It doesn't matter if the beauty is from the inside or the outside. In order for something to be beautiful, something else must be less beautiful i.e. ugly.
How about equality? While it is a good thought to think that we are all equal, but we are not. We all look different, think different, and act different. We grow up in different environments, with different ways of life. In the end, some people are going to be better than others at different tasks. Some people are more intelligent, some are better at taking exams, some are better at socializing, some are better at sports, some are better at being leaders and innovators etc. This is a wonderful thing, as it is true diversity as God intended this world to be. That is the kind of power that will ensure the survival of the human race. Inequality exists and it isn't always bad. But that is just my opinion.
In this world, "Inequality" is not acceptable by any measure of the imagination. All men must be equal on all fronts. We have waged wars, and sparked protests for hundred of years for equality at heavy costs. It is 2018 now and we have come a long way from the times of slavery and civil rights. Now it feels that equality is embedded into the human existence. But it is losing its value. Why? Because lately I am seeing radicals from both the right and the left, looking under every rock, and behind every branch for some existence of inequality. They will dig up tweets, old friends, old texts etc. They have to because otherwise they will be fighting for nothing. The more equality we have, the harder the radicals will look. See how equality cannot exist without inequality? You cannot fight for equality without fighting against inequality.
This PC culture doesn't like bad, negative sounding words like ugly, fat, dumb, and inequality. It hurts the feelings of the mentally fragile. But it is a part of us and it is a part of our history; It helps us learn and grow from our mistakes and others, and without it we are not human.
Thanks for reading! And I apologize for any errors.