I can't help it... every now and then I drown in self-pity and lose all my motivation. But then I come across stories of other Steemiansand and I realize I have little to complain about...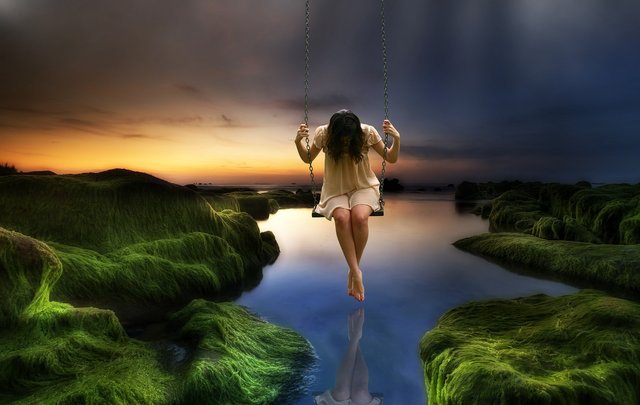 Source
Losing Perspective
After the high of the first half of 2017, which was completely dominated by the preparations for our wedding and the wedding itself, I sometimes feel like I've used up all my luck. Ever since, life seems to have nothing but obstacles in store for me and although I believe that life doesn't give you things you can't handle, I often get lost in a spiral of negative thoughts and sink into depression.
Next to losing 2 of my beloved cats and the dog - who were like children to me, and of which I still have difficulties coping with the loss, I've had 2 back surgeries in 2018 which have limited my world to the 4 walls of my bedroom.
Apart from the very occasional visit from my friends, my girlfriend - my wife, I should say - is my only social connection. I have no one to blame but myself, because I often don't feel like seeing or talking to others and the longer I put myself into this social isolation, the worse it gets.
It's easy to lose all sense of perspective when your world is as small as that.

Self-Pity
Earlier this week I heard that a third surgery might be necessary. Once again, I have no one to blame but myself. If I would have been more motivated to do the exercises I was given, maybe the healing process would have been different. But often I feel like it's already too big of a step to get out of bed in the morning,... exercising is the last thing on my mind on those days.
My mind is my own worst enemy, and the vicious circle of negative thoughts I can't seem to escape from causes me to drown in self-pity more often with every day that goes by.

SteemIt To The Rescue
And then... just when I think everything is pointless, and my life has become worth next to nothing, I come across stories of other people here on SteemIt that make me realize things could be way, way worse and that I'm not in a position to feel like I feel.
In spite of everything, I live a luxury life: I have everything a person could wish for - except for a good back, maybe. And there is still hope that even my back problems might be solved eventually.
So who am I to feel so sorry for myself all the time?
This last week, I came across a couple of stories here on SeemIt that were really the wake-up call I needed so badly, and I'm thankful for the people being brave enough to share their story with the world. Because their courage makes me realize it is about time I pick myself up and get it together again...

Graphic created with The Logo Creator Software
Subscribe Ro RSS Feed | Subscribe To Newsletter
Learn all the basics of the Steem Blockchain with SteemSavvy