Is Public Shaming Effective?
How Public Shaming Makes Real Change Harder
This article was brought about thanks to an article written by James Walpole on November 7th, 2017 titled "How Public Shaming Makes Real Change Harder." Linked here:
http://everything-voluntary.com/public-shaming-makes-real-change-harder
Please take the short time to read it in it's full context. BTW, an excellent voluntaryist website.
I'd like to agree with one of the statements he makes:
"Public shaming enforces outward compliance, not internal change. Shaming galvanizes opposition and makes people dig deeper into their own positions(to defend their egos, of course)."

---
---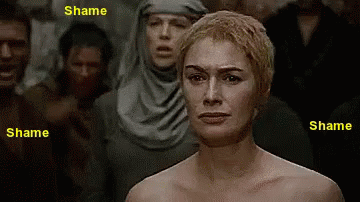 ---
---
Have you ever experienced this? Have you been shamed and made an outward move to reconcile the shame, but then felt in your heart that "I'm right and everyone else is wrong and I'm going to appear to be changed, but I'm going to hold onto this shamed behavior tighter than I did before".
I had just read Blaise Pascal's Pensees #701 from an excellent book by Peter Kreeft, titled Christianity for Modern Pagans: Pascal's Pensees Edited, Outlined and Explained (https://www.amazon.com/Christianity-Modern-Pagans-Outlined-Explained/dp/0898704529/ref=sr_1_1?ie=UTF8&qid=1510145796&sr=8-1&keywords=christianity+for+modern+pagans) and I wanted to bring this in and see if it might add to this discussion of Public Shaming:
When we want to correct someone usefully and show him he is wrong, we must see from what point of view he is approaching the matter, for it is usually right from that point of view, and we must admit this, but show him the point of view from which it is wrong. This will please him, because he will see that he was not wrong but merely failed to see every aspect of the question. —Pensees #701 Pascal
---
---
Kreeft goes on to further explain this Pensees by quoting Kierkegaard in The Point of View:
A direct attack only strengthens a person in his illusion and, at the same time, embitters him. There is nothing that requires such gentle handling as an illusion, if one wishes to dispel it, If anything prompts the prospective captive to set his will in opposition, all is lost. And this is what a direct attack achieves, and it implies moreover the presumption of requiring a man to make to another person, or in his presence, an admission which he can make most profitably to himself privately. This is what is achieved by the indirect method which, loving and serving the truth, arranges everything dialectically for the prospective captive, and then shyly withdraws (for love is always shy), so as not to witness the admission which he makes to himself alone before God—that he has lived hitherto in an illusion.
---
---
Serve the Truth in Love
I realize in todays fast and instant communication society that it can be hard to respond to someone on a one-to-one basis and if someone who is being shamed receives a bazillion replies of shaming, how can he filter out the one comment that would make him look at his behavior in a different light, one that could benefit him by changing his heart. It is that one comment that should be a bazillion comments, with only one shaming comment. So rather than shame an individual and potentially harden his heart, just serve the truth in a loving manner and then withdraw.
We have the ability to do this in a conscious​ and voluntary way and I'd encourage you to do it.
1 Peter 3:15
But sanctify the Lord God in your hearts, and always be ready to give a defense to everyone who asks you a reason for the hope that is in you, with meekness and fear;
---
SDG