Hello steemian !! Here i back again with our new rescue mission story. Today we got a call from an unknown kind person asking help for two cows who were badly injured. 
Me along with my team( Animal aid) visit the site to help mamma and her baby cow. After watching there situation, our eyes got filled with tears.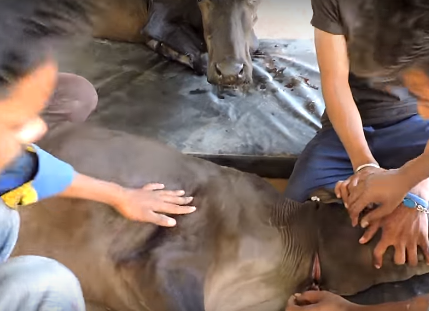 This beautiful mama street cow and her baby were together in suffering and together in happiness after they were rescued and helped. Bee, (the mama) looks like she was struck a blow by a sharp object. Her adorable little boy, Honey, was the victim of cruel neglect—he outgrew a rope tied and forgotten around his neck. They might have escaped a cruel owner—we don't know how their story began, but we know how it has unfolded: with joy. Cows are emotional. Watch these inseparable sweethearts. 
We are always be there to help animals, just because of you guys !!
Animal Aid Unlimited helped over 65,000 lives till date. We always be there to help animals as well as humans. 
KEEP SUPPORTING !! KEEP HELPING !!
                                           THEY NEED YOU LOVE & SUPPORT
THANKS FOR READING !! UPVOTES NEEDED !!