Taco Tuesday @senseicat
When my dad was growing up, each night of the week was associated with one meal and I just loved hearing that story. It was back in the day when they did not have freezers so on hot summer evenings, they would slice up the ice cream and serve it according to the number of people in the family.
At our home, we have tacos on Tuesday nights and it is becoming so popular that my pastor comes to join us because it is hard to make tacos for one person and we all enjoy good conversations together while enjoying our meal.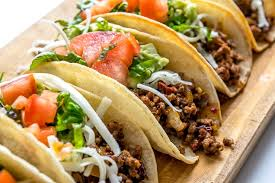 1 package of corn taco shells
1 package of taco seasonings
1 pound of grass fed beef
4 roma tomatoes, just the outer part of the tomatoes in chunks (no seeds please)
sour cream
1/2 to 1 head of romaine lettuce sliced thinly
mexican shredded cheese
salsa
I cook the ground beef and while it is cooking, I prepare the lettuce and tomatoes. After meat is done, I drain it, add 2/3 cups of water and seasonings and let it simmer a bit more. I heat the taco shells in the oven at 350 degrees for 5 minutes immediately before serving.
I set up a taco bar so folks can make tacos or taco salads.
Thank you for your upvotes and resteem @senseicat