It's Yet Another New Year! Hits and Misses for 2017, in retrospection, and Personal Goal Setting for 2018!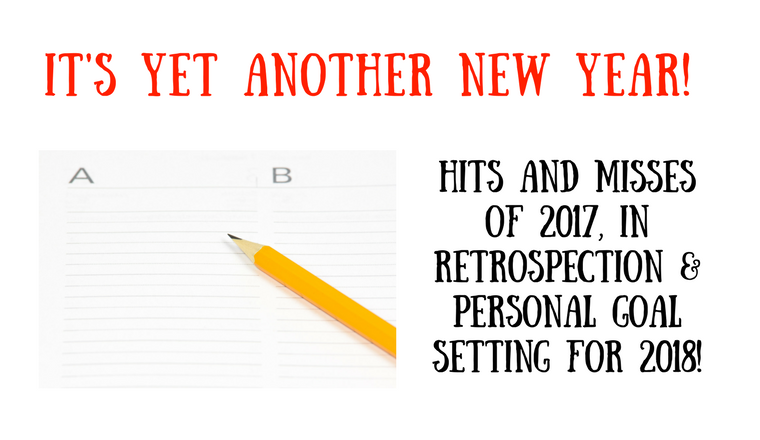 Hope you had a memorable entry into 2018!


Though life doesn't always happen as planned, a certain amount of contemplation and planning does go a long way in help get us closer to the goals in our lives and help us cherish our lives better. This is the reason why all of us should take a few moments to reflect on the year that passed by at the beginning of every year. To see what we did right the last year and that worked for us, and to evaluate what we missed, so that we can improve upon it in the new year.
I did set a few targets at the end of last year and while I didn't meet them all, I believe the very fact that I set these targets, helped me achieve a good part. So here are the hits and misses of 2017 for me:
The Hits – The Things That Went Well for Me
---
1. Working on my Marriage – I have just completed a successful year of married life after being a chronic bachelor for far many more years than my peers and can now appreciate the actual difference of being in a relationship and being married. The time I was single, it seemed every other family member or friend made it their life's mission to get me to tie the nuptial knot (and then once I got married, half of them told me how it sucked -darn sadists!). Following my rather unconventional marriage (compared with traditional Indian ones), I was determined to make it work – because I knew I'd be having enough family waiting at the opportunity to snipe, "it was your choice". I'm glad to say 1 year into our marriage, I have been happy with completely satisfied with my decision and also realised along the way that having a happy marriage involves a lot of effort starting with the simplest of things such as sharing of chores and open communication. I believe I passed the anniversary marriage test when my wife joyfully declared on our first anniversary "I have the best husband in the world!" Now all I need to do is to repeat that feat for another 50 years.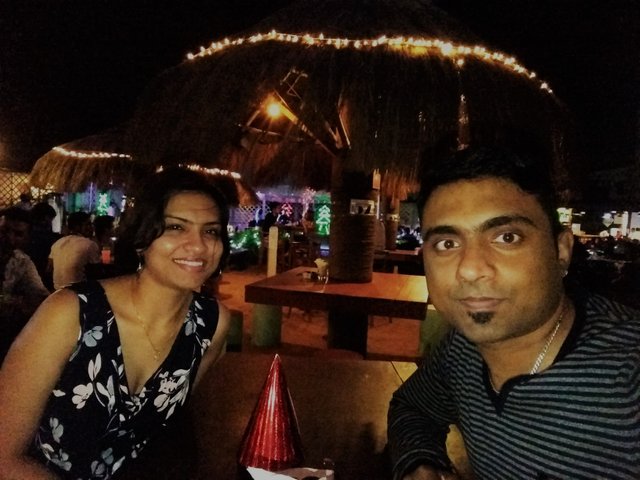 Pic: That's us yesterday night - 1st anniversary night dinner and new year's dinner rolled into one
2. Moving to a productive job - Life at my previous company had become stale and I had decided 2017 would be the year to move on to a company where I could practice 'actual' Project Management (given my hard-earned credentials as a certified Project Manager) instead of 'namesake' project management. And just around the time I started looking out, I found the perfect opening in the old company I worked for – just in line with what I wanted – a place where I could build on my skills as well as use my previous knowledge. Given that I want to become freelance contractor by the time I hit 40, this was just the perfect break to gain the necessary experience till that time.
3. Publishing a #1 Bestseller – Even after publishing 3 books, I was never able to get an elusive #1 bestseller badge for any of my books and I was determined to do all the right things to earn that for the only full-length book I released this year. In fact, I used to visualise my book as #1 even before I had I had hit the publish button. I used to go to the Amazon bestseller charts and superimpose my cover the top-rated book there and pretend it was #1. A few months later it occupied that very spot in which I used to imagine its appearance – and for almost 4 months now it's the best-selling book in that category. Goes without saying that I did tons of work in between, but the fact that I believed it was possible, went a long way in making it possible.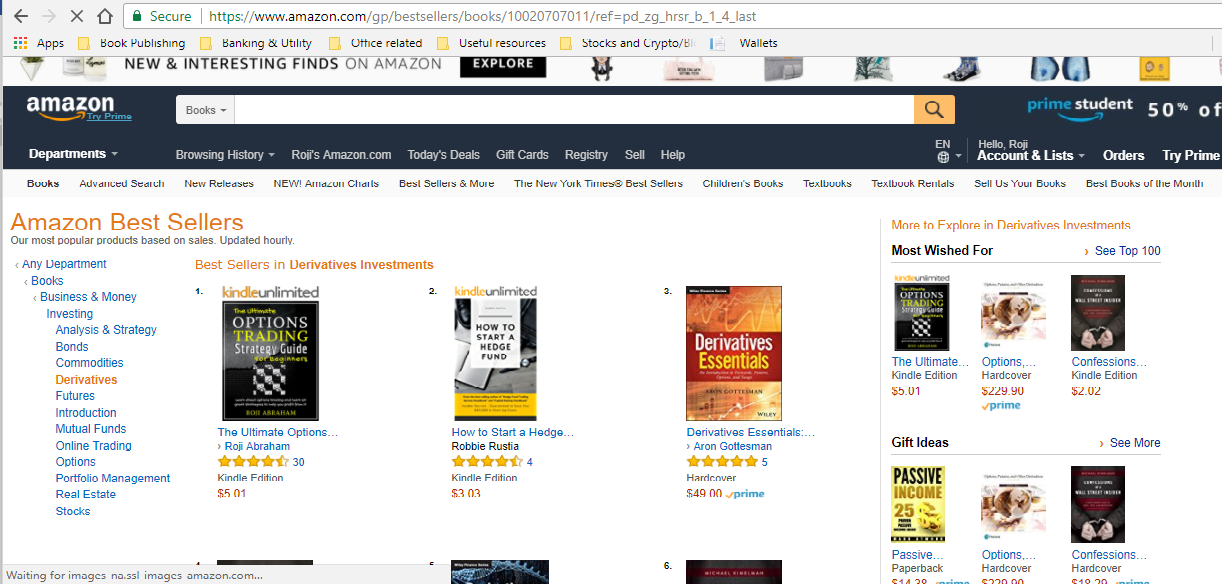 Pic: The most satisfying moment for an Indie author is seeing their efforts culminate at the top of a bestseller list
4. Learning about Blockchain and Cryptocurrency – While this was never on my agenda at the beginning of the year, it was in-line with my generic goal of learning something new. I spent most of my out-of-office hours in the entire second half of 2017, after the release of my book on Options Trading, understanding and learning about blockchain, cryptocurrencies and the potential of this technology that could power the future. In fact, the many hours I spent not only helped me with some good knowledge of the topic, but also helped make some investments that have given rich dividends already.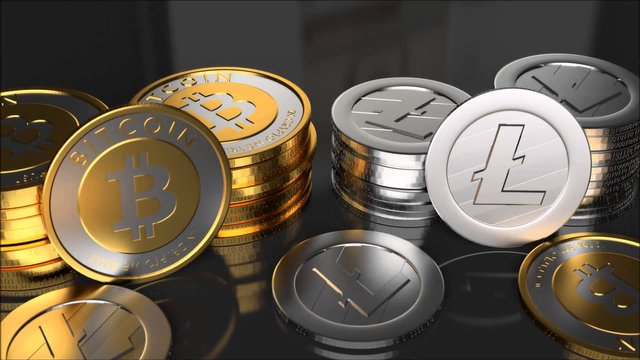 Pic : One of the best things I learned this year was about cryptocurrencies such as Bitcoin, Litecoin, Ethereum, amongst others, and their underlying technology
The Misses – Which are now on my plate for 2018
---
1. Health and Fitness – 2017 has been one of my worst years in the past decade when it comes down to health and fitness. It was far worse for my wife who was constantly troubled by ailments (my wife had over 18 trips to a doctor between January and October and her health was major reason for concern that led to her leaving her job too). Though I didn't have any serious disorders (but a few niggling ones) my workout and fitness routine I had built over years took a beating too, and a serious neck ailment took me out of action for months. From being somebody who was extremely fit and did half marathons 2 years ago, I can barely run a kilometre right now. So, one of my prime targets for 2018 is to get back into that shape I was in 3 years ago (<14% body fat, and lean fit) – and that's not going to be easy but will be worth it! And yeah, I need to help get my wife into a healthy lifestyle too – and that will need some convincing!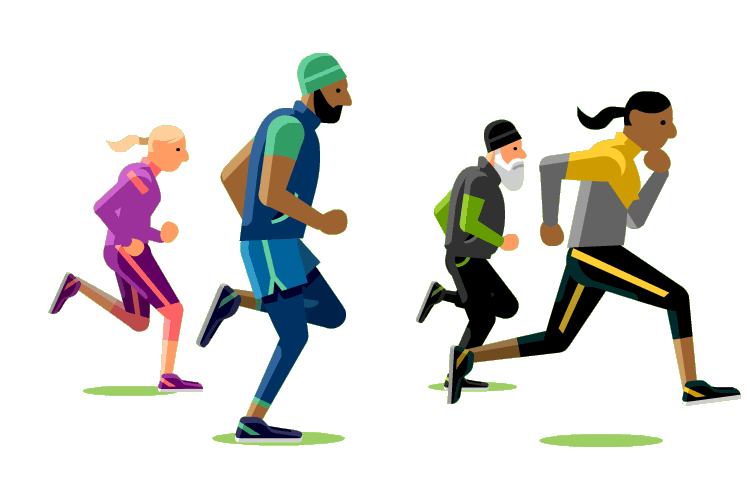 Need to do a lot more running and workouts this year to get back into shape
2. Book Reading goals – While I did a fair bit of book reading in 2017, it is nowhere near the levels at which I used to read many years ago – this was also partly because I spent a lot of time reading articles and focussed on video tutorials in a quest to learn something new. But either way, after keeping a target of 24 books, I fell short by half and need to work on this in 2018.

Pic : The noteworthy books I completed reading in 2017
3. Passive Income and Writing goals – One of my medium-term objectives is to get my passive income to match my earnings from my full-time job. In Dec 2016, I had set a rather lofty goal of achieving this by end of 2017– ridiculous though it sounded then (because at that time my only passive income source, from book royalties, was barely 5% of regular salary). However, I did scale up from 5% to 50% in the past one year (thanks to the 2 books released in Dec 2016 and July 2017) and believe that target is now within my reach with a bit more effort (more sleepless nights I suppose).
Since my passive-income goal is tied with my writing, I am setting myself a target of completing 1 full length book for 2018 (I've already decided it's going to be on Cryptocurrencies) and a revamp of my Project Management Professional Certification Books (which I cannot avoid since the exam is undergoing a change early next year). I'm also keeping the bar a little high here by taking another crack at short fiction in the latter half of 2018 – I haven't done any fiction since my first book, for the record!

4. Moving Abroad for work – This is another long-term goal for which I was supposed to initiate the necessary paperwork in place this year, so that we could move abroad to live and work in a couple of years, but failed to do so. It's another item that my wife and I have on our plate together to plan and complete in 2018!
So, these are my goals for the coming year and I'll be monitoring them frequently to see how I'm progressing with them.
So, What about you? If you haven't done this already, set your Goals today!
---
So had you kept any goals for 2017 when the year started and were you successful in meeting them ?
If you're somebody who's had a problem not knowing what to set as your personal goals, have a look at this image below – it will help you create your own set of goals too!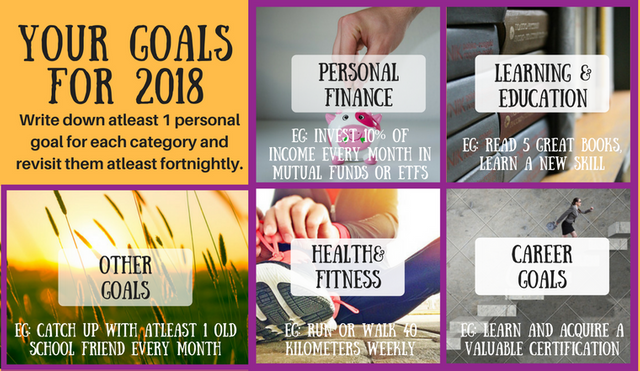 Believe me when I say this, rather than drifting through each day as it comes, it helps having goals and targets for each month or year.
Create your list of goals and stick it where you can see it, or write in in a diary.
Meeting each of the goals you set will give you a sense of accomplishment at the end of 2018, rather than the feeling of dejection many feel at not having done anything of significance the entire year and then creating a set of new year resolutions in 2019, that will get forgotten in a week's time!
I wish you a wonderful 2018 and may you achieve each of your goals!