Want less and be happy
The life changer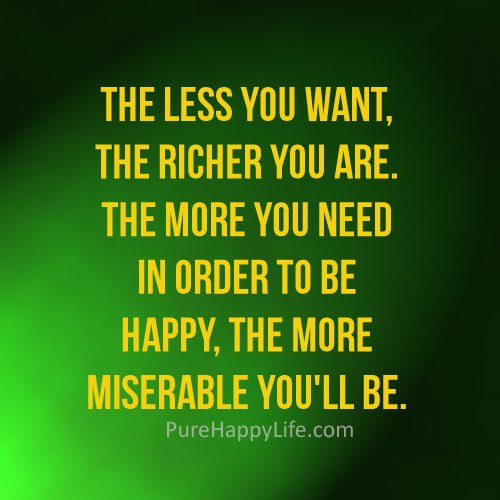 Source
Human by born have some qualities. Of them, the most important one is "Want". Fulfilling this, they are happy. On the other hand, it may make a man depressed and thus ruin his life if he can't get what he wants. But it is completely impossible for a man to have all of the things he wants as most of them have the tendency to want more and more. So, there is a problem with this. If you get what you want, you want more. If you don't get, you get destroyed. What's the solution? I'm going to make some points on this.
Let's start with the question asked before. What's the solution? Look it's a complex problem but the answer is very easy. How about controlling ourselves and be happy with whatever we get? This is the ultimate solution to this problem. If we remain satisfied with whatever we've got, no depression will come ever. To be satisfied with what we get, we need to want less. If we want less, there is a large probability to get all of the things we want and thus we can be happy. Because the less amount of wants in most cases remain under ability.
People with fewer wants has always been happy. Researches have always provided a result that the people who want less are happier than those who want more.
Now you may ask, "how can we want less where it has already been said that to want more is human by born quality? The answer is don't look upwards. Look downwards. Don't look at the people who have got a lot of things. Look at the people who've got less. Don't look at such people who have more than you. Look at the people who have less than you. If you look at those type of people, you'll be satisfied with what you have. A man without shoes shouldn't look at the guy with shoes. He'll repent if he does so. But if he looks at the guy don't having a leg, he will be happy thinking that he has two legs at least.
Thus we can be happy by wanting less.