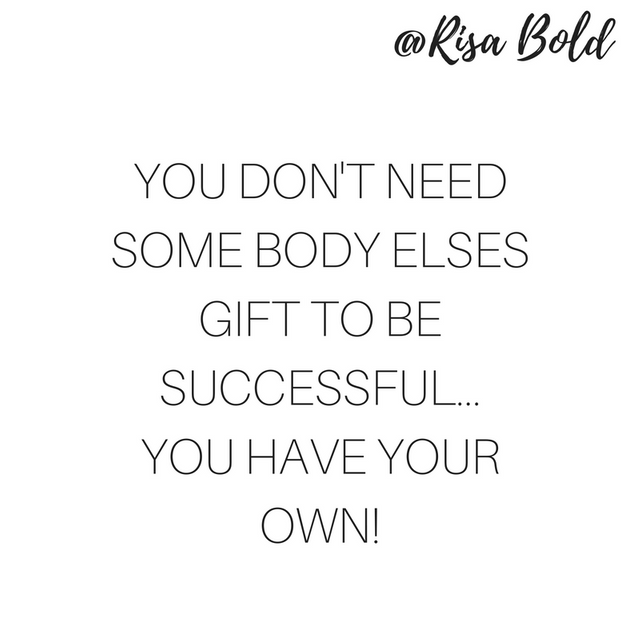 We are all made uniquely! We have all been blessed individually with special gifts.
Yahuah (God) has given us everything we need to succeed, we already own these wonderful gifts. He has given us the path to success, through His Word and in relationship with Him.
He loves us so much, He has even designed a personalized plan of success, tailored specifically for each of us! that is awesome...
But so many of us reject Yahuah's plan of success for our lives and seek somebody else's plan instead!
Brushing Him off, thinking we know better! Asking and praying for others to give us success instead, begging for them to bless us with their gifts or to even receive their gifts so we can try to live the plan Yahuah gave them for their life and not our own.
This is not what is best for us, trying to make a fish climb a tree is a lot of hard work to say the least!
Yahuah's plans are always what is best for us, whether we like to admit it or not. This is true success, living in His purpose for our lives.
Yahuah does not want you seeking success or anything else from anyone but Him. This is because gifts from others put you in a weak position (dependancy or even slavery), we are called to be the head and not the tail (Deut. 28:13). "Except the LORD build the house, they labour in vain that build it" (Psalms 127:1).
We love Yahuah for His grace and mercy, right! Even when we reject His plans for success in our lives He still gently guides us and is always trying to steer us back on track! He waits patiently while we beg, chase and pray for things that we think we want, until we are in a position where we can hear Him clearly because our relationship with Him has grown so much closer through failed attempts and sufferings as a result of not seeking Him first! Lol Let us accept our gifts and get our success and well-being from Yahuah, there is no better way. Accept your gifts and the purpose given to your life and enjoy the journey!! Life will become easier and so much more fulfilling.